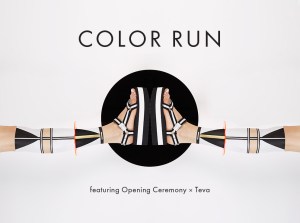 Opening Ceremony has once again taken the uglier corners of the sports clothing world and put them on the path to trendsome transformation. Following the success of last year's collaboration, Opening Ceremony has released their new collection with Teva for Spring/Summer 2015.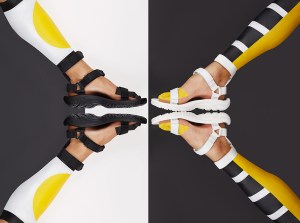 Opening Ceremony x Teva, which launches in May with a pre-sale beginning today, will feature the distinct designs of Tevas, with men and women's sandals donning the classic velcro straps and nylon build, along with OC's own take on unique palettes and patterns.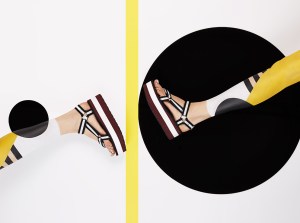 Taking Teva's iconic silhouette to the next level, the S/S 2015 collection will feature the Flatform Universal a women's bi-colored platform sandal. OC has also taken it's own spin on the Teva classic, with a new shoe called the Hurricane XLT Gladiator, a strappy sandal with black and white leather designs and a removable ankle strap. Along with the new designs, Opening Ceremony will reissue a modern take on the Psyclone, a black, pink or blue fabric and waterproof suede sandal, and fan favorite from the general Teva collection.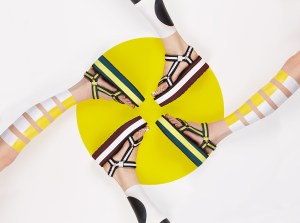 Thanks to Opening Ceremony's own faith in the company, Teva has undergone a resurgence of sorts in the past few years, something OC believes is more than the 2014 normcore trend. Created by Mark Thatcher in 1984, the Teva surged into popularity when it became a staple in festival style at Lollapalooza 1993. However, once their ubiquity extended past "deadheads and bohemians" and trend-setters alike in the late '90's, Europeans began to equate them to the stout United States stereotype, unbuttoned Hawaiian t-shirt, unsightly sunburn and all, "used to identify the clueless American tourist abroad." However, today, OC is ready for that resurgence; as chief curator of the Museum of FIT, Valerie Steele puts it, "ugliness is very close to stylishness. In a fashion context, it can look cooler and more cutting edge than prettiness."
In honor of the new collection, Opening Ceremony has commissioned still-life artist Sonia Rentsch, who created the playful and geometric editorial Color Run, featured above and in store displays.
The $60 – $120 collection, which will release on May 5th, will be available online and in New York, Los Angeles and Japan Opening Ceremony locations.