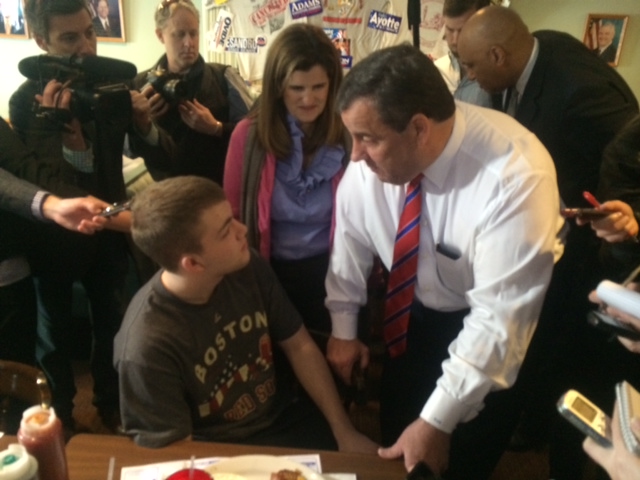 MANCHESTER, N.H. – As New Jersey Governor and potential 2016 Republican presidential candidate Chris Christie went table to table during breakfast at Chez Vachon on Manchester, New Hampshire's west side, he engaged diners over an issue that gives many Americans heartburn: the future of Social Security.
During his Tuesday morning speech at the New Hampshire Institute of Politics at nearby Saint Anselm College, Christie discussed raising the age for Social Security to 69, gradually implementing the proposed change starting in 2022 and increasing the retirement age by two months each year until it reaches 69.
Christie also suggested raising the eligibility age for Medicare at a pace of one month per year, so that by 2040 it would be 67 years old, and by 2064 would be 69 years old, stating that this move would encourage seniors to remain in the work force. Christie added that seniors with an $85,000 a year retirement income should pay 40% of premium costs, increasing it to 90% for seniors with above $196,000 a year in retirement income.
On Wednesday morning over a plate of classic French-Canadian poutine and coffee, Real Pinard, a former Manchester alderman, pointed to Social Security's future as a critical issue in the 2016 presidential campaign.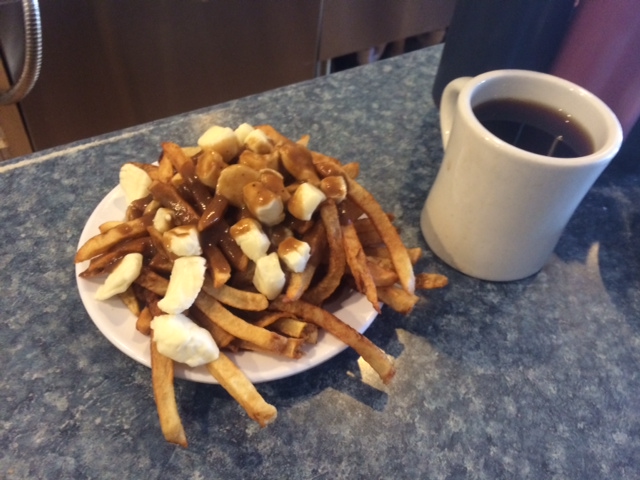 "I'm a Depression baby, compared to baby boomers, who made more money than we did. I worked for a dollar an hour for many a year," said Pinard, 85, who grew up down the street from Chez Vachon. "How do you resolve it? I feel that they give all sorts of money to immigrants. Why don't they take care of the people that were born here in the United States? That's my biggest gripe."
Richard Moquin, a "dyed-in-the-wool" Democrat from nearby Bedford, said Christie could surprise people if he ultimately runs in the New Hampshire presidential primary, one of the most important nationally, because "people here don't make up their mind until the end," especially in a crowded field.
But Moquin pointed to a reservation he has about Christie's federal entitlement policy proposal that he believes many other voters in the Live Free or Die state might share.
"I think this whole idea of indexing Social Security is going to be very controversial," said Moquin, 68, an attorney. "You've got a lot of people ready to go on Social Security. That's going to be very hard to sell. If he can sell that, he can sell anything. You start fooling around with that, you've got a big problem to start out with. I don't say that I agree with him, but [Christie] has got a lot of guts to bring it up."
Facing the swarming press outside of Chez Vachon, Christie stuck to his guns regarding his entitlement reform proposal.
"With our population aging, this can't be sustained over the long haul," Christie said. "Politicians don't want to talk about this because it creates heartburn with some people. Well, you know what? These problems create heartburn with some people. And if Social Security were to go bankrupt, which it's on line to do by 2030, we're not going to want what happens to people who really need it as a result."
Christie, campaigning heavily this week in New Hampshire as his approval rating has struggled both in New Jersey and nationally against other potential GOP presidential candidates, told PolitickerNJ that his Granite State gambit does not mean that he has given up on another key early 2016 test: the Iowa caucuses.
"I've been to Iowa six times since January. I've been there more than I've been here," Christie said. "In April 2015, when you're not a declared candidate for President, you haven't given up or anything because you haven't started anything. We'll go to all the places that we need to go if [I'm] a candidate."