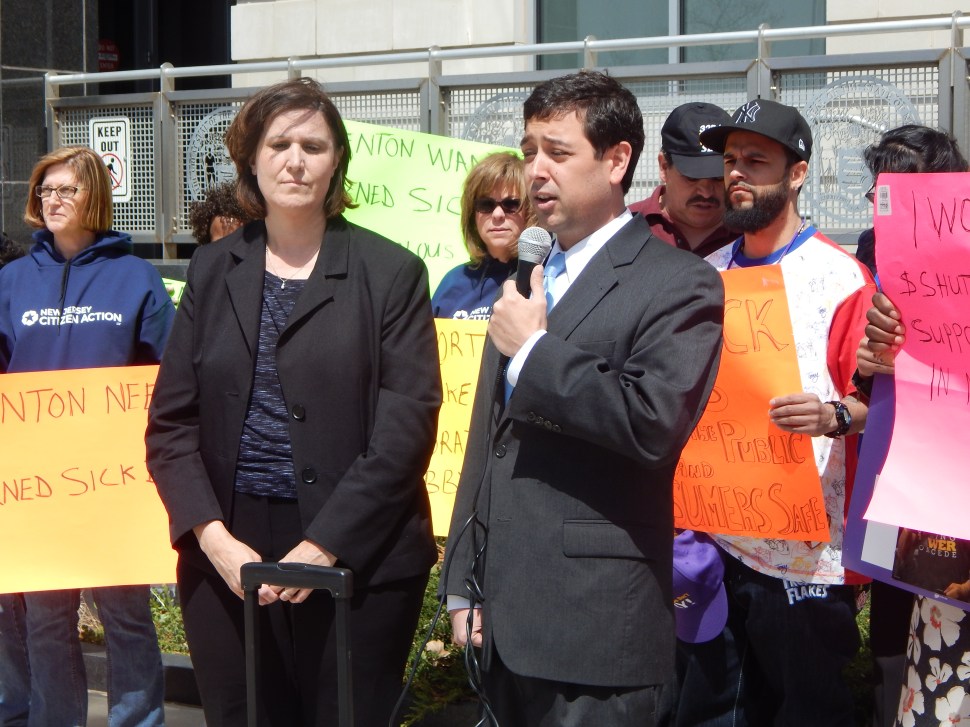 UPDATE: Judge Jacobson dismissed the lawsuit, allowing the city to continue to enforce the ordinance. 
TRENTON — Activists and advocates of paid sick leave policies rallied on the steps of the Mercer County Courthouse here today to oppose a lawsuit brought by a group of state business organizations aimed at overturning the city's recently-passed ordinance.
Calling it a "frivolous" lawsuit brought by "deep-pocketed corporate lobby" groups set on undermining the law, members of New Jersey Citizen Action and The New Jersey Working Families Alliance gathered outside to oppose the move, which they said runs counter to the will of voters. Last November, Trenton residents overwhelmingly approved the local law by a margin of 5,308 to 881, effectively providing paid sick days to 13,000 workers.
But the measure has been met with opposition from the business community, whose members argue requiring companies — especially small ones — to offer their workers paid sick days would negatively impact business. In Trenton, major business lobbying groups, including the New Jersey Business and Industry Association, NJ Chamber of Commerce and NJ Food Council, filed a lawsuit overturn the law, which has temporarily suspended its enforcement.
Today, Superior Court Judge Mary Jacobson joined those plaintiffs to hear arguments on the suit inside the courthouse.
"We're here today because inside the court room a little later the corporate lobbyists are going to be here making their case for why paid sick days law is not good for Trenton," said Dena Mottola Jaborska, New Jersey Citizen Action Associate Director and spokesperson for the statewide Time to Care Coalition. "And in so doing they're moving forward and subverting the will of the people in this town."
The issue of paid sick leave has garnered both state and national attention in recent weeks as cities across the country independently pass local ordinances requiring the practice, while sometimes bucking their states' top executives in the process. In New Jersey, a total of nine New Jersey municipalities — including Trenton, Jersey City, Montclair, Newark and Passaic — have passed earned sick days laws, despite Gov. Chris Christie noting he has "grave concerns" about the measure (concerns which are only likely to grow graver as he moves closer to a run for the GOP nomination in 2016).
Nationally, President Barack Obama has called for the passage of a federal law mandating paid sick leave, and has encourage cities to take up the issue in the meantime.
"They realized that no one should be forced to choose between their families health and their livelihood," said Rob Duffey, Policy and Communications Director at New Jersey Working Families. "No one should feel like the next case of the flu could cost them their job. And they went to the polls and they said we're going to be the kind of community that treats workers with respect and dignity. This was a historic moment."
But advancing mandatory paid sick leave in New Jersey has also been met with difficulties in the legislature, where lawmakers have moved in recent weeks to pass a statewide measure that could, proponents say, alleviate many of the "patchwork" effects opponents argue local ordinances incur on towns and businesses. Under Assembly bill 2354, businesses with 10 or more employees would be required to let workers earn at least 72 hours of paid time off, while businesses with fewer than 10 employees would be required to let their employees earn 40 hours of sick time — but it's unclear how much agreement there is among members of legislature's lower house over the specifics of the bill, which some worry could weaken municipal ordinances already in place.
According to sources close to the deliberations, some lawmakers have agreed to support a statewide law only if it allows municipal ordinances to stay intact, while others believe any law enacted by the legislature should preempt the local ones.
Also, observers note that efforts to get a statewide paid sick leave law through New Jersey's legislature is probably moot — Christie, who's showed no sign he'd support such a measure, would probably veto it.