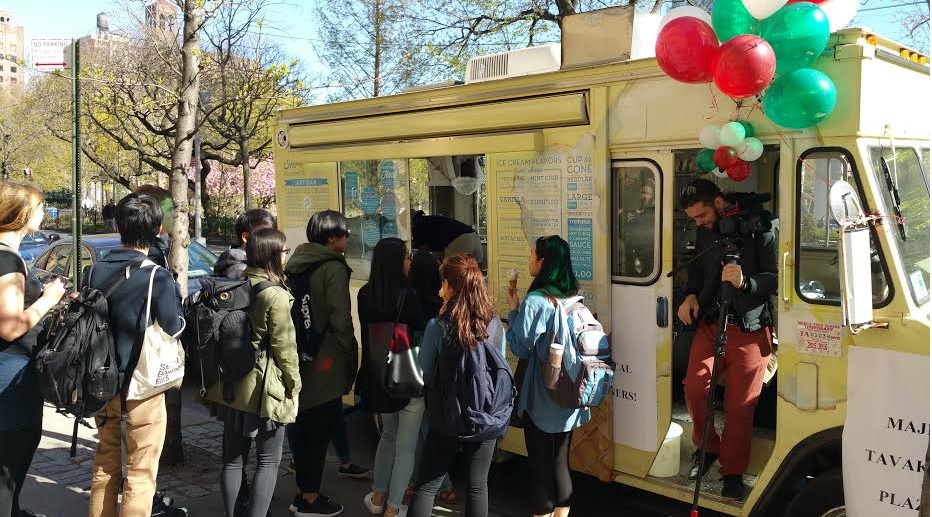 The scene outside New York University this morning is of a celebratory and sarcastic nature. A "massive party" is taking place to bring awareness to the Islamic Republic of Iran's recent milestone of 1,000 hangings in the just the past 18 months.
Your party host, David Keyes, Executive Director of NYC-based Advancing Human Rights (AHR), a nonprofit human rights advocacy group, has set up the carnival atmosphere this morning to coincide with Iranian Foreign Minister M. Javad Zarif's speech this morning at NYU.
"We'll be symbolically renaming the cross-streets where the foreign minister will speak, 'Majid Tavakoli Plaza' in honor of the jailed Iranian student leader and 'Jason Rezaian Plaza' in honor of the jailed Washington Post writer," Keyes explained in an email.
Adding to the mocking nature of the protest, AHR has festooned the area with balloons and Iranian flags. An ice cream truck, live music, and signs that read "Free political prisoners!  Free ice cream!" and "Hang in there!" are part of the dark humor.
"If anyone deserves to be humiliated and punked, it is a regime that hangs gays, murders poets and tortures bloggers," said Keyes. "Satire is a profoundly powerful tool against dictators as we saw with North Korea's hysterical response to The Interview. Tyrants silence and jail satirists because they fear them."
A satirical invitation was sent to U.N. Secretary General, Ban Ki-moon, inviting him to join the party.
H.E. Mr. Ban Ki-moon,

Secretary-General

United Nations

New York

Excellency,

Iran has a rich cultural, national and religious heritage.  Iranians also enjoy celebrating major milestones in our unique history.  It is my privilege, therefore, to invite you to an exciting event marking a historic achievement.  This [Wednesday], April 29, 2015, join us in celebrating 1,000 hangings in Iran (in the past year and a half alone)!

All Iranians have the right to be hanged, whether you are a poet that blasphemed or merely gay. There is no place for discrimination in our policy to hang the enemies of god. Men, women and children have all been jailed, tortured and asphyxiated at the end of a noose for their opinions and sexual identities.

We hope you will join our staff to mark this exciting milestone in Iranian history. The celebrations will be held from 9:15 to 10 a.m. at 60 Washington Square South, New York, NY 10012.  Plenty of ice cream and fun for the whole family.

Please accept, Excellency, the assurances of my highest consideration.

M. Javad Zarif

Minister of Foreign Affairs of the Islamic Republic of Iran
This morning's event is not the first time Mr. Keyes has confronted the Iranian foreign minister.
An October, 2013 encounter revealed that Mr. Zarif uses Facebook even though his government bans it. The Islamic Republic's minister also claimed not to know who Iranian activist Majid Tavakoli was, when asked about his 2009 arrest for protesting Iran's disputed presidential election.
This led to a social media firestorm that resulted in Tavakoli being released.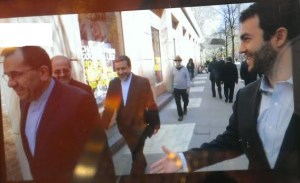 UPDATE: After Foreign Minister Zarif's speech concluded, Iran's deputy foreign ministers Abbas Araghchi and Majid Takht Ravanchi were confronted by Mr. Keyes. The "party" organizer congratulated the diplomats on their success hanging so many in such a short period of time and offered them ice cream to celebrate. The men, "clearly flustered," according to Keyes, walked entirely around the block alone with the activist giving chase, holding balloons in the colors of the Iranian flag.
Speaking Farsi, Mr. Keyes proclaimed, "One day freedom and democracy would come to Iran." As the men rushed into a car, he asked them to "say hi to Majid Tavakoli for me." Mr. Keyes told the Salomon Center, "The diplomats snapped pictures of me from inside the car and sped off."
Paul Miller serves as executive director of the Haym Salomon Center for American Jewish Thought. Follow him on Twitter: @pauliespoint.