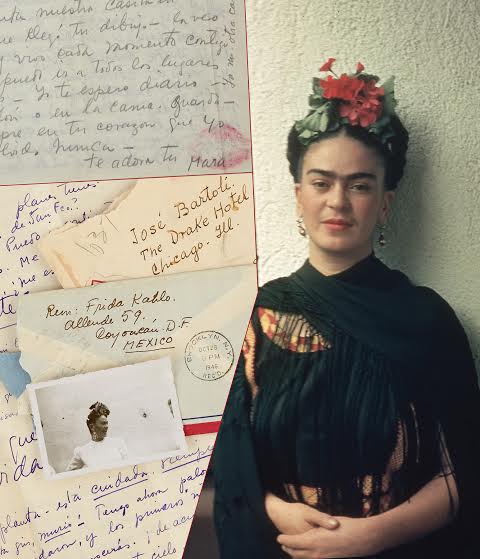 "My Bartoli…I don't know how to write love letters.  But I wanted to tell you that my whole being opened for you. Since I fell in love with you everything is transformed and is full of beauty…. love is like an aroma, like a current, like rain.  You know, my sky, you rain on me and I, like the earth, receive you. Mara" — Frida Kahlo, October 1946
Passionate, evocative, never-before-seen love letters by Mexican painter Frida Kahlo to her New York lover, Spanish artist and refugee José Bartoli—all penned during her marriage to legendary painter Diego Rivera—are heading to auction later this month in the city, likely to attract a swoon-worthy, International crowd of Kahlo admirers.
On Wednesday, April 15, the unpublished cache of 25 original, autographed letters will be for sale at Doyle New York during a large Rare Books, Autographs & Maps auction. As interest in the artist's life hits a new threshold with major exhibitions in both Detroit and New York, the letters are expected to be the highlight of the sale, fetching anywhere from $80,000 to $120,000. Transcribed in both colored ink and pencil, the letters range from 2 to 12 pages in length and for the most part include the original stamped and postmarked envelope.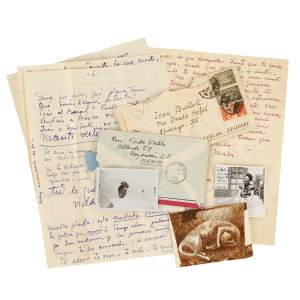 In 1946, at age 39, Ms. Kahlo met Mr. Bartoli in New York while in the city for a spinal fusion performed at New York's Hospital for Special Surgery. The procedure was a result of the now-infamous bus accident years earlier that had left 18-year-old Ms. Kahlo partially paralyzed and in severe pain for the remainder of her life. From 1946 to 1949, while married to artist Diego Rivera, Ms. Kahlo authored over 100 pages of poetic correspondence in Spanish to Mr. Bartoli while recuperating at her home in Mexico City.
The letters shed new light on Kahlo's love for Bartoli, an unknown pregnancy, her post-surgery relationship with Diego Rivera, as well as her personal and professional struggles. The letter archive also provides further information on one of her most widely known paintings, Tree of Hope, a double self portrait completed in 1946 that depicts a seated Frida next to a wounded Frida lying outstretched on a hospital trolley.
"The Frida Kahlo archive is remarkably important. Her letters to José Bartoli are entirely fresh and unpublished. They provide new information about one of the most important artists of the 20th century," said Peter Costanzo, the specialist in charge of its sale, in a statement to the Observer. "Its contents will surely further scholarship on Frida Kahlo."
In the correspondences, Ms. Kahlo slipped in precious personal keepsakes and mementos, including original drawings, photographs, and pressed flowers. The lot features letters including pieces of Kahlo's ribbons and beads, drafts of letters in Bartoli's hand with numerous cross outs, and vintage photographs and color slides depicting Kahlo.
Fortunately, Mr. Bartoli cherished and preserved his private communications from Kahlo until his death in 1995, at which time the significant archive passed down Mr. Bartoli's family line to the current owner, according to Doyle. For the first time, the letters will be made public, further illuminating the enigmatic life of one of the world's most important artists.
Even Hayden Herrera, the distinguished Frida Kahlo scholar and author of the biography, "Frida: A Biography of Frida Kahlo," published in 1983, has expressed excitement in a 1,500 word essay about the value of the correspondence.