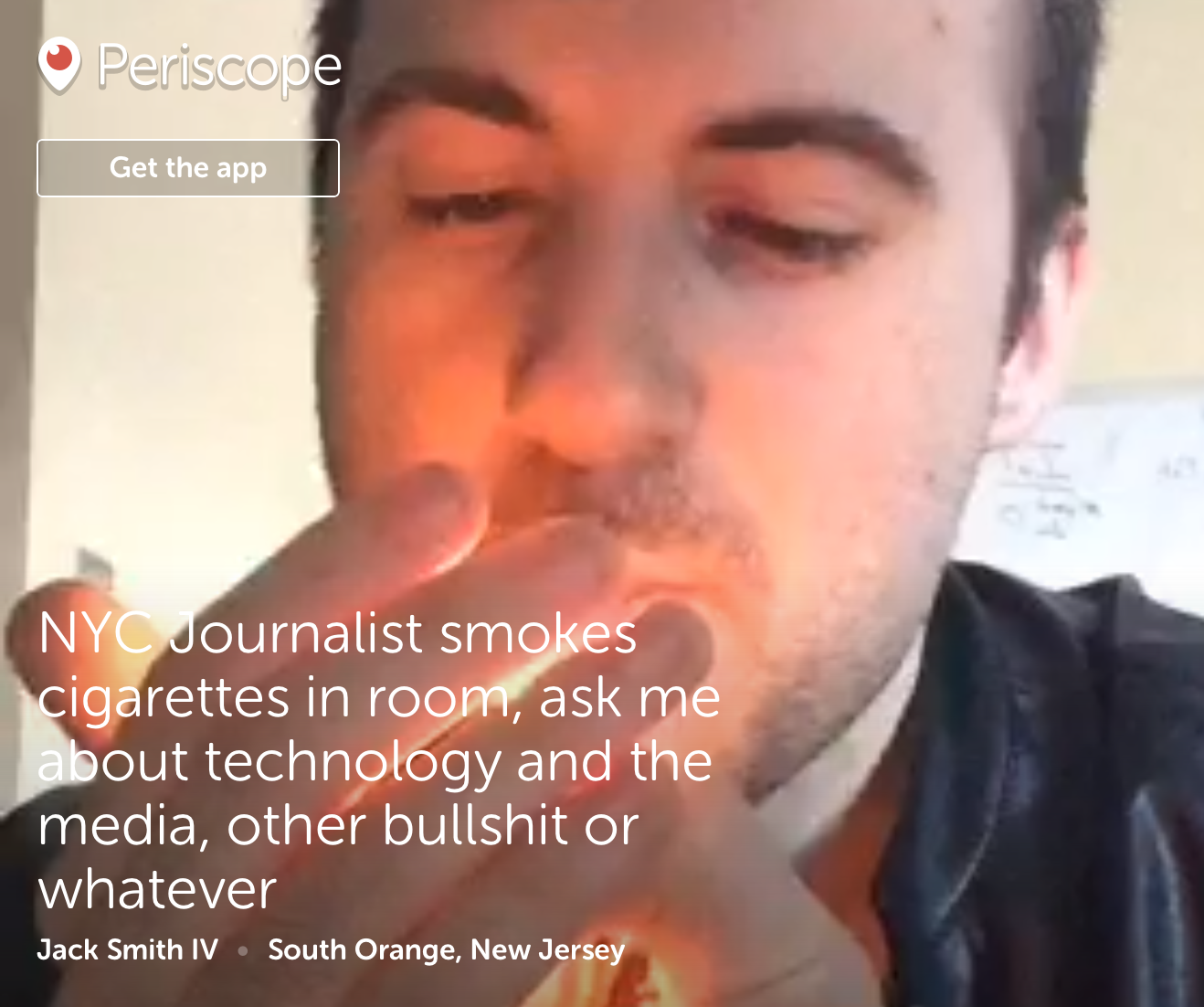 I was out to dinner with a small group of reporters and editors when I decided to whip out Periscope, the new mobile live-stream app from Twitter. Exhausted by the Meerkat hype, none of us were that interested in the next app fad, but in my infinite disregard for privacy and humanity, I went live with a stream called something like "NYC Media People Drunk at an Outback Steakhouse."
A few dozen people came in, asked questions, dared us to perform various shenanigans and made us give shout-outs. Everyone insisted I stop doing it after 10 minutes or so, but I noticed we'd racked up a total of about 200 users in that time.
When I got home that night, I popped open the app, opened a fresh pack of menthols, propped up my phone on top of its charger and started a new broadcast called "Journalist smokes in a room, talk to me about the media, tech, other bullshit." My feed started filling with little questions about everything from my appearance to Apple Watches to self-driving cars. My schtick was this: answer every question honestly and as fast as possible.
At one point, I noticed I was carrying 150 live streamers at a time, which would come out to around 3,000 for the session. After the pack of cigarettes was dead, I reluctantly signed off. Two and a half hours had passed by without my realizing. When I logged back into Twitter, I had 100 new followers and a slew of these:
So I did it again, and again, and again.
I developed a routine—similar headline as my first one, similar format. Because of my general effeminacy and mannerism, many people insist I'm gay, and my rapid-fire answering of questions elicits constant accusations that I'm on cocaine or speed. So every five minutes or so, I'd have to refresh new viewers with:
"For all of you just tuning in, let's cover the FAQs: My name is Jack Smith IV, I'm not gay, I'm not on cocaine, and I'm not going to show you the inside of my fridge," I'd say. "Other than that, fire away."
I began waking up each morning to tweets asking when I'm going to be on, and if they had missed last night's session. I had a small family of regular viewers I'd never met who began answering question for me when I couldn't, who were showing up to every broadcast. A few regulars started referring to me as Periscope Jesus, or the Perismoker. Someone sent an email to my editor in chief to tell him they liked what I was doing. The few humans I know in real life would ask, "Why the hell are these people doing this? Why are you doing this?"
I didn't know why anyone was tuning in, but I, for one, was addicted. Thirty minute sessions felt like I'd barely done any time at all. One time, I told everyone I was signing off early. After I stopped broadcasting, the post-game breakdown said I'd done almost an hour and a half.
Between Thursday and Sunday night, I logged about six hours and racked up about 100,000 hearts, which you get from your viewers when they tap their screen in approval. At 400,000 hearts, I'd be on the world-wide leader boards for Periscope—an easily achievable goal if I'd started last Sunday night, doubled my time commitment, and shifted some of my broadcast time to late night hours.
Here's what I've learned so far:
It's not a one-way medium
The stereotype that live-streaming exists so that you can just watch other people live their lives is as tired and weak as other codgerly misunderstandings of new apps, like saying Instagram is for pictures of food, or that Snapchat is just for sending nudes.
What streaming apps are really for is interaction, and as much of it as possible. The appeal for most viewers is that ability to reach through the stream and affect you from their remote perches, hidden behind their phones thousands of miles away.
Besides, nobody gives a shit what you're wearing if they can't compliment or criticize you, see that criticism land emotionally with you, and hear your response. If a broadcaster never responds to comments, that person begins to hemorrhage followers.
They'll also test you. I've been asked to hit myself, sing, dance, commit suicide, give fridge tours, introduce friends and family, undress and bring on guests. I have to be careful about what I'm willing to do on camera—once I put a few drops of blood in the water, I know there will be a number of people who won't be satisfied until I up the stakes, over and over again.
And because people are often hidden behind avatars and don't have the lens pointed on themselves, they're emboldened to interact with you in ways they never would face to face. Everything is amplified by their anonymity: their flattery, their insults, their harassments and their curiosity. If it seems like Periscoping is for the attention-starved, that criticism goes both ways.
They want to get intimate
Because they see me at night, in my home and vulnerable—and because I'm willing to talk to them about almost anything—the viewers who stick around for hours at a time get very a very intimate look at my life and personality. And that's exactly what they love.
They notice if I've bought a new pack of cigarettes when I said I wouldn't, if I've opened my windows, if I'm wearing the same clothes as earlier in the day (or even if I'm wearing the same shirt Monday that I was Friday). They know my middle name, the last stories I wrote, where I live, where I get breakfast, what my father does for a living, what I will and won't talk about and, judging from the state of my hair, if I've showered yet that day. A lot of times, they want to go deep, partially because it's exciting to elicit intimate statements from a stranger, but partially because familiarity is why they keep coming back.
When one viewer asked if I'm happy I respond with "No," and they wouldn't just let it go without an explanation.
Because people feel this familiar, they keep coming back. They don't want to miss an opportunity to learn, and they don't want other members of the viewing community to have better insights and inside jokes.
Many Periscoper broadcasters engage with commenters, but leave their viewers disappointed when they don't go deep, have strong opinions or answer sensitive questions. And their audiences turn on them for it.
The stream is not enough
As much as people seem to like the feed, so many people insisted on going off-stream in order to stay in touch. People want my handle for Instagram, Snapchat, Facebook, my email address—I've gotten as many Twitter followers in the past five days as I did in the entirety of last summer. I've been invited out on dates, onto podcasts and approached by studio photographers for pro-bono shoots.
---

The worst Periscopers, ironically, are local TV news hosts, who should be way better at interacting with a live broadcast.

---
I keep an envelope nearby with my social media handles written on it—though I had to arduously write it backward, because Periscope mirrors the feed horizontally—which I hold up. Every time I do, I see my notifications roll in on my laptop out of the corner of my eye.
Because they'd been testing me and learning about me, they wanted to be able to reach even further through the screen. They went back and dug up old photos of me to talk about on Periscope, went looking for where I buy my jewelry and tweet at me about articles they Google.
And they're the best kind of followers. As a journalist, you get used to your followers being either PR professionals trying to slide their way into your radar or other reporters in the Media Twitter cesspool. My Periscope followers asked me questions, tweeted my articles, told me their thoughts throughout the day—you know, the things you actually use social media for in the first place, when you're doing it right.
And of course they wanted different channels to reach me on. The platform where they met me is such a disaster.
Periscope Is a Terrible App
Periscope is just a slow, glitchy app. The screen doesn't rotate, so a charging phone has to be balanced on its charge cable, and you can't message other users, see their past feeds or do anything besides see a short bio, follow or block them.
The biggest problem is that discovery is terribly broken, and it's impossible to find good streams. You can search by people, but there is no other search or tagging mechanism, and trying to share your stream with people is nearly impossible unless you set your feed to automatically tweet out a link, lift the link, and then put it elsewhere.
Until discovery improves, sitting on the homepage and waiting for a promising feed is a sad roulette game where nearly every result is someone testing the app for the first time, avoiding questions or simply playing with their pets. Jim Gaffigan apparently did a few Periscopes, and I'm told General Assembly had a good one for an event called Women Who Tech. Other than that, I probably ask my audience every 10 minutes if they've seen other Periscopes they like, with a resounding "Hell no."
I got lucky. Early success and momentum means that every time I log in, it takes me about two full minutes to wrack up 80 to 100 live viewers. But if you don't have Periscope followers, a separate platform to leverage or some serious live-stream aptitude, you'll probably fail, and the lack of hearts and viewers cause you from ever surfacing. Case in point: One user I spoke with started a stream called "Playing with my boobs," a pretty winning declaration for a voyeurism engine. Not a single viewer tuned in.
This is going to cause serious problems for Periscope's development. Right now, everyone has rushed into the proverbial nightclub, but if the music is terrible, the lights are bright and no one is dancing, everyone is going to leave en masse.
What's next
It's impossible to say whether the problems with Periscope ensure its demise. The nightclub hasn't emptied yet, but if there isn't an easier way to find good Periscopes and share them, that day will come soon.
In the meantime, I'll still be streaming. I'll start bringing on guests who can keep up with the rapid-fire AMAing, throw in other activities, do streams on more specific subjects and keep asking what followers want. So far, they say they just want more of the same. And I'm going to keep giving it over, even if I have no idea why I'm doing it.