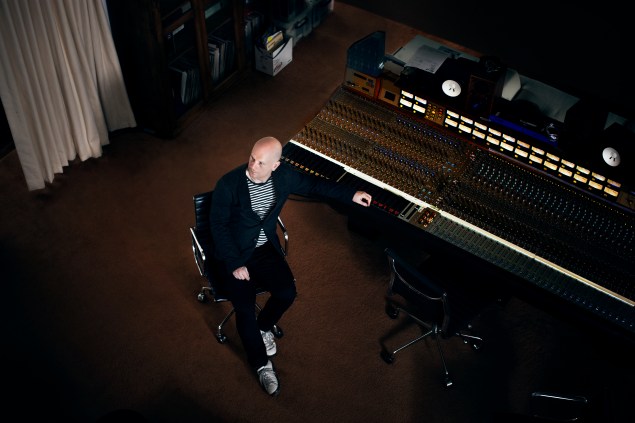 Philip Selway is best known as Radiohead's drummer, and less well known as Orsino Thruston, drummer for all-star band The Weird Sisters in Harry Potter and the Goblet of Fire. Levity aside, either way, his role was easily, if clumsily defined: Drummer.
But, if the 47-year-old English musician's solo debut, Familial (2010), which switched Selway to frontman and lyricist, didn't hammer the point home, then Weatherhouse, which was released on Bella Union last fall, is his resume game-changer. True, it's a Radiohead-like blend of tension and transcendence, filled with hazy, classic pop songs as contemplative as they are melodically catchy. The album includes production and performances by Adem (Adem Ilhan) and Quinta (Kath Mann), who Selway enlisted as Familial's live band. This month, the threesome, joined by Antibalas drummer Chris Vatalaro, launch Selway's first U.S. solo tour in New York City (at Le Poisson Rouge Friday, April 10), and then head West to the Coachella Valley Music & Arts Festival. Additional dates in August return the crew Stateside. Speaking via phone from his home in Oxford, the cheerily spoken Selway explained his solo self and reassures the next Radiohead album is underway and on track.
The Observer: Weatherhouse has a different feel to Familial: It's bolder, much more outgoing and pop.
Philip Selway: It does have a different kind of soundscape around it. Whereas Familial is a very intimate record—I talked about it at the time as being like a pillow-talk kind of record—Weatherhouse feels much more expansive to me. But it feels very much like a progression.
---

'…Sometimes when a song's tricky to finish, actually allowing yourself to go with that attitude gets the song finished. There is a truth in that.'


---
Was it a matter of finding your feet as a solo artist?
It's partly that: there was a lot to learn. How Familial sounds is how in my head I wanted it to sound. Those songs came out of a very private writing process: very much under the radar. I wanted the music to reflect that and also work around the singing voice I was finding. I took a lot of lessons I'd learnt from Familial—there were some hard-earned lessons in there as well (laughs). Like anything you do, you build on that. If I have another chance to make another record, then I'll build on what I've done with these two records, and other projects I have been working on as well. You always want to stretch yourself as a musician, so you're always building on what's gone before.
What influences added to this record, which Familial didn't have?
The musical relationship with Adem and Quinta, from a creative point of view, from a musical aesthetic point of view, I really wanted to explore that side of things. Because we'd worked together in the live band for my first record, I knew there was something really interesting happening there. We felt very much in tune musically and taste-wise as well. That really drove what I was doing. But, with Familial there were musical relationships happening there with Lisa Germano and Sebastian Steinberg. It's always about [being] drawn to musicians you feel you have an affinity with. You find what comes out of those musical voices and pair that with your own. That is what gave the record's direction for me.
Words are a song's most direct communication. Unlike the Radiohead songwriting process, you are the lyricist here; you are in the driving seat.
In Radiohead, that's very much Thom's voice and it gives me some space. When I first started being in bands as a teenager I didn't have a great sense of my lyrical process. I didn't get a sense of it until I was far into the process with Familial. That has got a very strong flavor, as you would hope, of me in there. With both, I was very keen to allow the songs to ring true.
Songwriters often refer to a certain magic and the song writing itself. Do you find that?
Absolutely, you hear people say that and think, "Oh yeah, right." But sometimes when a song's tricky to finish, actually allowing yourself to go with that attitude gets the song finished. There is a truth in that.
Does Radiohead's member's solo work take you guys away from getting on with the next Radiohead album?
No, don't worry, we're definitely working on stuff; we've been in the studio all this week. It's all still happening; it's all still moving along.
[youtube https://www.youtube.com/watch?v=WkLfoBlJJWU&w=560&h=315]