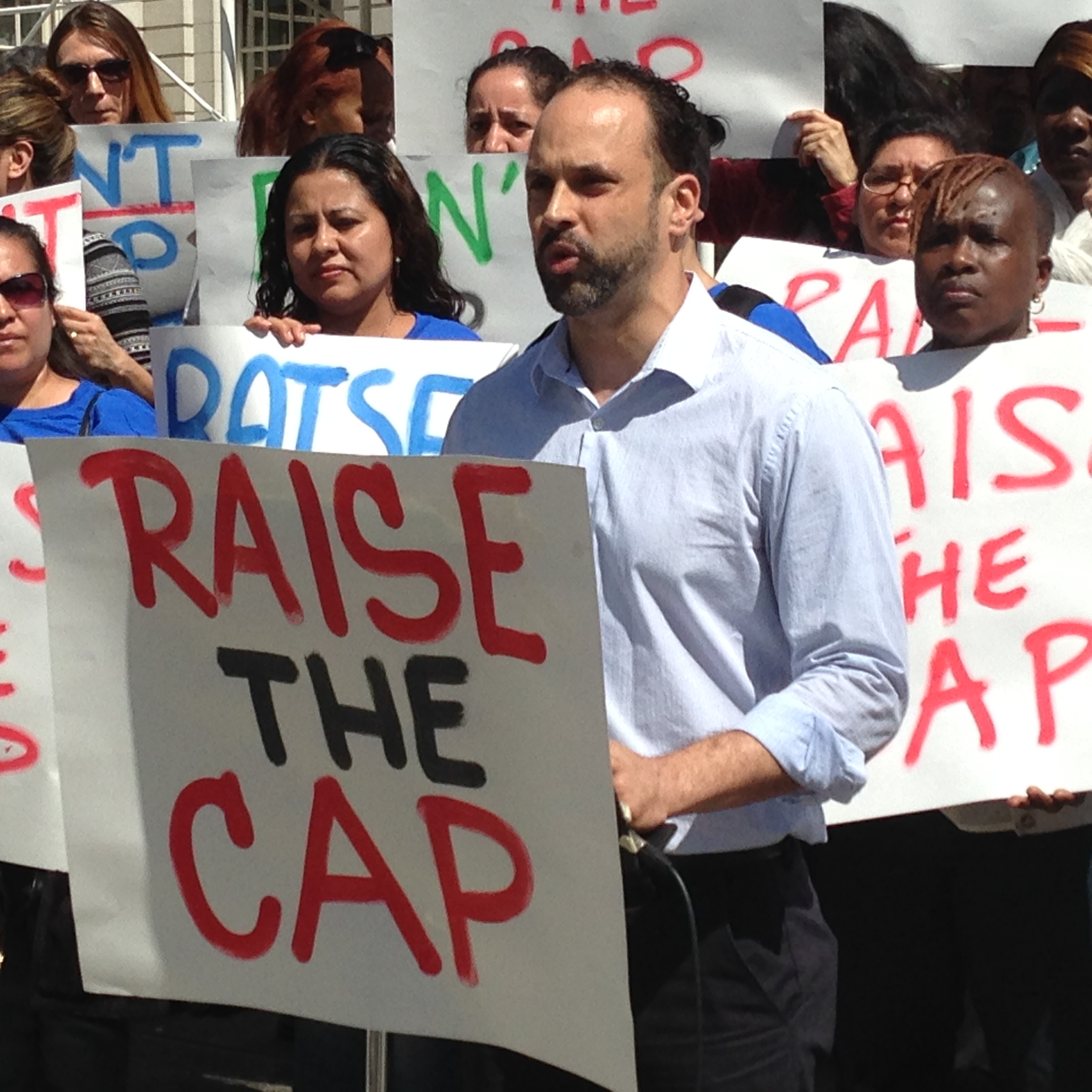 About two dozen parents affiliated with the pro-charter school group Families for Excellent Schools rallied on the steps of City Hall today to call for state legislators to lift New York's limit on the number of the privately-run, publicly-funded charter schools—but, in a notable messaging change, avoided attacking Mayor Bill de Blasio, a charter critic and teachers union ally.
Parents—whose children are either currently enrolled at charter schools or are among the thousands on wait lists—carried signs urging Albany to "Raise the Cap" on charters from the currently allowed 460, a measure supported by Gov. Andrew Cuomo and the Republican State Senate, but opposed by many Democratic assemblymen linked to public school advocates and Mr. de Blasio. FES organizer Joseph Herrera focused his rhetoric less on denigrating the mayor and Schools Chancellor Carmen Fariña, and instead emphasized granting parents greater freedom on deciding where to send their kids.
"This is about parents, this is about choice, this is about parents choosing what works best for their children," he said. "This right here today is about parents exercising their school choice and fighting for, fighting against any barrier that prevents a parent from choosing what's best for their child.
Mr. Herrera said that his group did not have a target number that they would want to see the cap lifted to, though an FES spokesman said the group supported Mr. Cuomo's proposal to allow another 100 charters open. Mr. Herrera said that ideally, the ceiling should be abolished entirely.
"When Mayor Bloomberg wanted to cap the amount of soda that people were able to drink, the city was up in arms. Yet we cap the educational opportunities for families every day," he said. "Right now, we're looking to raise the cap, however, any cap on educational opportunities is unjust."
Mr. de Blasio and the teachers' unions lost out in this year's budget negotiations when Assembly Speaker Carl Heastie assented to Mr. Cuomo's proposals to tie instructor evaluations to student performance on standardized tests, and to make it easier to fire educators. The agreement, however, triggered a statewide backlash as unions and conservative opponents of the Common Core curriculum urged parents to have their children opt out of the tests.
A charter advocacy source told the Observer that the charter movement was looking to borrow the opt-out movement's rhetoric of parent choice and move away from attacks on Mr. de Blasio.
Mr. Herrera told the Observer two of his children attend Coney Island Prep, a Brooklyn charter school, but that his stepdaughter is a student at Brooklyn Technical High School, one of the city's traditional specialized public high schools—and, coincidentally, where Mr. de Blasio's son Dante is now completing his senior year. Mr. Herrera called it "a great school."