Staten Island District Attorney Daniel Donovan, a Republican candidate for Congress, may be breaking Federal Election Commission law with his campaign signs.
Mr. Donovan, running for an open House seat in Staten Island and southern Brooklyn, has plastered signage throughout the 11th Congressional District that neglects to include a required disclaimer that says they were paid for by his campaign.
The FEC mandates candidates for national office place a disclaimer on most campaign materials and will fine campaigns not in compliance. In the case of Mr. Donovan, his large blue signs reading, "It's time…Dan Donovan for Congress" are disclaimer-free.
"In New York, it's not required. In the federal regime, it's required. In practice, everyone in New York puts disclaimers on. What Donovan's doing is odd," a legal source explained.
There are exceptions to the disclaimer rule, but it does not appear Mr. Donovan's signs meet any of them. Items such as pens, bumper stickers, campaign pins, campaign buttons and similar small items do not require disclaimers. Disclaimers are also not needed for communications using skywriting, clothing, water towers or other forms of advertisement where it would be "impracticable," according to the FEC.
A spokeswoman for Mr. Donovan did not return repeated requests for comment.
If Mr. Donovan is found to be in violation of FEC rules, his campaign could eventually face a civil penalty. The FEC considers campaigns on a case-by-case basis, so determining exactly how steep the potential penalty could be is difficult. "Willfully" breaking FEC rules can lead to civil penalties in excess of $10,000, according to the FEC guidebook.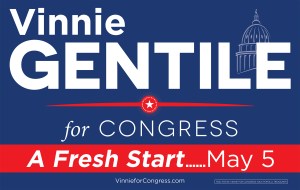 Mr. Donovan's opponent, Brooklyn Councilman Vincent Gentile, has a disclaimer on the bottom of his campaign signs that notes they were paid for by his campaign, naming the treasurer, Nick Popolo. A source close to Mr. Gentile said a person unaffiliated with their campaign had registered a complaint with the FEC yesterday.
"As a matter of course, we do not comment on potential federal investigations with regard to our opponent," said Justin Brannan, a spokesman for Mr. Gentile.
A spokeswoman for the FEC said they do not comment on individual cases.
The special election is set for May 5.