TRENTON — Marching from New York City to Washington, D.C., in the name of social justice, a group of some 50 activists ended the second day of their trek here, at the Gandhi Community Garden off East Hanover Street, where they held a small rally to call attention to the issues of race and policing in America.
"You need to know what you're doing is absolutely necessary," said Rev. Lukata Mjumbe, who runs the nonprofit Urban Mission Cabinet and who participated in national demonstrations in the wake of the beating of Rodney King by police in Los Angles. "Because in 1992, when all we had to see was a man to be beaten to make people go into the streets and to march and to rally and to demonstrate and to raise our voices, and today we can watch people like Eric Gardner be strangled and murdered in front of us, and we still don't rise up. Today we can watch someone like Walter Scott be shot in the back and we still don't rise up. So obviously we've become too familiar. Obviously we've become too accepting of a pattern of violence and abuse."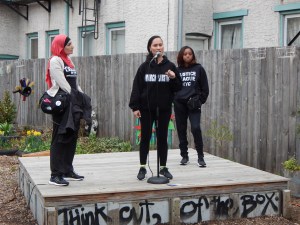 Dubbed "March 2 Justice," and organized by Justice League NYC, the nine day, 250 mile walk aims to raise awareness of police brutality in the U.S. It was spawned, according to organizers, out of the Millions March NYC demonstration that took place earlier this year, which saw ten of thousands of organizers choking city streets in protest the police-involved deaths of Eric Garner in Staten Island and Michael Brown in Ferguson Missouri. But despite ongoing pressure from the social justice community and some response from lawmakers across the country, activists say that similar incidents, many involving the death of black men at the hands of white police officers, continue to take place.
Speakers at today's rally rattled off a list of names involved in police killings that underscore the seriousness of the need for action, including Trayvon Martin, Emmett Till, and Shaun Bell. And earlier this month, the issue of racial profiling in law enforcement was again brought to a head when a white police officer in North Charleston, S.C., was charged with murder after a video surfaced showing him shooting in the back and killing Walter Scott, an unarmed black man, while he ran away.
"Somewhere right now, someone is being abuse and being taken advantage of. It's happening at this moment. And just because no one's there with the camera phone, and no one is there to report what's going on, doesn't mean that it's not happening," said Tamika Mallory, a co-chair of the march. "So when people start saying to you, well, what is that going to do for the issue, or there's not as many white people killing black people as black people kill their own, what you have to say in response to that is we've decided to do something. Regardless of what other folks will do, we're doing something, because we value the lives of all our children, all our family members. "
Beginning in New York City on Monday, stopping in New Brunswick and traveling by bus to a rally in Newark last night, the marchers hoofed it another 20 miles through Central Jersey today, ending in Trenton around 6 pm. The full walk is expected to cover five states before ending in Washington, D.C. on April 21, when organizers hope to deliver a three-pronged package of legislation they hope will help end racial profiling, demilitarize police forces and "shift juvenile justice from institutionalization to prevention."
Organizers said they chose the state's capital as one of their stops because of proximity but also because the economic and social challenges it's faced in recent years, including poverty and high crime rates. Some see a parallel between those circumstances and the ones that have led to police-involved shootings in other cities across the country, such as Ferguson.
Earlier this year, Trenton officials demanded the removal of a mural that paid tribute to the death of Brown, causing some controversy among residents, who argue they've bore witness to similar violence in their own communities.
"One of the things we heard a lot of people saying was Trenton is no Ferguson. But it is Ferguson," said Caitlin Fair, who works with the local nonprofit Sage Coalition, which runs the community garden where the rally was held. "As recently as 2011 we had or own Michael Brown in Cory Brown, who was killed by the Trenton police department. And the fact of the matter is that Trenton is still Ferguson. And every community of color across the nation was Ferguson and is Ferguson and likely will be Ferguson in the future. And this is confirmed for us on a daily basis as the names behind the hashtags keep changing. We never think that it could be our town or neighbor or our friend or sister or father, until it is. And I for one refuse to wait until it is."
The protest has also received political support. Participating in the march is 1199 SEIU United Healthcare Workers East, which lent organizers buses for transportation. George Gresham, the union's president, is  co-chairing the march along with Harry Belafonte, while Milly Silva, the union's executive vice president, also helped organize. Both Silva and Greshman have participated in the walk thus far, and were in attendance at today's rally.
"At 1199 we have a strong tradition of being engaged in social and economic justice struggles," Silva told PolitickerNJ. "Our vision is that we need to bring justice not only to the workplace but to the community. We've been active on the issue of ending racial profiling and investing in young people, we believe that we should have more resources invested in educating younger people as opposed to the pipeline to incarceration that currently exists. So this was a very natural jump."
Gresham — who other walkers praised for leading the pack throughout the day's march — said several factors convinced him to help organizers of the march when they approached him earlier this year, not the least important being the recent controversies of the shootings of individuals like Brown and Scott.
"It was the conditions that exist as this moment in time — a time when I know our members believe that not enough is being done, not enough is being said," Gresham told PolitickerNJ. "We all worry about the young folks in my family, I have a granddaughter that is six years old, and I feel that if someone doesn't raise their voice and stay committed to this, it's only going to get worse. What we are seeing on television is unfortunately a 'can you top this'. It's like you see something and think it can't get any worse, and then the next week you see something worse than that. So I can only imagine what it feels like for the young people of color to constantly watch these images on TV and basically see no justice being done or served, and I believe that is what inspired these young people.
"To me, it's more of a question of how do you not get involved, when you know how hard it is," he added.