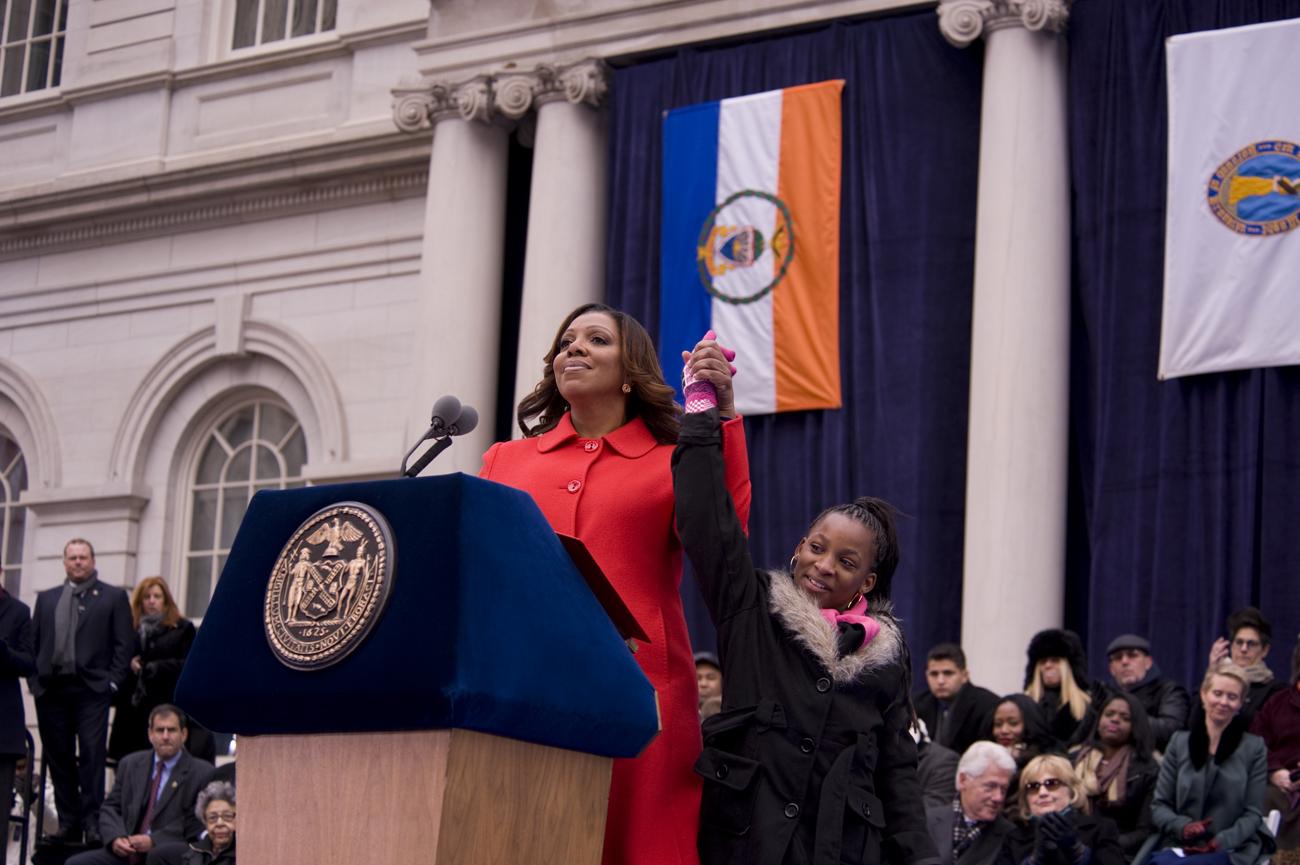 Public Advocate Letitia James today had effusive praise for former Secretary of State Hillary Clinton—who became the Democratic front-runner for president upon officially announcing her candidacy on Sunday—but backed off an earlier pledge to endorse the former first lady.
Speaking to the Observer after a rally to close the male-female pay gap, Ms. James, a fellow Democrat, had kind words for the former New York senator–but stopped short of an endorsement.
"I think Hillary is absolutely fabulous and wonderful, and it would be really exciting, exciting to have a woman president, and I'm looking forward to that. And I have a number of questions for Hillary, and I'm looking forward to that conversation," she said.
Ms. James refused, however, to unequivocally commit to backing Ms. Clinton's bid for the White House.
"I'm looking forward to the conversation with Hillary Clinton," she reiterated.
But in January, Capital reported that Ms. James—who supported Ms. Clinton's unsuccessful 2008 campaign—had vowed to back her a second time if she ran.
During the pay equity event, Ms. James had hinted that she saw Ms. Clinton's ascension to the highest office in the land as inevitable.
"Could you imagine Hillary Clinton making less than President Obama?" she asked, after rattling off a number of prominent men and women who had held the same position.
Ms. James is not the only old ally of the former first lady to demur on endorsing her. Mayor Bill de Blasio—who worked in the Clinton administration and managed Ms. Clinton's Senate campaign—told Meet the Press Sunday that he would withhold his support until the candidate laid out "a clear bold vision for progressive economic change."
Ms. James is a close associate of the mayor's, and frequently backs up his positions.