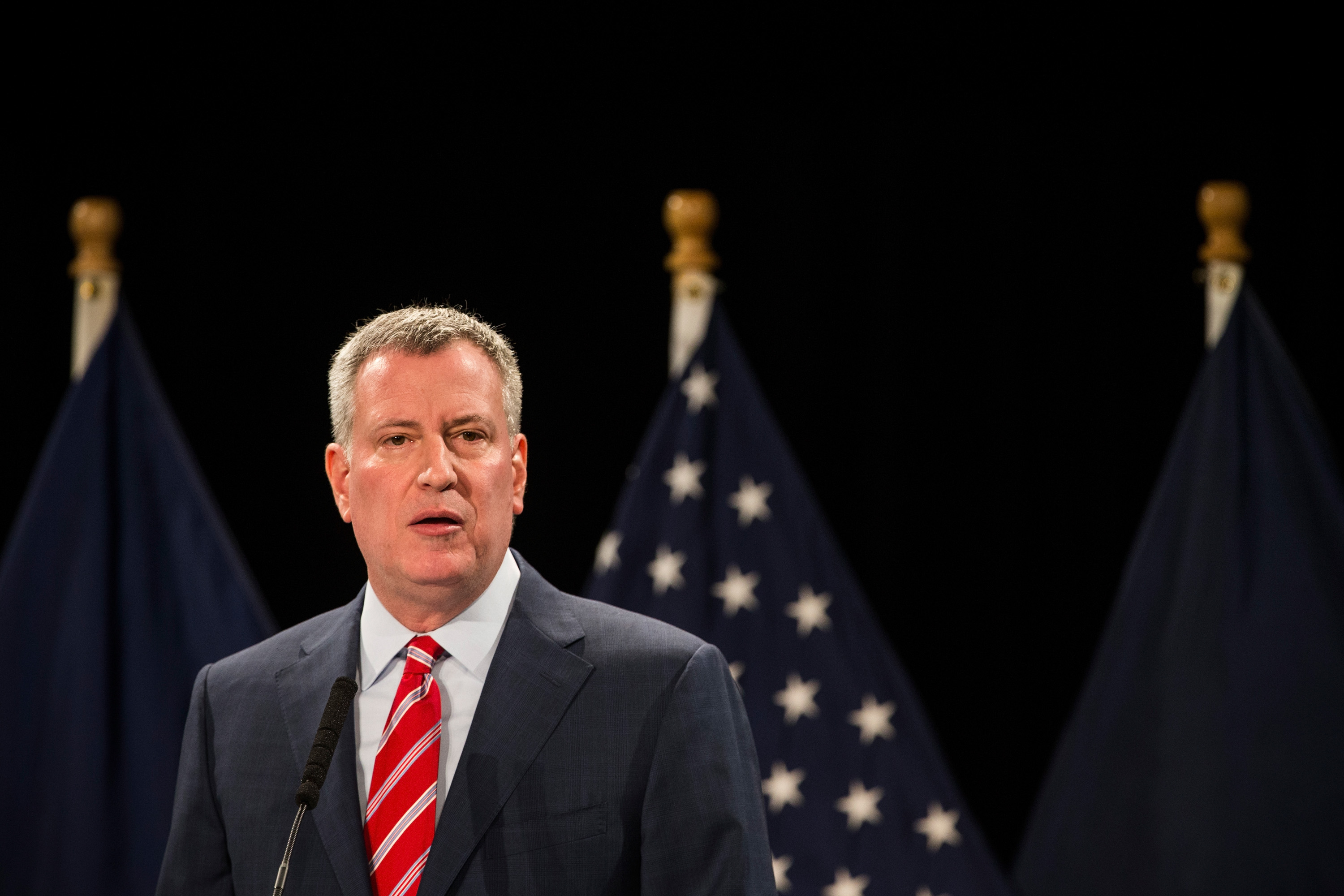 Terrorist threats like the one posed by a pair of Queens women who allegedly wanted to emulate ISIS aren't cause for the NYPD to boost its ranks, Mayor Bill de Blasio said today.
"I think the fact that our police force has once again performed so well is an indication of how good it is in its current state," Mr. de Blasio told the Observer at an unrelated press conference when asked what he'd say to those who think Islamic State-inspired threats require an increased headcount.
Authorities today announced the arrest of Asia Siddiqui and Noelle Velentzas, who allegedly said they wanted to be "real bad bitches" and considered targeting police funerals. According to court documents, they desired to become "citizens" of Islamic State, or ISIS, which has wreaked havoc on the Middle East.
Mr. de Blasio took pains to note the women had been caught before they could make any progress in their terror plots.
"This was a conspiracy that was undercut before it could turn into something dangerous, and I want to commend the NYPD and commend the FBI for their exceptional effort in undercutting this conspiracy," Mr. de Blasio said.
But the mayor dismissed the idea that the plot could be an argument in favor of hiring 1,000 more police officers—something the City Council has been proposing since last year but the mayor has so far declined to include in his budget. After agreeing with the mayor last year that the force was at a good size, Police Commissioner Bill Bratton has changed his tune—repeatedly agreeing with the Council that he now needs more officers.
Mr. de Blasio, meanwhile, was focused on other resources to fight terror.
"I do believe we need the additional federal funding so we can keep adding to the technology and the other elements of the equation. I do believe we need a closer working relationship with the federal government," Mr. de Blasio said. "The coordination between the different agencies really is the underlying basis for success."
The mayor will soon receive the council's formal budget response—likely to once again include the call for 1,000 cops—and later this month will unveil his more formal executive budget proposal. He would not say whether he ruled out any increase the police headcount, which is currently 6,000 officers fewer than it was before the September 11, 2001 terror attacks.
"I think we have been over this now for a year-and-a-quarter: we make budget announcements the day we make the budget announcement," Mr. de Blasio chided an inquiring reporter. "We don't just give you hints. We actually make the budget announcement."
Will Bredderman contributed reporting.