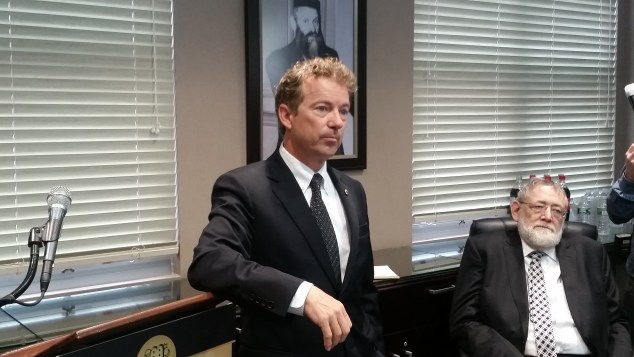 Sen. Rand Paul, a Republican candidate for president, said today in front of an audience of Orthodox Jews that it was a "mistake" to topple Saddam Hussein in Iraq and later wage war in Libya.
"All the way back to the Iraq War, I think it was a mistake to topple [Saddam] Hussein. Hussein was the bulwark against Iran. The Sunnis didn't like the Shiites, now Iraq is a vassal state for Iran," Mr. Paul, the libertarian-leaning Kentucky senator, said. "I'm worried [Iran] is twice as strong as it was before the Iraq War."
Speaking at the Torah Umesorah Hebrew Day School in Midwood, Brooklyn, Mr. Paul said he did not support war with Iran over their nuclear weapons program and took a jab at Hillary Clinton, the top Democratic contender for president and the former secretary of state, for the chaos that resulted in Libya after U.S. forces deposed of Muammar el-Qaddafi.
"Foreign policy has a spectrum," Mr. Paul said. "Hillary's war in Libya is, was, and continues to be an utter disaster. Qaddafi wasn't a good guy but he suppressed radical Islam. Now that Qaddafi is gone, the country is in civil war, the ambassador was killed, our embassy fled … the country is divided and a third of the country supports ISIS."
"Each time we topple a secular dictator, I think we wind up with chaos and radical Islam seems to rise," he said. He argued that any attempt to dethrone Syrian dictator Bashar al-Assad would lead to the Islamic State, also known as ISIS, being "in charge of Damascus."
But Mr. Paul, who said religious faith should be the backbone of any society, tried to win over the hawkish, right-leaning crowd with a mix of foreign policy nuance and conservative religious values.
"I think Israel is one of our best allies and best friends around the world. They're the only democracy in the Middle East and I'm very supportive," he said.
Mr. Paul was in Brooklyn at the behest of an Orthodox Jewish supporter, Dr. Richard Roberts of Lakewood, NJ. The event was open to press and was not a fundraiser. Instead, Mr. Paul spoke to a round table of Jewish leaders at the headquarters of Torah Umesorah, an organization representing more than 900 Jewish day schools.
Mr. Paul said he supported vouchers and charter schools, winning applause from the small audience of about two dozen leaders. After the event, several attendees said they were impressed by Mr. Paul after initially being skeptical of his foreign policy positions.
But a Republican consultant in attendance, Michael Fragin, panned Mr. Paul for being "to the left of Hillary."
"I feel that generally on the Middle East he's well outside the Republican mainstream," Mr. Fragin told the Observer. "I felt he was to the left of Hillary Clinton though it's hard to know what Clinton actually believes these days."
Mr. Paul sped away from the event without taking questions from reporters.