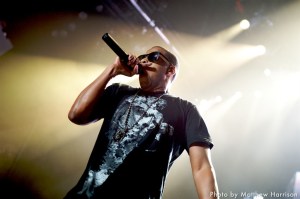 The first quarter is quite slow in the Sales and Advertising world. Advertisers and brands are coming back from holidays and digging through their inbox to find my notes and replies. We're quite accustomed to this and the slow movement is no surprise.
While the advertising industry seems to be hungover from the holidays in Q1, your favorite artists were busy sprinting and hustling. No one told Drake or Kendrick Lamar that Q1 was supposed to be uneventful. In mid February, Drake surprised his fans with the release of If You're Reading This It's Too Late, a full, 17 song project released without warning on iTunes. Meanwhile, Kendrick Lamar finally revealed his much anticipated sophomore album, To Pimp a Butterfly in late March. While both bodies of work had different promotional strategies, and both were critically acclaimed projects.
As one of Waze's resident hip-hop heads, I've been following both artists since the early part of their careers. It's been interesting viewing their progression from the eyes of a business or marketing professional. In swapping ideas and Spotify playlists with fellow hip-hop head Noah Kagan, I've come to the conclusion that rappers are the original "content marketers." It's been a fascinating look and one that shares much with startups and large corporations.
Content marketing is the on-going process of educating and informing consumers. According to the Content Marketing Institute, content marketing is:
"…a strategic marketing approach focused on creating and distributing valuable, relevant, and consistent content to attract and retain a clearly-defined audience — and, ultimately, to drive profitable customer action."
Unlike traditional forms of marketing where you just get a bunch of information, smart content marketers and brands are looking to deliver relevant information that has actionable value for you as a consumer. If you think of musicians and rappers in this case, they're educating you on their talents over a long period of time by giving you quality content, often for free.
Drake is arguably the biggest name in music right now. But before he was selling millions of records, he was putting out mixtape after mixtape of quality (free) music. His accessible content was driving awareness and converting fans. His mixtapes weren't just throwaway material either, they were complete projects with really good stuff.
Think of all the "content" a rapper releases: free songs, free mixtapes, free albums. You could even akin guest appearances to guest blog posts so to speak. Long before he became a household name, Kanye West was doing "guest blog posts" in the form of production credits and song appearances next to iconic artists like Jay Z, Scarface and Ludacris (He had uncredited guest spots on Jay Z's The Blueprint and The Blueprint 2.)
By the nature of their work and background, rappers have to be scrappy and resourceful, like startups. And this means releasing a lot of great stuff before finally asking for someone to buy. Relating to his own experiences as a solo artist and as ⅓ of the fabled  Little Brother trio, Rapper Big Pooh told me that the "..mixtape circuit and guests spots were crucial. (They) help introduce you to a fan base they may have otherwise never heard of you."
Drake's 2009 mixtape So Far Gone, which spawned the hit singles "I'm Goin In" and "Best I Ever Had", was met with critical acclaim and was eventually released as an EP. In late 2013, he released the track "Trophies" for free via his blog. The song was originally intended to be on his 2013 album Nothing Was The Same, but was left on the cutting room floor. The track would eventually wind up on the compilation album Young Money: Rise of an Empire. The once throwaway song went from free track, to Rise of an Empire's second single to garnering Grammy considerations. Not bad.
If You're Reading This It's Too Late has received much of the attention in this early part of 2015, and while Drake may be the biggest name in hip-hop at the moment, many believe that Kanye West is still the hip-hop heavyweight. Amos Barshad from Grantland summarized it best by saying that:
"Drake doesn't exist — as Drake would, one assumes, personally attest — without 808s & Heartbreak. For all of his glorious bounty, Drake still lives and breathes and eats in the shadows of Ye's worst album."
Love him or hate him, one cannot deny Kanye's impact on the genre. He was innovating and setting trends years before they became the norm. You're sampling souls records? Kanye ushered in that era circa 2000, 2001. Want to incorporate strings and lush arrangements to your work? See Late Registration in 2005. Are you just now including electronic and EDM sounds into your latest project? Graduation did it in 2007, before EDM became a trend.
Kanye hasn't released a mixtape in a while, as his last one came in 2007, a few months before the release of Graduation. But he's done some great stuff that would classify as "content marketing"
In the summer of 2010, he began a segment called GOOD Fridays (named after his label, GOOD Music). Every Friday, until the end of 2010, Kanye West would release an original and free song. Anticipation and reception was so heavy that his blog would crash numerous times on those Fridays. This promo was for the lead up to his then forthcoming album, My Beautiful Dark Twisted Fantasy.
I recall being at a party some September evening in Modesto, and refreshing my iPhone 3G (this was 2010, after all) waiting for Kanye to release the latest song, called GOOD Friday. At about 11pm PST it finally came out. I remember grabbing Travis and Tyler and escaping to the side yard to listen to the track, free of noise and distraction.
Tracks like "Monster", "Devil in a New Dress" and "So Appalled" would find their way from GOOD Fridays to Dark Fantasy as remastered or updated tracks. As Kanye showed on this series, giving away great content for free months or years before releasing a "paid version", so to speak, is part of the process of creating and converting new fans.
Contently helps brands like AMEX, Coca-Cola and JP Morgan tell their stories through original content. They understand the need for a brand to tell a good story. As CCO Shane Snow put it "no one cares about your marketing goals. But everyone likes a good story."
With the proliferation of information throughout the internet, releasing quality content and quality stories  will be what helps brands stay relevant. Simply put, consumers aren't as receptive to traditional, push marketing. But if it's quality, actionable content, then your brand can stay relevant with your target audience. So if you're an aspiring artist, you can stay top-of-mind and when your debut album is released, people will remember your guest verse on "Never Change".
I was surprised to see that content marketing isn't just helpful for small brands (or the XXL Freshman Class of 2009) but also for giant entities like Coca Cola and American Express. Take a look at Morgan Stanley's homepage. It's all relevant and arguably useful content on personal finance and the market at large. And while you'll find quite a few thought-leadership pieces on sustainability, you'll have to look deep to find information on checking or IRA accounts.
Quality content helps brands stay top of mind and relevant to consumers. And as more and more brands employ content marketing strategies, the bar for good stories will invariably be raised (and probably become narrower).
Just as the internet has made it easier to disperse information (most of questionable quality), so too has it made it possible for anyone with an internet connection to become a "rapper." It seems that just about everyone has a "mixtape." And while this phenomenon of the YouTube musician has made for hilarious memes, it's also made it more difficult to sift through the junk and find talent.
If you look at any of the iconic hip-hop albums from the last 20 years or so (Illmatic, Reasonable Doubt, Ready to Die) you'll see that good rappers are great storytellers. So perhaps it makes sense that they too would be good content marketers. As for your brand, even in a slow quarter, you can still share a good story.
Eric M. Ruiz oversees sales and strategy in LatAm for Waze, the Social GPS and Navigation app that was acquired by Google in 2013. A native of Modesto, Calif., Eric now resides in NYC and struggles to find decent Mexican food. When he's not in Latin America, Eric can be found reading, writing or yelling at his TV while watching soccer.