NEWARK – Politics predictably percolated at this plaque unveiling ceremony for the ultimate Essex County political master builder, the late Ray Durkin.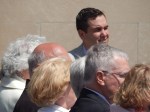 On one side of the packed outdoor event outside the county hall of records building sat Jersey City Mayor Steven Fulop, squinting
in sunlight amid blown cherry blossoms.  On the other side, tall and arms akimbo next to local hired gun Brendan Gill, stood former U.S. Ambassador to Germany Phil Murphy.
Those two public poles or pols define much of the backroom wrangling now over the direction of the Democratic Party. In this Essex County context, both hard scrambling unofficial 2017 Democratic candidates for governor sought to project all the right body language and facial expressions into a ceremony by turns solemn, humorous, respectful, fun and through it all inevitably political.
Ray Durkin was once the man whose ring statewide-seeking Democrats kissed on their way to Drumthwacket.
Now it's Essex County Democratic Chairman Leroy Jones, who occupied a seat in the front row of this Exodus:Gods and Kings-theater heavy Essex event.
Mr. Durkin's levity punctuated the proceedings.
"We used to get together and everyone would be arguing," recalled East Ward Democratic leader Joe Parlavecchio. "Tommy [Giblin] and Steve [Adubato] would be going at it."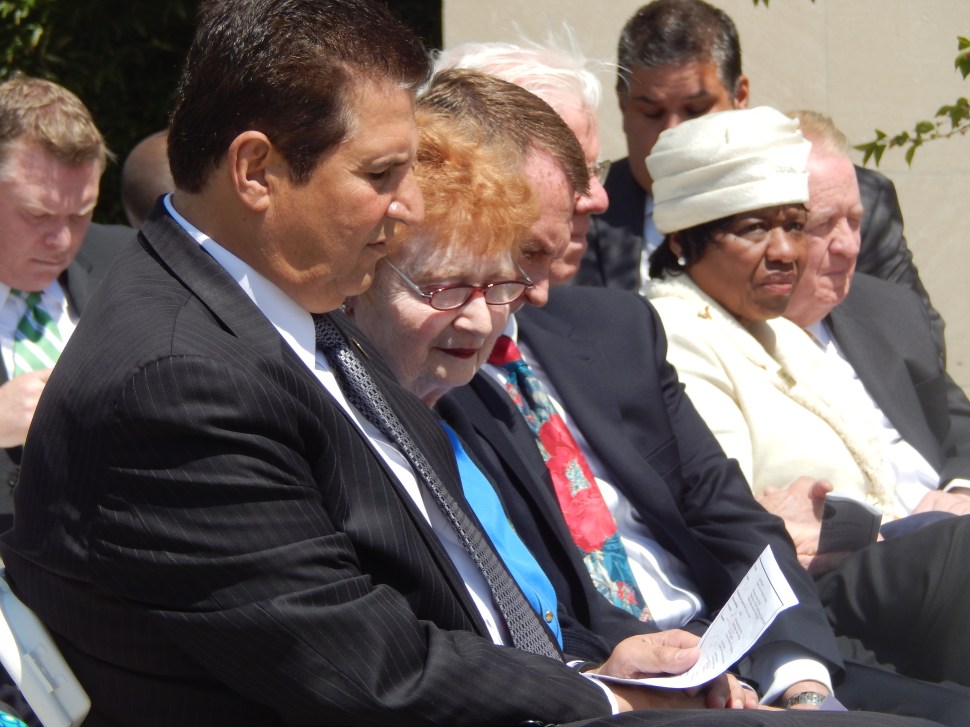 Grins of recognition and anticipation met the remark in a big crowd that included the likes of Essex County Executive Joe DiVincenzo, Jones, former Governor (and state Senator) Dick Codey, former Governor James McGreevey, Giblin, Fran and Steve Adubato, former Assemblyman Bill Payne, state Senator M. Teresa Ruiz, state Senator Kevin O'Toole, Assemblywoman Sheila Oliver, Assemblyman Ralph Caputo, Divincenzo Chief Phil Alagia, Essex County Freeholder President Britnee Timberlake, Freeholder Pat Sebold, Sheriff Armando Fontuora, West Orange Mayor Rob Parisi, North Ward Councilman Anibal Ramos, Democratic operative Tom Barrett, and Ray Durkin's wife and children, among them Essex County Clerk Chris Durkin.
"Suddenly in the midst of all the arguing, Ray would say, 'What do you think of my tie?" Parlavecchio added, noting the late Durkin's ability to routinely diffuse tensions.
DiVincenzo dedicated the bronze plaque to the late Essex leader, a Newark native and state chairman of the Democratic Party from 1985-1990. He served as Essex Democratic chairman from 1980-1992.
"We affectionately described Ray as being a member of the Old Guard because he was a seasoned veteran of Democratic politics," DiVIncenzo said. "Ray was a superior strategist, leader and mentor to generations of Democrats whom he tutored, including me. Known for having a great sense of humor, but he possessed a keen understanding of government and politics, had tremendous ability to build bridges and find consensus, and reacted to all situations with calm reasoning."
Ray Durkin would have delighted at the statewide-sized chess board game undertaken in accelerated fashion now by Fulop and Murphy.
Both men apparently see Essex – home to the greatest number of Democrats among New Jersey's 21 counties – as a big and vital piece.
Their presence was expected here.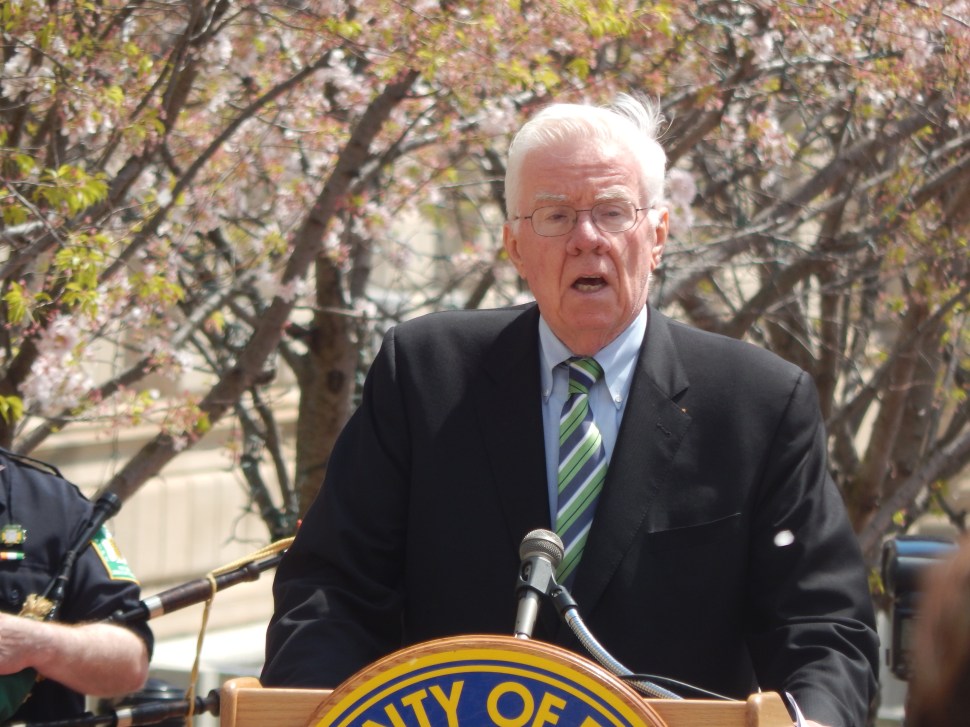 But just last week, the rivals appeared at the head of the room of local Democrats in Bloomfield, each taking a turn at the mic with politics pulsating between them.
On Saturday morning, Murphy dropped in on an East Ward Democratic Party event to greet Jones on the county chairman's home turf.
And just yesterday, Fulop dropped into the Newark School Board election to put on full display the political tail feathers he won in Newark when last year he backed Ras Baraka, whose board candidates mopped up last night.
This afternoon, as the two men waded into this sea of Essex politics, somewhere Ray Durkin was smiling.
"Somewhere?" said McGreevey. "Ray is of course in Irish political heaven with the likes of Cryan, Critchley, Giblin, McEnroe, and Tansey."