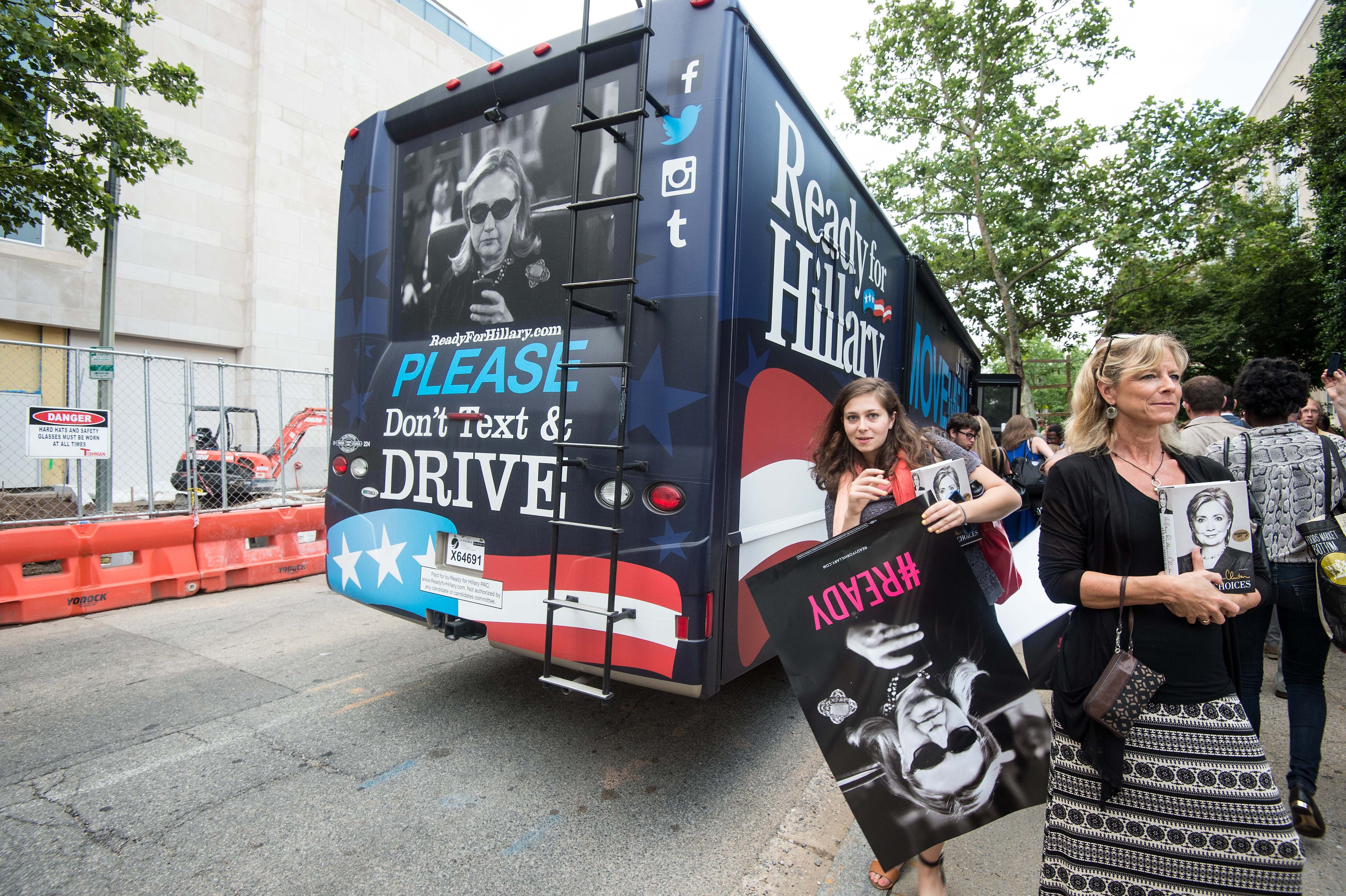 Consider it Ready for Hillary's last hurrah.
A day before Hillary Clinton is widely reported to be announcing her bid for president of the United States, elected officials and supporters from the independent PAC that has been urging her to run gathered to celebrate what they considered something of a victory.
"Our goal was to encourage her to run, so we're ecstatic today—she's running," Congresswoman Carolyn Maloney said, before adding a bit of attribution: "So the press tells us."
Ms. Maloney was among a slew of lawmakers who turned out to praise the former Secretary of State, U.S. Senator and first lady a day before multiple news outlets have reported that Ms. Clinton will officially launch her campaign with a video shared on social media. The gathering at SouthWest NY, a bar near Battery Park, was held just miles from where Ms. Clinton's campaign will be headquartered in downtown Brooklyn.
Among those in attendance was Assemblywoman Jo Anne Simon, in whose district Ms. Clinton's offices will stand on a well-named intersection.
"It's perfect because she's right there at Tillary and Clinton, right? You couldn't find a better, more alliterative place to be," Ms. Simon said.
The event drew more than 100 supporters—and plenty of media—of varying ages and background, mingling over mid-day glasses of wine and specialty cocktails like the "Ceiling Breaker" (tequila, triple sec, strawberry puree, lime juice, $10) and the "45" (vodka, blue Curacao, lemon-lime soda, prosecco, $10).
Ms. Maloney was among the first elected officials to jump aboard the Ready for Hillary bandwagon—and its bus, which included a famous photo of Ms. Clinton wearing sunglasses and using her Blackberry—and held her first event for the group two years ago. The PAC, which was not formally connected with Ms. Clinton, has rounded up more than 4 million supporters, and is expected to see much of its staff and resources depart to Ms. Clinton's campaign, once the campaign exists.
The elected officials who turned out to support Ms. Clinton's bid returned to several themes in their remark: her experience, her trailblazing status as a woman, and what they said was an understanding of the middle class.
"She's been at all the tables: the peace table, the international table, the domestic table, and the kitchen table, and she understands the concerns of working Americans, and she has a track record to run on," Ms. Maloney said.
Both Assemblyman Keith Wright and State Senator Adriano Espaillat dropped the word "herstory"—the female version of history—in their comments. Mr. Espaillat ticked off Ms. Clinton's achievements—lawyer, senator, secretary of state—and noted that on the other side of the aisle, Republicans would look to speak in Spanish to voters.
"You have to vote en Espanol. You've got to vote for immigration reform. You have to vote for working families. You have to vote for all those Democratic values that Hillary stands for," he said.
Assemblyman Michael Blake at one time worked against Ms. Clinton—recalling his time working on now-President Barack Obama's campaign in Iowa in 2007. But, years later, he's now rooting for Hillary, and noted other Obama for America alumni were in the room with him.
"This is about continuing the legacy of progress. This is about saying that change is not about just one step, it's about continuing to make change," he said.
Some of the supporters in the room had also been active in Ms. Clinton's failed 2008 bid. Nancy Chambers, 71, wore a shirt with the name "Hillary" embroidered on it, festooned with buttons from the 2008 bid including one that read "Listen to women for a change."
"I have supported Hillary since she was in the White House, maybe even before that. She is just the smartest, most consequential human being that I've ever thought of or encountered in any way. She can talk to people across the aisle, she can talk to people in foreign governments and she can talk to the regular person on the street and she can make them understand that this country needs her. We need her intellect. We need her humanity," Ms. Chambers said.
Sure, Ms. Clinton invites plenty of opposition—but Ms. Chambers said she could rise above it.
"The haters gotta hate," she said. "But she can deal with it."