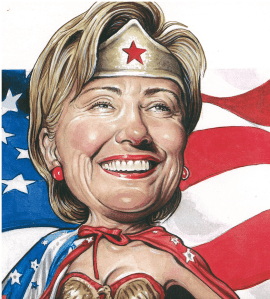 In one of the more surreal emails of the still young 2016 presidential campaign, John Podeta, Bill Clinton's former chief of staff, sent a note to Democratic supporters and the media yesterday afternoon that included the line "I wanted to make sure you heard it first from me – it's official: Hillary's running for president." By Sunday afternoon, actually by Sunday afternoon a year ago, more or less everybody knew Ms. Clinton was running for president, so anybody who heard that for the first time yesterday from John Podesta could not have been paying too much attention.
There is something peculiar about an official announcement of a campaign that has, in most respects, been active for more than two years. However, Ms. Clinton's formal entrance in the race must come as a relief to many Democratic insiders who were increasingly concerned about the Democrats alleged weak bench, meaning the perceived paucity of viable national candidates other than Ms. Clinton. Additionally, each month that Ms. Clinton did not announce made it more difficult for donors to stay on the sidelines and ignore the appeals for money and support from potential non-Clinton candidates.
Ms. Clinton enters the race, or more accurately, continues her presence in the contest, as the frontrunner both for her party's nomination and for the presidency. Currently, she faces only pro forma opposition in the primary. Polling numbers indicate that Ms. Clinton's lead among Democratic voters is all but insurmountable. The polls from March, which give Ms. Clinton a lead of 39-55 points over her nearest potential challengers, Vice President Joseph Biden and Senator Elizabeth Warren, tell a very clear story. Significantly, neither Mr. Biden nor Ms. Warren are candidates and are both unlikely to even run. These polls also show that the fair amount of noise on the left indicating dissatisfaction with Ms. Clinton, has not translated into electoral vulnerability for the Democratic frontrunner in the upcoming primaries. For this dissatisfaction to damage Ms. Clinton, there needs to be a viable opponent to her. At the moment, no such candidate exists. That could change, but given Ms. Clinton's name recognition and donor network, it is unlikely.
The most recent general election polls show Ms. Clinton trailing some of the potential Republican nominees in a few likely swing states such as Colorado and Iowa. Republicans, however, should not begin celebrating yet as those polls were taken when the Ms. Clinton's email mishandling was still major news and in the wake of two Republicans announcing their candidacy. Moreover, most other recent polls have shown either Ms. Clinton having a slight lead or the race being very close between Ms. Clinton and the leading Republican candidates.
Now that she is a formal candidate, it will be slightly more difficult for Ms. Clinton to avoid speaking out on various policy questions and events. For example, as a non-candidate she could keep a relatively low profile on the deaths of Eric Garner in Staten Island and of Michael Brown in Ferguson, Missouri, but it will be more difficult for her to avoid taking a position regarding the murder of Walter Scott in South Carolina. As the all but certain Democratic nominee for President, Ms. Clinton will be expected to have a position on the question of relations between police and African American communities.
The bigger change in the next few weeks will be in the inside political game including fundraising. In the next weeks and months Ms. Clinton will secure many high level endorsements and will raise money for her campaign. The fundraising will be important, because if she does it well, she can put some distance between herself and all of her Republican opponent, and shift the momentum in her direction.
The biggest challenge Ms. Clinton faces now that she has announced her candidacy is essentially the same she faced before the announcement—how to spend her time running without any real opposition while a Republican primary will likely draw much of the public's attention for the next year or so.
Ms. Clinton will also be in a difficult campaign situation where the many Republican candidates will try to raise their stature by running against her, while she has fewer opportunities to make news because she is not involved in anything approaching a tough fight for the nomination. We already saw this yesterday as, for example, recently announced Republican candidate Senator Rand Paul (R-KY) used the event of Ms. Clinton's announcement to try to popularize the less-than-catchy hashtag #libertynothillary on Twitter. The barrage of attacks will not go away.
In the days leading up to Ms. Clinton's announcement efforts to analyze her 2008 defeat became a meme unto itself. But experience of being upset by a well funded and extraordinarily talented primary challenger in 2008 has no bearing on the challenge of winning a general election in November of 2016.
This reflects one of the ongoing paradoxes of Hillary Clinton and her campaign-the tension between the old and the new. The campaign is, on one hand, something without precedent in American politics. Ms. Clinton is now closer to being President than any woman in American history. That is, by any measure a very big deal. Additionally, if she wins it would be the first time the Democrats have occupied the White House for three terms in a row since Harry Truman left office, and would be cause for significant alarm within the Republican Party. Ms. Clinton's victory would very likely be the last for the baby boomers that have dominated American politics since Bill Clinton became President in 1992.
If her age is seen as contributing to her wisdom and experience, Ms. Clinton will prove a tough candidate, but if it contributes to a perception that she is neither innovative or open to new ideas, the race will be very tough for her. Similarly, if the newness of being a woman candidate is enough for her to win five percent more votes from white woman than Barack Obama did in 2012, she will win relatively easily. If that is overshadowed by a generation of scandals, pseudo scandals and rumors from Vince Foster to Benghazi, she could lose. After six years of contemplating this race, the time for contemplating, recriminating and questioning is over. Over the next 19 months, Ms. Clinton has to get this balance between old and new right, or the last chapter in the Clinton family story will not be a happy one.
Lincoln Mitchell is national political correspondent at the Observer. Follow him on Twitter @LincolnMitchell.