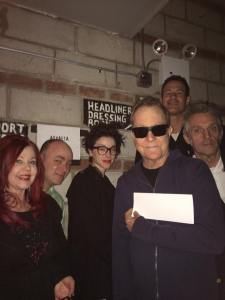 Kim Gordon, the Buzzcocks, Sondre Lerche, and the Dresden Dolls will all take part in the eighth annual Record Store Day in New York City, Saturday April 18. This international celebration of independent record stores held on the third Saturday of each April, has around 400 exclusive RSD releases this year, half of which are by indie labels.
It's not all about the little guys though: Wisely, as the record selling business went belly up last decade, Warner Bros. Records got behind RSD from the get-go, and the U.S. Record Store Day press conference was held at the Brooklyn Rough Trade outpost in March. Though Rough Trade's indie cred dates back to 1970s London, Rough Trade is now far from small. As one the city's largest record stores, and with its own performance space, this where those big names will appear.
"Record stores were an integral part of my music education," said Kozmo Vinyl at the press conference. "This was where I learnt that Lou Reed had been in a band called the Velvet Underground." No small learning curve for a youngster.
Vinyl was a panelist alongside Annie Clark a.k.a. St. Vincent, humorist Todd Barry, The B-52s' Fred Schneider and Kate Pierson, and RSD sponsor Dogfish Head Brewery owner Sam Calagione, who proudly showed off the bespoke Dogfish Crosley portable turntable.
RSD is about pimping product, of course, but it's also about elevating recordings back to being collectable art and artifacts, rather than the disposable passing fancies they became in the digital age. The panelists were asked which RSD release they had their eyes on: "I'm gonna get that ESG," Schneider said of a Fire Records 12-inch release, The Moody EP. A mere 500 will be pressed. "ESG didn't get their dues back in the day. They're still fantastic."
"Definitely, the Elvis 45; I've got to have that," said Vinyl, referring to Jack White's Third Man Records' limited edition release of Presley's first known recording: "My Happiness" backed with "That's Where Your Heartaches Begin," recorded in 1953.
Vinyl, a '70s London scenester turned visual artist, created the RSD 2015 poster. Back in the day, he ran around with The Clash but didn't mention the late Joe Strummer's pre-Clash band the 101ers' RSD release, Elgin Avenue Breakdown. Other collectable artifacts include David Bowie's "Changes" as a 7-inch picture disc; Junior Wells' album It's My Life, Baby! featuring Buddy Guy on guitar; or first-time album releases such as Tegan & Sara's Live At Zia Records. Bonus: it's on aqua blue vinyl.
Record Store Day's biggest success is promoting vinyl's revival and educating an MP3 generation on sound quality, and collecting over consuming. Compact discs are not excluded from the RSD party. Of the handful of CD releases, Minnesota indie Stand Up! issues the previously out-of-print The Next To Last Joan Rivers Album, which was recorded live in June 1968 at New York City's Upstairs at the Downstairs, on CD for the first time.
"We always put out a top-flight collection of titles we've been stockpiling for the event—in addition to RSD exclusive releases," says Jonathan Sklute of Good Records on East Fifth in Manhattan. "We'll have snacks and beverages. Weather permitting, we fire up the grill in the back yard. There'll be rotating tunes by the shop's staff, who are all DJs."
Another East Village store, In Living Stereo on Great Jones Street, is also making a day of it: "We have a DJ spinning all day long, drinks and food, and three bands playing in the afternoon," says owner Steve Mishoe. "We've ordered multiple copies of every title on the RSD release list. We will give out etched In Living Stereo martini glasses to people spending over $200 on records."
For further information on store events and releases click here.