The Tales of the Brothers Grimm contains some of most famous stories in the world: Snow White, Sleeping Beauty (Brier Rose), Rapunzel, Little Red Riding Hood (Little Red Cap). But the Brothers responsible for compiling them, Jacob and Wilhelm Grimm, were 19th century German scholars who never intended their collection of oral folktales to be told in the nursery. No, their intent, laid out by Grimm scholar Jack Zipes in the introduction for artist Natalie Frank's new visual redux on the classics, was to document and preserve German heritage. In this case, tales filled with death, rape, and incest. Prince Charming is in there, but he didn't really save Snow White from the attacks of a jealous Queen, so much as accidentally dislodge a poison apple from her throat.
Ms. Frank's ambitious visual anthology of the tales takes the focus away from the dashing princes and the happily ever after, and places it back on the women at the center of these dark but important stories. The portrayal of women in the Grimms is a historic survey that reflects real social conditions, and was originally told to the Grimm Brothers by women, according to historian Marina Warner, who has written extensively about the Grimms from the feminist perspective.
"The stories are fundamentally about humanism, and are worth telling for that reason," Ms. Frank told the Observer during a break from installing her exhibition "Natalie Frank: The Brothers Grimm" at the Drawing Center, which opens today and runs through June 28, and features 25 drawings from the book. The show will travel to the Blanton Museum of Art at the University of Texas, Austin in July.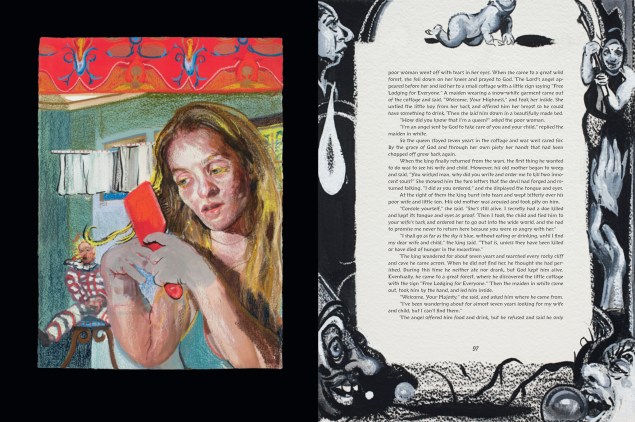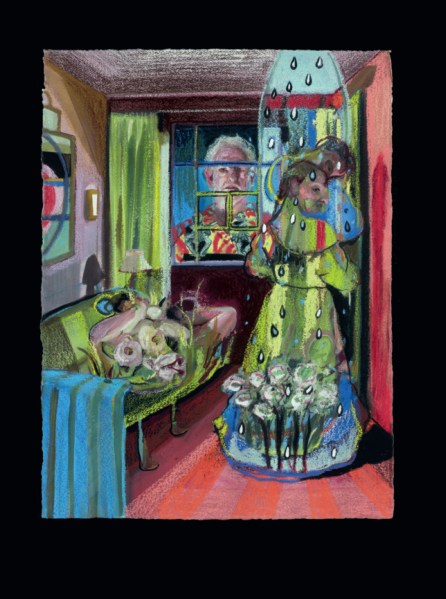 Represented by Chicago dealer Rhona Hoffman and L.A. dealers ACME, the artist has set herself apart with traditional painting techniques that she fuses with modern abstract styles and a vibrant palette. Her work often explores contemporary discourse on the body, feminism, sexuality, the grotesque, and the domestic sphere. For the Grimms, her characters are raw, at times rough, and always a study in opposites: soft and sensual flesh, with piercing realistic eyes, caught up in furious line work, contorted bodies, and violent tragedy. But like the stories themselves, all the images still contain a bit of humor.
"So many stories revolve around young women who are navigating the traditional paths set out in the fairy tales," Ms. Frank said. "Something about these stories felt like they could benefit from being told from the feminist perspective. Women are so new in terms of access to jobs and education, and a lot of the work I've been interested in has to do with grappling with that history."
She's been drawing the stories since 2011, after her initial introduction to them by way of Portuguese artist Paula Rego, for whom the book is dedicated. Ms. Rego is one of only a few other contemporary artists to draw the stories, along with Kiki Smith, Maurice Sendak, David Hockney, and Tomi Ungerer.
Ms. Frank wanted to do something bigger and completely different, so she contacted famed Canadian designer illustrator and Marian Bantjes to design the book.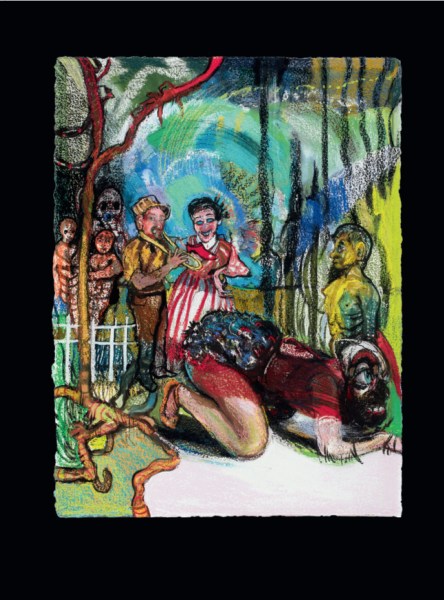 "I find these stories really dark and intense, and I wanted the book to be the same," Ms. Bantjes told us. "It is not enough for me to have pages of text interspersed occasionally by images. So I wanted the imagery of the book crowding in, sometimes ominously, to create a kind of theatrical space on the page and a real feeling of the story."  Small assemblages made of feathers, jewels, bones, and plants that appear between text in the introduction and essays pages are by Ms. Bantjes, and the title page is a complete collaboration with Ms. Frank.
"We had a lot of fun with this, both of us finding a certain delight in the gruesome," Ms. Bantjes told us. "I think more than any other version it is very clear this is not a children's book, and as such I think it's much more intriguing. It's really in your face. It's not normal; not the design, nor the drawings; and neither are the tales, of course."
Ms. Frank has her sights on Don Quixote next, and would like to collaborate with a contemporary author on a book project in the future.
"It's the most joy I've ever felt making art before. I didn't even want to leave the studio. I was creating this world, and happy to live in it."
Tales of the Brothers Grimm: Drawings by Natalie Frank, published by Damiani and distributed by Artbook D.A.P. will be released May 26.