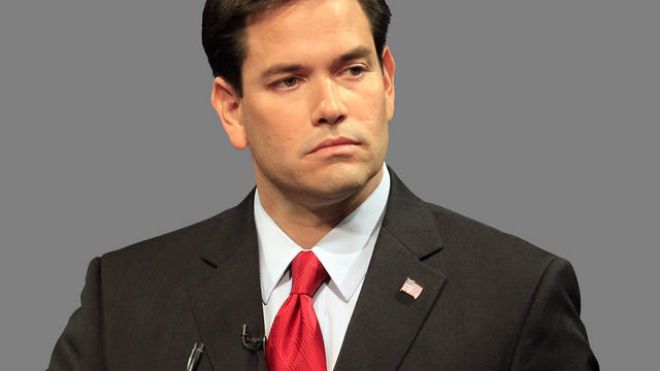 Clawing to become vital in a national conversation, fashioned for statewide prominence by establishment scion Jeb Bush and buffed by the Tea Party in the fires of 2010, Florida Senator Marco Rubio this evening kicked off his Republican campaign for president in Miami.
"I live in an exceptional country where even the son of a bartender and a maid can have the same dreams… as those who come from power and privilege," Rubio told a raucous crowd.
The line sharpened the distance between the first term senator and his mentor, Bush, brother and son of two former presidents, who's eying his own run for the Republican presidential nomination. But Rubio saved his sharpest elbows for Hillary Clinton, the former secretary of state, who launched her own presidential bid yesterday.
"That's hopeful," he cracked in reference to Clinton's kickoff, identifying a retreat to the "ideas and leaders of the past."
Ina  big and developing Republican presidential field Rubio has struggled to maintain third tier footing in most presidential polls. Like Governor Chris Christie, Rubio has the problem now of not being sufficiently right wing in a GOP Primary to snatch anti-establishment turf occupied by the likes rival senators Rand Paul and Ted Cruz and Wisconsin Governor Scott Walker.
His only path is through his teacher, fellow Floridian Bush, who appears poised to get in the contest with a lion's share of establishment donor love.
Speaking on condition of anonymity, a New Jersey GOP source panned Rubio in a conversation with PolitickerNJ, arguing that he lost his credibility with his mishandling of immigration reform. "He too easily caved," the source said. "Being Hispanic doesn't automatically garner the Hispanic vote. …He has a shady financial past… and he will basically change a position if the Tea Party doesn't like it. He panders."