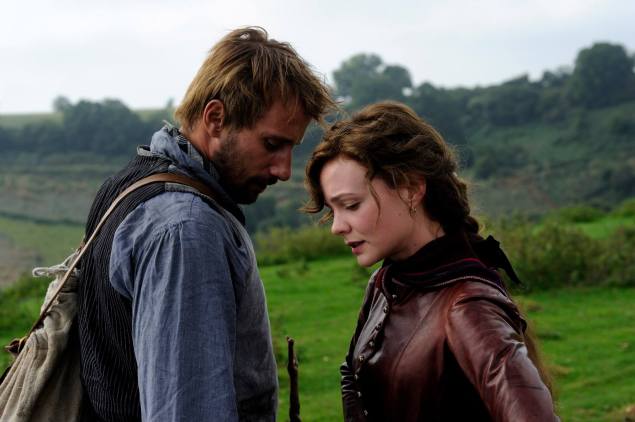 Trying to improve on a great cinema classic is a fool's errand, and John Schlesinger's sweeping, romantic 1967 rendering of Victorian novelist Thomas Hardy's enduring literary classic Far From the Madding Crowd, with lush camerawork by Nicolas Roeg and unforgettable performances by Julie Christie, Alan Bates, Peter Finch and Terence Stamp, is still as perfect as it gets.
---

FAR FROM THE MADDING CROWD ★★★
(3/4 stars)

Written by: David Nicholls
Directed by: Thomas Vinterberg
Starring: Carey Mulligan, Matthias Schoenaerts and Michael Sheen
Running time: 90 min.

---
Fortunately, somber Danish director Thomas Vinterberg doesn't even try to embellish or improve it. Marred by casting mistakes and reduced to an outline of the Hardy novel, this study of a beautiful woman torn between the love of three men but unable to choose only one fails to capture both the vision of country life and the  canvas of British geography so vividly detailed by Mr. Schlesinger. Still, its virtues are many and this filmed version of Hardy's fourth novel is well worth seeing. It rises head and shoulders above most of what we've been seeing lately.
The setting is the lime green valleys of Dorset in the 1870s, where Bathsheba Everdene is a woman ahead of her time. After inheriting a farm from parents who died young, her headstrong sense of undaunted pride and resolve amazes the men in the neighboring villages. She's a 19th century forerunner of Willa Cather—in love with the land and second to no man in strength and self-reliance. Sexy and flirtatious, she wears fetching hats and embroidery and is hardly immune to the virile musk and allure of the opposite sex, yet always more interested in farming, horseback riding and shooting than dances and dating. Still, she attracts three suitors who figure prominently in her life, hell-bent on protecting and loving her.
First, there is Sergeant Francis Troy (Tom Sturridge), the dashing and egotistical young officer disgraced by being jilted at the altar. Second, the prominent, middle-aged landowner William Boldwood (an excellent Michael Sheen, in a performance far removed from his roles as David Frost in Frost/Nixon and Tony Blair in The Queen), who comes running when she sends him a mischievous and insincere valentine. He offers her security, financial stability and a promise to pay off the debts on her farm. The third suitor is Gabriel Oak (Belgium's studly Matthias Schoenaerts), a brawny but poor sheepherder reduced to working as Bathsheba's employee after an inexperienced sheepdog runs his flock off a cliff. All he can offer is love and a life of devotion and hard work preserving her real estate. Too restless to be tied down in marriage and too independent to belong to one man alone, she rejects them all, leading to tragic plot twists of sensuality, adultery, betrayal, heartbreak and attempted suicide.
The film is still romantic, sometimes moving toward the precipice of giddiness, but where Schlesinger was interested in texture, staging entire sequences in the purple sunsets and saffron mornings of the great English countryside, Mr. Vinterberg is more interested in moving things along from one point to the next, emphasizing the gloomy darkness of the interiors and creating a kind of paranoid claustrophobia for Bathsheba to suffer in.
The second half of the film seems rushed, with whole scenes from the more than 300-page book truncated, reduced to one line of dialogue or deleted. Bathsheba's ill-fated marriage to Sgt. Troy, his gambling debts, and his love for a runaway servant girl (Juno Temple) all seem like footnotes. The film's greatest asset is another enchanting star turn by Carey Mulligan, who combines in Bathsheba the blush of youth and the seasoned cruelty of female selfishness, while its major weakness is the casting of Mr. Schoenaerts as Gabriel Oak. He is the backbone of the story and Alan Bates totally got it. The rugged Mr. Schoenaerts was memorable in the award-winning film Bullhead and opposite Marion Cotillard in Jacques Audiard's Rust and Bone, but he is awkwardly miscast here. His Flemish accent keeps getting in the way when he most needs to articulate his crude feelings to Bathsheba in a sensitive way. The result is that he often shows tentative temerity when the story calls for strength.
Still, there is enough high-quality substance here to make a trip to Far From the Madding Crowd worthwhile. Thomas Hardy's original title comes from a 1751 poem by Thomas Gray referring to a country churchyard far away from the hustle and bustle of London. Some of the charm is missing now, but even with its flaws, half a madding crowd is better than none at all.