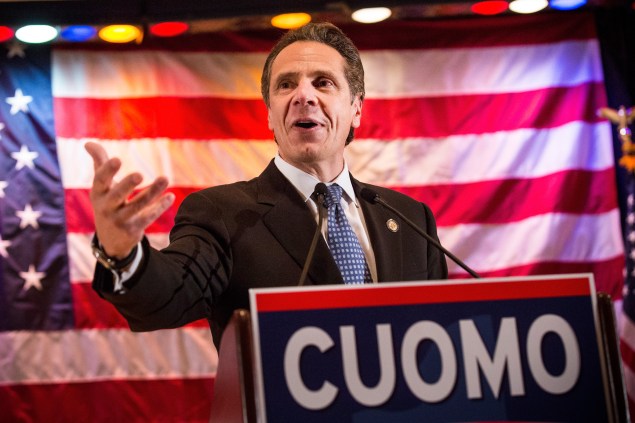 After initially telling reporters he was staying out of the race, Gov. Andrew Cuomo announced today he is endorsing Councilman Vincent Gentile for an open House race on Staten Island.
"Vinnie Gentile has fought for the hardworking people of New York his entire career," Mr. Cuomo said in a statement. "He is a steadfast advocate for first responders and he is committed to growing our economy by cutting taxes, creating jobs and supporting small businesses."
"I endorse Vinnie for Congress because the people of the 11th District deserve a fighter who will always put people first," he added.
Mr. Cuomo, a fellow Democrat, surprised political observers last week when he said he would not endorse Mr. Gentile over his rival, Republican District Attorney Daniel Donovan. Mr. Cuomo told reporters he normally leaves "local races to the localities."
But Mr. Cuomo's pronouncement contradicted recent history; last fall, he endorsed Democrat Domenic Recchia Jr. in his failed bid against the congressman at the time, Republican Michael Grimm. Political observers speculated Mr. Cuomo was sidestepping the special election because he has a good working relationship with Mr. Donovan and didn't think Mr. Gentile could win.
But Democratic sources say Mr. Cuomo re-evaluated the race and decided it was worth weighing in. Mr. Gentile is the underdog in the contest against Mr. Donovan, who has raised far more cash and has the backing of national Republicans.
While Mr. Cuomo's endorsement did not boost Mr. Recchia, the governor is relatively popular in the Staten Island and Brooklyn-based district. Despite Mr. Recchia's loss, Mr. Cuomo won the district against a Republican rival as he sought re-election for governor.
Mr. Donovan's response to the endorsement seemed to reflect that reality. His camp made a conciliatory overture to the governor while denigrating Mr. Gentile's support for higher taxes on upper-bracket earners and his decision to seemingly back away from legislation that would have boosted benefits for police and firefighters hurt on the job.
"With all due respect to Governor Cuomo, Mr. Gentile wants to raise taxes, supports proposals that hurt small businesses and took his name off the first responders disability bill," said spokeswoman Jessica Proud, who highlighted Mr. Donovan's supporters. "Dan is proud to be endorsed by nearly every uniformed service organization, as well as the leading small business groups who represent thousands of voters in the district."
The special election is set for May 5.
Updated to include comment from Ms. Proud.