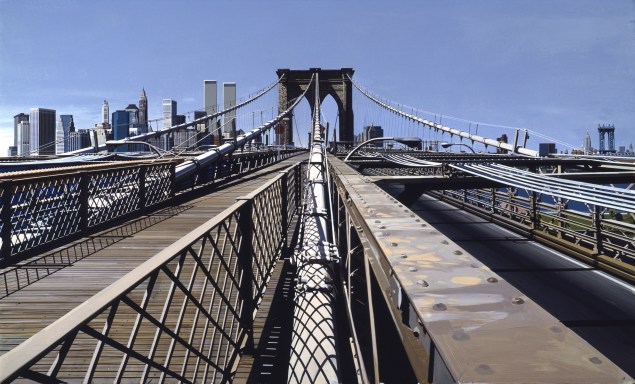 Artist Richard Estes' first solo show at Allan Stone Gallery in 1968 caused something of a sensation, and immediately sold out. His debut exhibition drew the attention of some high-profile critics, collectors and museum curators, and was praised by fellow artists, including Salvador Dalí, who championed his work. He has made a living from his art, albeit with a lower profile, ever since. He produces only a few major paintings annually, but for years these have sold for hundreds of thousands of dollars.
In today's world, which engulfs us daily with an avalanche of digital images on the Internet and TV, Mr. Estes' work has a new and particular relevance. His art at first seems ultra-realistic, oil paintings with the taut precision of a photograph, depicting a place we think we know. Ultimately, however, what we are looking at is an alternate reality of the artist's own invention. And, once viewed up close, Mr. Estes' energetic and assured brushwork reveals the touch of a master craftsman.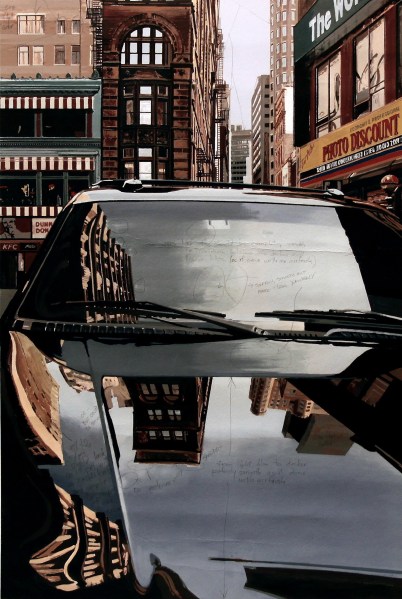 Mr. Estes' extraordinary urban vision unfolds in a compelling career survey focused exclusively on his cityscapes currently on view at the Museum of Arts and Design in Midtown Manhattan, through Sept. 20. Organized by independent curator Patterson Sims, "Richard Estes: Painting New York City" contains more than 50 works, including major canvases and works on paper, plus several vitrines filled with archival material and rarely exhibited photographs by the artist that are the source material for the paintings.
Spanning from the mid-1960s through early this year, the show constitutes a long-overdue retrospective for Mr. Estes, now 82, who is widely regarded as one of America's greatest living painters. A pioneer of the Photorealist movement in the late 1960s, along with Malcolm Morley, Audrey Flack, Chuck Close and others, Mr. Estes is among the few who remained true to the movement's tenets and maintained a consistently high level of achievement in a prolonged career.
In the MAD show, New York City, the vibrant and evolving metropolis that more than 8 million of us call home, appears at once familiar and strange. Produced over the past 50 years, his glistening compositions depict the congested cityscape with awe-inspiring detail. He highlights the gloss and glamour of Manhattan's famous landmarks and towering skyscrapers in paintings such as The Plaza (1991), Woolworth Building (2003), and The Solomon R. Guggenheim Museum, summer 1979. Occasionally figures appear in the work, but in Mr. Estes' vision, the human drama of city life is subtly implied.
Prominent in his paintings are the reflective surfaces of glass facades and storefronts, shining cars and buses, ferry boats and the mighty bridges that connect the city's boroughs. At first, these images look like photographic renderings of one of the most photogenic places on the planet. They explore the city's real estate and thoroughfares, but they are unlike any view of the urban landscape that one can actually see with the naked eye.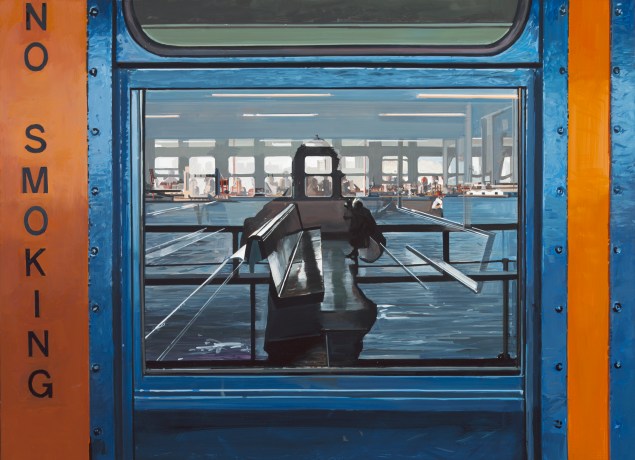 These meticulously wrought oil paintings are based on photographs that the artist has taken; and lately he employs computer programs to aid in his process. The resulting paintings are composite images in which, unlike human vision, everything appears in focus. Derived from a number of separate photo images pieced together, the paintings encompass multiple views of the same scene from slightly different angles and with subtly shifting focal points.
Mr. Estes alters certain details of the photos to "improve" the final, painted composition. Inconveniently placed street lamps, obstructing the view, may be removed, for example, or he might re-park a car in a more opportune place, all to serve a more perfect scene.
Born in Kewanee, Ill., in 1932, Mr. Estes began drawing early on and started taking photographs at age 8. He eventually studied at the School of the Art Institute of Chicago. After he moved to New York in 1958, he found work as a commercial artist and illustrator. His earliest New York paintings are figure studies of working-class urban denizens painted with loose brushwork. But by 1966, he had shifted his style, relying more on his photographs of cityscapes to create taut compositions of buildings and street scenes, transforming them into something quite uncanny.
The Museum of Arts and Design might seem an unlikely choice of venue for this event, one of the first museum surveys of Mr. Estes' work to appear in the city in many years, and the first MAD exhibition devoted to a painter. Mr. Sims, however, emphasizes the artist's process here by including the working photos and some of the plates used in the various stages involved in creating the artist's silkscreen and woodcut prints. Thus, the show neatly relates to MAD's core mission.
Once inside the exhibition, installed on the third floor of the building situated at Columbus Circle, the location seems right for this show. Views outside the gallery windows, one of the city's most impressive urban vistas, directly correspond to Mr. Estes' images. One outstanding painting, for instance, Columbus Circle Looking North (2009), is hung on a wall near a window that looks out on the scene recorded in the painting.
The exhibition begins with Seated Figures (ca. 1967), showing a group of figures seated on a park bench, executed in a loose, painterly style. It is a transitional work, underscoring Mr. Estes' dramatic artistic transformation that parallels his geographical relocation, from Chicago to New York City. By 1967, he began to produce the works for which he is best known and some of these seminal pieces, such as Horn and Hardart Automat (1967) and Apollo (1968), are among the highlights of the exhibition.
The most exciting pieces in the show for me were the most recent works, The Eye Man (2014) and Corner Café (2014-2015), large canvases making their public debuts. To my mind they are among the best works Mr. Estes has done to date. Corner Café features a shop window with countless layers of reflective surfaces of polished stainless steel and glass. It offers a mesmerizing perceptual workout.
The Eye Man, a dazzling rendering of an optometrist's office and eyeglass store, surrounded by scaffolding, metaphorically sums up Mr. Estes' formidable and lasting achievement. It is about the persistent focus and patient observation required to truly see something. Mr. Estes' paintings, the work of a visionary, are all about vision itself.
See more images from "Richard Estes: Painting New York City" below.