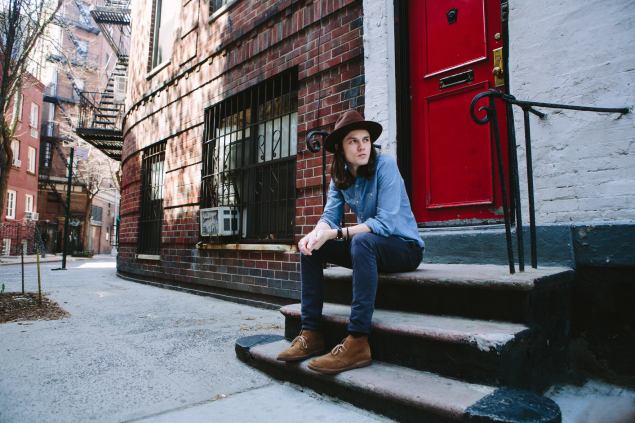 James Bay is one of the most-buzzed-about new artists of the year and for good reason. The 24-year-old native of Hertfordshire, England, has won the hearts of both listeners and critics thanks to a variety of catchy and personal tracks largely driven by his knack for lyrics, impressive pipes and skill on the guitar, all of which came together on hit songs "Let it Go" and "Hold Back the River" and earned Bay numerous accolades, including getting showered at February's BRIT Awards (the U.K.'s sort-of Grammys) with the Critics' Choice award, an honor that has previously gone to Jessie J, Ellie Goulding and Sam Smith.
With last month's release of his debut album, Chaos and Calm, which quickly became a global hit, Bay is looking to mimic that aforementioned trio's stateside success and it seems like he's well on his way thanks to the fact his songs continue to rise on the charts, coupled with a much-talked-about visit to South by Southwest and getting named VH1's "You Oughta Know" Artist to Watch for April. The Observer recently spoke with Bay about musical success, his creative process and impending fame.
Where in the world are you right now, James?
I'm in London in a rehearsal room filled up with my band. We're prepping for my tour which is just around the corner.
You must be psyched.
I really am. The first three months of this year, January, February and March, have been filled with promo, which is cool to an extent, but I'm starting to forget what it's like to tour, so I cannot wait.
So, we're going to start off in the U.K. and then we'll come out to America. All of the tickets are selling, and it's a good feeling to know 99 percent of the places we're playing are going to be packed out.
---

'It becomes addictive when you write a great song.'


---
It seems like you're the new "it" guy in music, whether it's your recent experiences at South by Southwest or the Brit Awards. You're on so many "artist to watch" lists, it just seems like you're about to just explode here in the States. Does that put more pressure on the album or on you? There's so much hype around you, man!
(Laughs) Yeah! I'm O.K. with that. I would certainly rather be in that situation than the opposite. I don't know if this is just a bizarre thing personally, but all that pressure that comes with being hyped up or on lists is very exciting for me. I love it; the feeling of the whole situation. There's nothing like the energy created by that, especially when I go on stage. I feel like I've seen it around other people over the years and the whole time I thought, "Wow that seems like an exciting place to be." Now that I'm there, I'm drinking it in and using all of that on stage.
When the album came out last month, it became a worldwide hit. I feel like a lot of your songs are very personal, so is it weird that they're all now out there for the globe to hear?
The songs are very personal and that's one of the things you have to come to terms with being someone like me. Now that the album is out, it feels great because I want to show everybody the fully realized version of all of these songs. Some of them I released as demos over the past 18 months, and now I can show everyone what they're actually supposed to sound like. It's a dream come true to have released a debut album. The earliest songs on it were written around the end of 2011; the most recent one was written just a few weeks after we started recording last year.
Tell me about the song you had your first taste of success with, "Hold Back the River." It's a great one.
There came a point a few years ago when I was really busy for the first time—properly, genuinely busy all the time. I was flying all over the world, which I hadn't done before and I was away from the important people in my life, whether it's my friends or family.
---

'It's hard to explain, but that's the nature of music. There's no recipe for songwriting; I guess it's just how I felt in the moment.'


---
Whenever I saw the people close to me, I was only passing through in a brief moment. So that song is really me just wanting to reach out to those people and reconnect with them after things had gotten crazy, and really try to feel at home again—just for a moment.
What's your creative process? For example, how did "Let it Go" come about?
It varies. Sometimes it's collaborative, which keeps things fresh and interesting. "Let it Go" began with a guitar part and it was a little sort of melody that made me feel something. It stemmed from the guitar moments it was made up of. There's no recipe or equation as to how that came out or why; it was just what I was playing and those are the things that I felt … It's hard to explain, but that's the nature of music. There's no recipe for songwriting; I guess it's just how I felt in the moment.
Do you like the process of songwriting? I'm sure it can be a real pain in the ass.
(Laughs) It can be, but it becomes addictive when you write a great song. So I like that enough to go back and put myself through that painstaking process again and again.
What was South by Southwest like?
It was a crazy ride and one of the biggest weeks of my life. What's crazy about South by Southwest is that they seem to want you to be singing your best at 8 in the morning or 11:30 at night. It's a little bit upside down at times, but it's still an incredible week. Austin is one of my favorite places, so it was really fun.
I want to ask you about fame in general, because up until recently not many people knew who you were, and now your face is more and more out there. Just other day I saw you on MTV. I was wondering if you see a difference when it comes to getting recognized in public?
Well, especially over here (in the U.K.), walking down the street is a different experience than what it once was. People seem to know who I am, which is kind of strange, because it's music after all—it's not like I'm an actor. Me and my friend stopped for lunch a few hours ago and next to us a couple sat down and they both made a very strange face. It turns out the background on the girl's phone was my logo, which was hilarious.
Did they mention it?
They didn't say anything to me! I think they were a little embarrassed.
[youtube https://www.youtube.com/watch?v=mqiH0ZSkM9I&w=560&h=315]