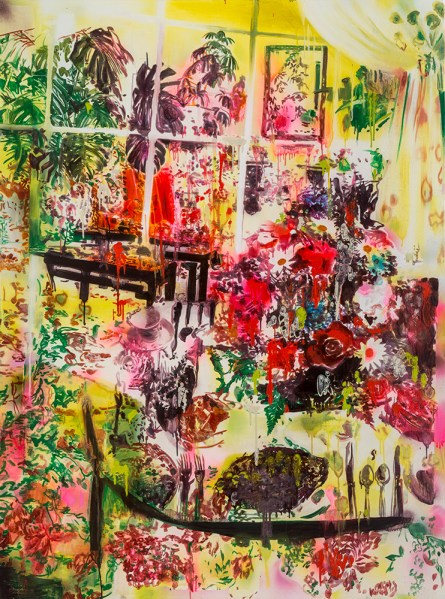 We haven't seen Rosson Crow in New York for quite some time—she's been busy shaking up the West Coast. But this week, she returns to New York for her first show in the city in five years, and her first with the Sargent's Daughters gallery in Chinatown. "Rosson Crow: Hysteria, Spatial Conversations with Florine Stettheimer" opens April 22, and features five brand new, large-scale paintings by the young painter that salute and evoke a New York art legend.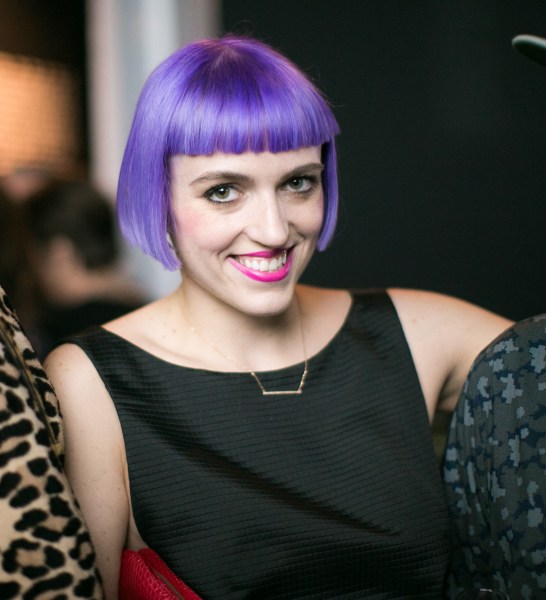 The work has all the signatures of the fluorescent, spray painted paintings that first garnered her attention back when she was showing with Canada gallery and Deitch Projects in the early to mid-2000s. She was in Deitch's 2003 group show "K48 Klubhouse" and shortly after her last solo exhibition with the gallery in 2010 the gallery closed and Mr. Deitch left New York to begin his turbulent run as director of MoCA Los Angeles. Ms. Crow ended up in Los Angeles herself, and in the years since, she's had shows at Honor Fraser, Galerie Nathalie Obadia in Paris, and the Contemporary Arts Center in Cincinnati.
In "Hysteria," she's stepping into new territory, and adopted some new techniques. She uses acrylic, spray paint, oil, enamel, and now—for the first time—Xerox transfers to build up layers on the canvas that explode with color and light.
"I often start working on the paintings from a collage stand point, using found images, postcards, and things I've found online. But I thought, what if I actually start using these images in the paintings," she told the Observer.
For "Hysteria" she had a muse: early 20th century painter Florine Stettheimer. Stettheimer counted Marcel Duchamp, Alfred Stieglitz, and Georgia O'Keeffe among her peers. She often painted them, and they attended the Manhattan salons she hosted with her sisters. Stettheimer's most famous paintings, her New York Cathedrals series, can be found at the Metropolitan Museum of Art, and her work was shown at the very first Whitney Biennale in 1932.
"She was this really strong female artist, and she was respected in her time, but has also gotten forgotten by history in a sense," said Ms. Crow. Stettheimer was also a set designer, and a poet, and her unique style of depicting interiors was a source of inspiration for the artist. In her paintings floral motifs abound, blending in with the soft, bright colors of carpets, drapes, and upholstered furniture, decorative patterning, light from windows, and small detailed cutlery and serving ware.
"I've always been interested in gendered spaces, how they can convey masculine and feminine energies. I like approaching these very masculine spaces, and making them my own; taking them over and harnessing them. In Honeymoon, it's a living room, but the space is a little confusing. The wall paper creeps over the space, which for me reflects an intense psychology and energy in the room."
Also central to the show, is the history of the term "Hysteria," which was once used to describe psychological disorders specific to women. Ms. Crow grapples with that history in the tension she creates in each interior. Perspective is altered, objects overlap and blend with their surroundings, all the while she continues a dialogue with the brightly colored palettes of Stettheimer's own paintings.
"Rosson Crow: Hysteria, Spatial Conversations with Florine Stettheimer" is on view at Sargent's Daughter's April 22 through May 17.