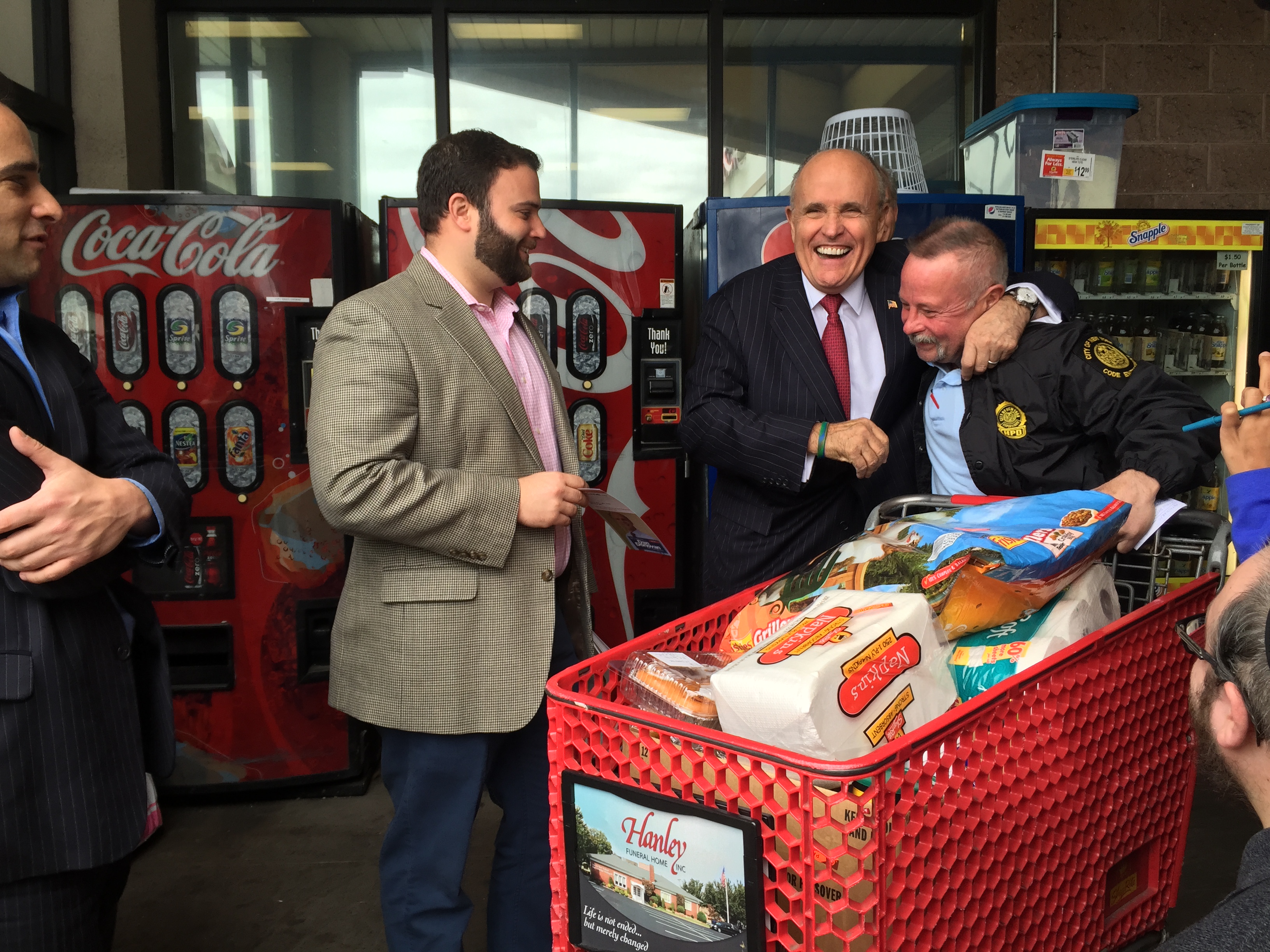 Former Mayor Rudolph Giuliani praised the NYPD's decision to arrest dozens of protesters who took to the city's streets to protest alleged police brutality in Baltimore—saying it was an improvement over the more lenient handling of December demonstrations.
"That's the way to do it. What they did last is the textbook case in how you handle a demonstration so you don't have a riot," Mr. Giuliani told reporters outside a Staten Island Shop-Rite, where he was campaigning alongside Staten Island District Attorney and GOP congressional contender Daniel Donovan.
The NYPD took 143 people into custody last night in relation to the demonstrations, the department said today. Last night protesters took to social media to describe a markedly different reaction from police than they had seen during prior demonstrations, when demonstrators had successfully shut down major thoroughfares without being arrested. Demonstrators are out again this afternoon, at One Police Plaza, to protest the way they were treated during last night's protest.
But Mr. Giuliani said police, including Commissioner Bill Bratton, had done the right thing—and went on to note that his tenure as mayor, which followed the infamous Crown Heights riot, saw none of the same behavior.
"One of the reasons is, we had very strict rules. You have a right to protest, but you have to be on the sidewalks. When you protest you can't take the streets, you can't take the bridges, you can't take the tunnels, and if you do, you kill people. And I was glad to see that Mayor de Blasio and the Commissioner did that," Mr. Giuliani said.
Mr. Giuliani agreed that the police tactics last night were different from demonstrations late last year."As I learned as mayor, sometimes you learn as you go along."
Mr. Donovan—who was the target of some of the protest in December after a grand jury he convened opted not to indict a police officer in the death of Eric Garner—agreed with the former mayor who was there to help him get out the vote.
"Every day I protect people's rights to assemble and voice their opinion under free speech, but you can't do it and interfere with other people's lives," Mr. Donovan said.

Last night's protests in New York stem from the death of a Baltimore man, Freddie Gray, in police custody. In Baltimore, what began as peaceful demonstrations gave way to violence and looting on Monday, since brought under control. Mr. Giuliani criticized politicians and police in Baltimore for their handling of the riots.
"They made the same mistake that was made in Ferguson and the same mistake that was made in New York at Crown Heights, which was to give the looting mob time to cool off, or I think as the mayor [of Baltimore] described it, 'space,'" Mr. Giuliani told the Observer. "You do not give space to people who are committing crimes. You stop it immediately. The first one. When people are in that type of riot situation, it's not a cooling off period. It's a heating up period."
As for the actual death, Mr. Giuliani said he was "surprised it's taking that long" to get answers about how Mr. Gray came to die of serious spinal injuries,
"If the police officers are guilty, they should go to jail. If they aren't guilty, they should be exonerated. If it was an accident, it should be described as an accident. If it was deliberate, it was deliberate. If he did it, he did it. We're all in a state of confusion about it, so what are we rioting about?" Mr. Giuliani asked.
The Washington Post reported last night that a prisoner wrote in court documents that Mr. Gray was trying to injure himself in police transport—an assertion some who suspect police brutality have mocked.
Whatever the conclusion, Mr. Giuliani argued those who had looted were not truly interested in justice for Mr. Gray.
"These people are criminals. They should be identified. They should be put in jail. They should be arrested," he said. "And to pretend it has something to do with this killing is really a desecration of the man's memory."