The jocular, arm-around-the-shoulder Daniel Donovan melted away once the name Eric Garner was brought up. The happy campaigner, the regular guy running for Congress with a baby on the way, took a breather.
Out sprung the sober Staten Island district attorney who failed—he dislikes that characterization especially—to secure an indictment in the Garner case last summer. Mr. Donovan, 58, quietly resented being the target of national outrage.
"Some people," he told the Observer earlier this month in the lobby of the Hampton Inn on Staten Island, clenching his coffee mug, are "using Eric's death as an opportunity, which is sad because a man died and no one, no one believes Eric Garner should have died that day."
"Some of the things written about me were unfair and untrue," he continued. "But we're in the public domain and everyone's entitled to their opinion."
In Washington GOP circles, there are those with the opinion that Mr. Donovan is the wrong candidate for the party at the wrong time. National Republicans have been touting their high-profile African-American office-holders, Congresswoman Mia Love of Utah and Sen. Tim Scott of South Carolina. GOP consultant Ron Bonjean told the Associated Press in January that Mr. Donovan would "bring lots of turbulence around racial politics that's unneeded for Republican presidential candidates."
*
Garner, an African-American Staten Islander who was allegedly selling untaxed cigarettes in Tompkinsville, the same hardscrabble neighborhood near the Staten Island Ferry that Mr. Donovan grew up in, died in a police chokehold, screaming, "I can't breathe." The video of his last seconds gripped and horrified much of America. His death last July 17 was ruled a homicide and took on national prominence.
But it was a press release on December 3, 2014 that transformed the little-known prosecutor into a national lightning rod. Mr. Donovan's office quietly announced that a grand jury had voted not to indict the police officer, Daniel Pantaleo, in Garner's death. Liberals were incredulous. Aren't DAs able to indict a ham sandwich? How could the white cop who apparently choked a black man to death go free?
Mass protests broke out, blocking traffic on bridges and highways for days. "I can't breathe," turned into a rallying cry. Even the normally apolitical LeBron James wore a T-shirt emblazoned with the slogan as a protest. Media outlets, especially on the left, were unsparing.
Jon Stewart mocked Mr. Donovan, assuming news that Republicans would likely tap the "the prosecutor who couldn't or wouldn't get the grand jury to indict the cop who choked out Eric Garner," to run for Congress amounted to a Daily Show gag, "I get it, it's a joke," Mr. Stewart said.
But the prosecutor remains unamused, crediting his "thick skin" with helping him weather the protests and vilification.
"That same week, a different Staten Island grand jury decided not to indict an 18-year-old African-American man for assaulting a public servant," he said, with a hint of bitterness. "No one was crying injustice occurred. No one was asking that case that the transcripts be revealed so that people have more faith in the system." (Mr. Donovan would not provide any more details because he said the case is sealed.)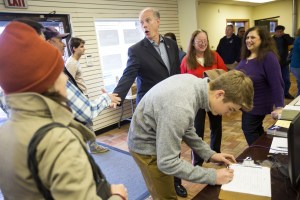 Still, while campaigning, Mr. Donovan has repeatedly tried to distance himself from the Garner decision, arguing that district attorneys can't control the outcome of grand jury decisions and it was the people's choice not to indict Mr. Pantaleo—not his.
"People thought I presented the case. I never set foot in the grand jury chamber. There are people who thought I met with witnesses. I did not meet with witnesses," Mr. Donovan said. "They listened to the evidence and reached their conclusion."
Unlike the Ferguson, Mo. district attorney in the Michael Brown case, Mr. Donovan never held a press conference to address the thorny issues that the Garner verdict exposed, and he staunchly fought efforts to unseal the grand jury testimony.
"I do think district attorneys themselves should probably own these decisions more than the grand jury," said Eugene O'Donnell, a professor at the John Jay College of Criminal Justice and a former prosecutor.
Mr. Donovan's Democratic opponent, Councilman Vincent Gentile, loudly agreed.
"I would have faced people of Staten Island and New York City and the people of this country. I would have tried to explain to the extent that I could the workings of the grand jury, how the grand jury operates," Mr. Gentile, a former assistant district attorney, told the Observer. "As demonstrations broke out across the city and there was this uproar, Dan Donovan was nowhere to be seen."
*
Avuncular and blue-eyed, with a thatch of gray hair ringing his bald head, Mr. Donovan does not look like the divisive pariah some argue he is. During his interview, he apologized often for clearing his throat. He enjoys golf, The New York Times Crossword Puzzle, and is mildly obsessed with The West Wing. He regularly cares for his mother, an 88-year-old with dementia. He and his fiancée are expecting their first baby shortly after the election.
Despite the media maelstrom over the Garner case, Staten Island's Republican elite only had one replacement in mind for disgraced former Congressman Michael Grimm, who once threatened to throw a television reporter off a balcony (with the cameras rolling) and who resigned after pleading guilty to tax evasion. The city's GOP had begged Mr. Donovan to run for Congress in the past and did so again. This time, Mr. Donovan, a polar opposite of the swaggering and shady Mr. Grimm, said yes.
"I'm going to bring a child into this world that will not have the opportunities that I've had or as great of opportunities as I've had and now I have an opportunity to do something about that," Mr. Donovan said. "I'm not saying that I wouldn't have run if we weren't pregnant or the baby wasn't coming, I'm saying once the opportunity arose and we were having a child—I realized now I can have an incredible impact on my child."
A graduate of St. John's University and Fordham Law School, Mr. Donovan is a product of Staten Island's Republican machine, but grew up in a staunchly Democratic household.
His father, Daniel Donovan Sr., was a longshoreman, proud union member and ardent Democrat; like many younger men in the 1980s, Mr. Donovan became enamored with Ronald Reagan, but still counts Robert Kennedy and Ed Koch among his idols.
"My dad, he said to me, 'Democrats are for the working families and the Republicans are for the rich, so you're a Democrat.' As I developed and had my own philosophies, I realized my dad was wrong," he said. "I think people spend their money better than their government spends their money."
Mr. Donovan cut his teeth under the legendary Manhattan district attorney, Robert Morgenthau, a Democrat. He later served as an aide-de-camp to Guy Molinari, the irascible island power broker. Mr. Donovan was Mr. Molinari's point man when the borough president was negotiating the closure of the city's garbage dump, known as the Fresh Kills Land Fill, an effort that would make Rudolph Giuliani, the Republican mayor, a folk hero of sorts in the borough.
Wedged between the two tempestuous pols, Mr. Donovan's calm stood out.
"The public never really understood or had a sense of how difficult it was. They figured, 'Guy and Giuliani are close, it's payback.' It wasn't that easy," Mr. Molinari recalled. "Giuliani's people could be difficult at times. I was exploding one particular time, I told Danny, 'Tell them to go to hell, get the job done, it's something owed to us.' Matter of fact, I said to Danny that I wanted to have it closed in five years. Danny got it closed in four years, three months."
Away from the progressive milieu that dominates much of the city these days, Mr. Donovan is largely seen this way, as "Danny," another kid from the neighborhood done good. Legal observers and defense attorneys say the Richmond County district attorney's office, far smaller than its counterparts in other boroughs, is a no-nonsense outfit, efficiently churning through cases and coming down harder on petty criminals than Democratic district attorneys elsewhere.
Mr. Donovan, for example, is the only district attorney in the city to not offer defendants an adjournment in contemplation of dismissal. The legal status allows low-level, first-time offenders to have their case set aside for six months—if they stay out of trouble, the charges are dismissed and sealed.
"His office is very tough. Probably one of the, as far plea bargaining is concerned, toughest offices in the city," said Mario Galluci, a criminal defense attorney who practices in all five boroughs. "It's a decision that he made when he first was elected district attorney to be tough on crime and it's a positon he's not relenting on."
What Mr. Donovan lacks, however, is legislative bona fides. In most circumstances, a Republican in New York City is all but impotent—on the national stage, with the GOP firmly controlling both the House and the Senate, Mr. Donovan may become the only city lawmaker, outside of the mayor and several high-ranking officials, who really matters.
Mr. Donovan is the unequivocal front-runner against Mr. Gentile, an underfunded Brooklyn lawmaker. Brooklynites have a poor record of running in the Staten Island-dominated district, where Democrats outnumber Republicans but home-owning conservatives still hold sway. National Democrats are not lifting a finger for Mr. Gentile; a January poll showed Mr. Donovan crushing a potential Democratic opponent by 20 points.
For a likely Congressman, his campaign platform is thinly sketched. Outside of criminal justice, he appears uncomfortable discussing policy. During a candidate forum in March, he incorrectly said China was one of the countries included in a controversial free-trade agreement known as the Trans-Pacific Partnership. In a televised debate last night, he seemingly did not know the federal minimum wage.
On the campaign trail, Mr. Donovan hews close to the conservative script laid out before him by the likes of Mr. Grimm. Businesses need less taxes and regulations. The national deficit is out of control and reforming entitlement programs–and reducing fraud, like in the case of the government's response to Hurricane Sandy–is the way to go.
He attacked Mr. Gentile for voting in the City Council to raise income taxes—the resolution, backed by Mayor Michael Bloomberg, overwhelmingly passed as the city desperately sought additional revenue following September 11 attacks.
Like Mr. Grimm, Mr. Donovan's campaign has delighted in pointing out his Democratic opponent is close to Mayor Bill de Blasio, who is reviled in parts of the district. "I think [de Blasio's] philosophies of taxing people and spending wildly and having people being more dependent on government is the wrong way to go," he said.
Mr. Gentile and African-American activists were incensed when a Donovan fundraising email recently warned that Rev. Al Sharpton, a fierce critic of the district attorney after the Garner verdict, is "coming after Dan" and "we need your help!" Critics argue that the email referring to Mr. Sharpton, an African-American, was race baiting.
"It is appealing to the lowest common denominator," charged Kirsten John Foy, a top-ranking official in Rev. Sharpton's National Action Network. "Dan Donovan's political machinations are trying to turn back the clock. This is why he is such a dangerous person."
Mr. Donovan said he was just being honest.
"What we did in the campaign, with the email, was just report what was reported so that our supporters would know that. There's reports that people were trying to disrupt my election," he said.
Like district attorneys elsewhere, who are usually rubber-stamped by the local Democratic or Republican organizations, Mr. Donovan has never charged any politicians with a crime. Mr. Molinari, for example, has been embroiled in multiple mob-related controversies.
"Do you know anyone we should have made cases against?" Mr. Donovan challenged a reporter. "Do you know somebody I should have prosecuted?"
But Mr. Donovan isn't cozy with every Staten Island Republican heavyweight. Mr. Molinari's successor in the borough president's office, James Molinaro, was infuriated enough with Mr. Donovan to take out an advertisement in the Staten Island Advance condemning him. The offense? Mr. Donovan recused himself from a 2007 criminal case involving Mr. Molinaro's grandson because he had once worked in Mr. Molinaro's office before he was elected district attorney in 2004. A special prosecutor sent the Molinaro grandson, Steven, to prison for violating parole by trying to intimidate a paperboy.
Mr. Molinaro considered running for Congress on the Conservative Party line against Mr. Donovan, but ultimately declined.
*
Mr. Donovan's biggest challenge will not be winning the special election (after all, Michael Grimm won convincingly in 2014 while under indictment); it will be winning re-election in 2016, when former New York Sen. Hillary Clinton could top the ticket and drive turnout in the district. President Obama won the district in 2012, and Democrats will put the "Eric Garner prosecutor" in their crosshairs. This will mean much of Mr. Donovan's first term will be dominated by trying to raise enough cash to stave off a Democratic challenge—a skill that the district attorney, still in debt from a unsuccessful attorney general's race in 2010, has shown little prowess for.
"You know, fundraising is part of what it takes to get elected," acknowledged Mr. Donovan. "When I worked for Guy [Molinari] as his chief of staff I remember saying, 'Hey Guy, I want to serve.' And he said to me, 'That's great Danny, you got to get elected first,'" Mr. Donovan recalled. "So fundraising is part of it but I've been able to balance my life now and I'll be able to balance my life then. I will be able to perform my duties for the people who elected me and at the same time be a good father to my child."
A version of this story appeared in the April 20 print edition of The New York Observer.