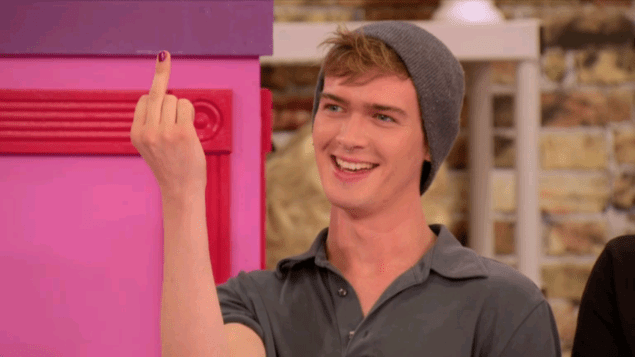 Christmas came right on time this year, children! That's right, this week opens up with the acme of Drag Race: the reading challenge. If any of your friends think that drag is just about laughing at men in dresses, show them the mini-challenge clip so they can start to understand just how transcendent this show really is. #ShadyApes
As usual with the reading challenge, some of the queens are truly excellent. It seems that the queens who are best at reading are also the best targets to get read. In this case both Trixie Mattel and Katya were great sports but also ruthless in their shade, with Trixie snatching the win. But the standout of all the contestants this week had to be Miss Fame. Her house down Versace boots non-sequiturs were so cringeworthy, but her affect so amiable, that all one can say is, "Bless her heart."
The main challenge this week calls for having the girls split into three teams in order to act out musical adaptations of classic John Waters movie scenes. Herstory lesson, and this is the second time we've had to correct RuPaul in this here column: Divine in no sense regarded himself as transgender or transsexual, and always referred to himself with the male pronoun—not "she," as RuPaul has it.
Though this is one of the more clever and original episode ideas to date, there is virtually no suspense going forward. That's because the teams become Trixie Mattel and Ginger Minj doing Divine and Edie Massey from Pink Flamingos; Kennedy Davenport and Katya performing as Divine and her mom in Female Trouble—and Pearl, Miss Fame and Violet acting as good/evil/torn Divine from the poop-eating coda to Pink Flamingos. From the get-go, there is absolutely no doubt which team will be at the very bottom.
The editors do try their best to make it seem like each group had some difficulties in their shoots, but what is presented as blunders are clearly just hiccups easily fixed with direction. Even on mute it's obvious what a great job Kennedy does in channeling the body language of her namesake Dawn Davenport, while Katya gives her pratfalls everything she's got. Meanwhile Ginger does such an uncanny impersonation of Edie as the Egg Lady that it almost doesn't seem possible. Also funny is watching Michelle urging Trixie in her clown makeup to push the scene further.
And then there's the rest.
Michelle Visage might be right that the scene where Divine eats dog crap is the most iconic of John Waters' work, but it's not really a dramatic moment in the film so much as a stunt tacked on after the ending of the movie proper. So to have an angel-Divine and a devil-Divine argue with the character-Divine doesn't really make sense, and to have it set to music makes even less sense. Or maybe those are just excuses for how painful the filming was to watch, and not in a good way. It's not like Madame LaQueer; the three queens are all perfectionists in their own way and they all know that they're eating it and hard.
The runway challenge this week, keeping with John Waters' trashy ethos, is to wear the ugliest dress. The results are quite a mixed bag, with Kennedy wearing a perfectly fine old-lady floral print while Katya and Violet both feature dresses so gaudy that eyes are still burning all across America. But it's Ginger's neon green outfit with the plastic rosettes—alongside her standout egg role—that earns her the win.
To no one's surprise, the Poo team are the bottom three. Thankfully for Violet she wore an awful look, while Pearl wore a cute anime-inspired outfit and Miss Fame a huge but still fancy dress—neither of which were remotely ugly. It's Pearl against Fame for the lip sync, and Fame is doomed before the song even starts. The track is "Really Don't Care," which Pearl could very well adopt as her anthem. Add to that the fact that Fame is basically encased in a queen-sized Hershey's kiss, which makes any dancing absolutely impossible, and she was done before she'd even begun. One particular high point is when the duo flipped each other off in unison, the best such unplanned synchronicity since Laganja and Joslyn both jumped into a split last season. Tellingly, Pearl kept her eyes on the judges, while Fame was looking at Pearl. It ends up being the last thing she sees in this competition, as Ru sends Fame home.
In many ways Miss Fame was this season's Alyssa Edwards, not realizing she's playing the fool for our amusement but not really caring either, just so long as everyone is having a good time. It's a sharp contradiction to what was expected from her before this season started, with her name and her completely severe looks. Instead we got an affable doofus, and God bless her for it.