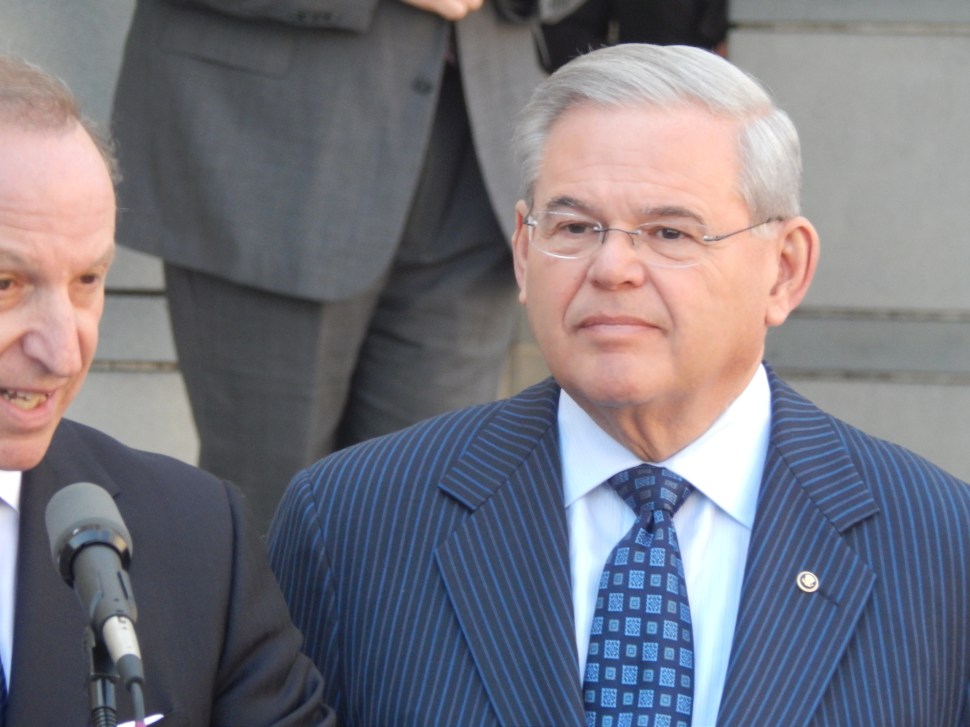 Despite last week's multi-count federal indictment of U.S. Sen. Robert Menendez (D-NJ) on alleged corrupt dealings with a wealthy ophthalmologist friend and campaign donor, New Jerseyans are not yet ready to throw the Senator out of office. Fifty-eight percent of Garden State residents say Menendez should stay unless he is proved guilty, while 34 percent want him to leave immediately, according to the latest Rutgers-Eagleton Poll.
Half of the poll sample was asked specifically about Menendez, while the other half was asked a generic question from an earlier poll. As with Menendez, New Jerseyans generally believe a politician should not leave office until found guilty, with two-thirds taking this position. Just 29 percent prefer that an accused official quit immediately. This is a sharp departure from October 2009, when a Rutgers-Eagleton poll found that half of New Jersey residents demanded that accused officials quit when charged, while 42 percent thought they should wait it out.
In the wake of initial rumors, and then the indictment itself, 34 percent of residents have a favorable impression of Menendez – down a mere three points compared to February 2015.  Twenty-seven percent are unfavorable towards the Senator (up four points), while 38 percent have no opinion.
But the quarter of Garden Staters who have heard a lot about the charges are decidedly more negative: 47 percent are unfavorable, compared to 35 percent favorable; just 18 percent have no opinion. Similarly, residents asked after Menendez's actual indictment are more negative than those asked in the days when the charges were only rumors.
"The last time we asked about corruption was in the wake of the July 2009 'Operation Bid Rig' scandal. At that time, people seemed more adamant that an accused official should immediately leave office than they are today," said David Redlawsk, director of the Eagleton Center for Public Interest Polling and professor of political science at Rutgers University. "Either New Jerseyans are more accepting of such accusations than they once were, or the Menendez case has not yet sunk in. But opinions on Sen. Menendez's future may also be less harsh because this case does not seem as cut and dry as Bid Rig."
Results are from a statewide poll of 860 residents contacted by live callers on both landlines and cell phones from Mar. 27 – Apr. 3, 2015. The sample has a margin of error of +/-3.8 percentage points. The margin of error for the subsamples asked about Menendez or generic officials is +/- 5.2 and +/- 5.3 percentage points respectively. Interviews were completed in English and, when requested, Spanish.