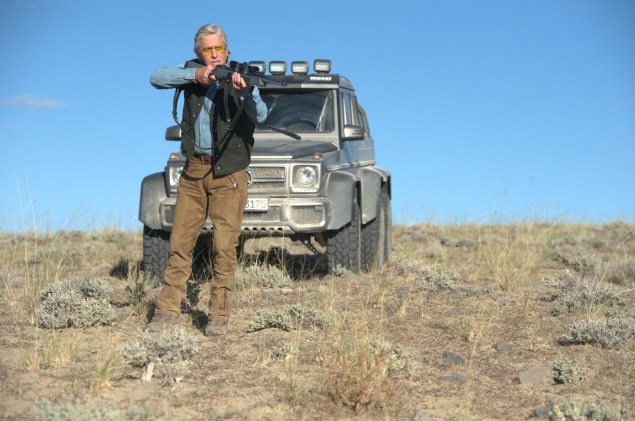 The formulaic cat-and-mouse game played to the death rattle by Michael Douglas' rich, vicious corporate maniac and Jeremy Irvine's nice, clean-cut, homespun country boy in Beyond the Reach is so old it's hairy. Mr. Douglas has played oily sharks before, but this time he's more ruthless and hateful than ever, without any redeeming human factors trying to break through the evil. To be fair, it's fun watching him go to the dark side in the middle of the Mojave Desert and never come up for oxygen, but the movie tries too hard to promise nail-crunching terror that it never really delivers.
---

BEYOND THE REACH ★★
(2/4 stars)

Written by: Stephen Susco and Robb White
Directed by: Jean-Baptiste Léonetti
Starring: Michael Douglas, Jeremy Irvine and Hanna Mangan
Running time: 95 min.

---
The star arrives in the wilderness in a Mercedes SUV worth half a million dollars with its own cappuccino latte machine, fondling a custom-made Austrian rifle and pretending to be hunting bighorn sheep out of season in a remote, dangerous section of treacherous real estate called "The Reach." He is Madec, a big-city mogul attached to a cellphone that speed-dials China, with low regard for other people's moral values and a merciless lust for cruelty. He seems ready for bear, but what he's really hunting is flesh and blood. After killing an old man who lives in a cave, it becomes clear that his next victim is going to be Ben (Jeremy Irvine), the blue-collar kid he hires on as a tracker and tour guide. Anxious to make some extra money, better his station in life and impress his girl, Ben makes the mistake of taking one bribe to cover up the fact that Madec doesn't have a hunting license.
But when he refuses to dispose of the old man's body or lie to the local sheriff (Ronny Cox), Madec turns the gun on the kid, forces him to strip down to his underwear and walk barefoot across the desert in the broiling heat. The rest of the movie focuses on Ben, burned and blistered from the sun, as he uses his own survival skills to stay alive. A consummate sadist, Madec watches his struggle while he mean-spiritedly pours himself another cocktail, plays classical music over a loudspeaker, tries to run the boy down, and nearly kills him with dynamite. The man has the weapons, but the boy knows the territory. It's a shame that the direction by Jean-Baptiste Léonetti is so unimaginative and the script by Stephen Susco so flat that you don't much care what happens to the spider or the fly.
Part of the problem is the casting. Madec is a clench-jawed monster, Ben is a callow bore, and the violent ending is follow-the-dots predictable. Jeremy Irvine, the impossibly handsome British kid who developed his own cult following with his big debut splash as the star of War Horse, then lost some stride with the lavishly misguided remake of Great Expectations, holds his own against the more experienced Michael Douglas, but despite a perfectly toned physique and an impressive new American accent (both acquired since his arrival in Hollywood), there's not much career strategy on view here.