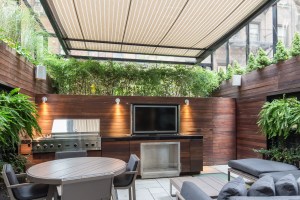 On a rainy afternoon last week, on the fourth floor of a condo at 441 East 57th Street, male voices echoed through an empty hallway, past custom-lit closets containing Hermès suit bags and innumerable pairs of sunglasses, a shoe collection apt to draw approval—if not quite jealousy—from Imelda Marcos and at least one book: The Ten Demandments of Prosperity. The voices had the tinny-sounding bravado of Masters of the Universe on speaker phone. But to our disappointment, Hilary Landis—a broker with Corcoran currently listing the four-bedroom, five-floor apartment for $10.95 million—advised us that it was only the television in the master bathroom, which, she said, never goes off.
From a screen embedded in a mirror, Warren Buffett held forth on CNBC. And if such a venue seems a touch, well, undignified for a man of Mr. Buffett's stature, let us just say: it is quite a bathroom. A Kohler infinity tub stood ready to accommodate waves, flanked by a pair of candles roughly the size of medium-gauge artillery rounds. An electric toilet waved its seat unbidden, startling one member of our property tour.
Purchased from the developer in 2010 for about $9.42 million, the condo, Ms. Landis said, was taken over by the current owner more-or-less in white-box condition and then put through its decorative paces by Stephen Fanuka, the star of HGTV's Million Dollar Contractor. The second-floor formal dining room, which enjoys an idyllic view of East 57th Street, just off Sutton Place South, has been done in Loro Piana cashmere drapes that pull back to reveal a marble ledge at the windows.
Throughout, walls are mostly high-sheen—Venetian plaster, polished wood—or textured in fabrics, like cashmere. (Really.) A garden-floor living room features an ethanol milk glass fireplace and extends through a glass door to a "backyard" hemmed in by pretty cedar fencing; a retractable canopy and industrial-grade heat lamps ensure that the outdoor space, which also accommodates a pop-up television, can be used through all seasons.
Inside, the condo sprawls 5,550 square feet, though each of its five levels is fairly narrow—or "townhouse-like," depending on your perspective. A basement gym bleeds into a cozy media room, complete with electric, cashmere-upholstered sofa and one of several flat-screens in the home whose size would make them suitable for the Pentagon's war room.
We mention all these items—the sofa and the televisions, the drapes and the gym—because they all come with, should the buyer be interested. But shoppers in this class, of course, tend to have a set of demandments all their own. And they tend to be rather particular.