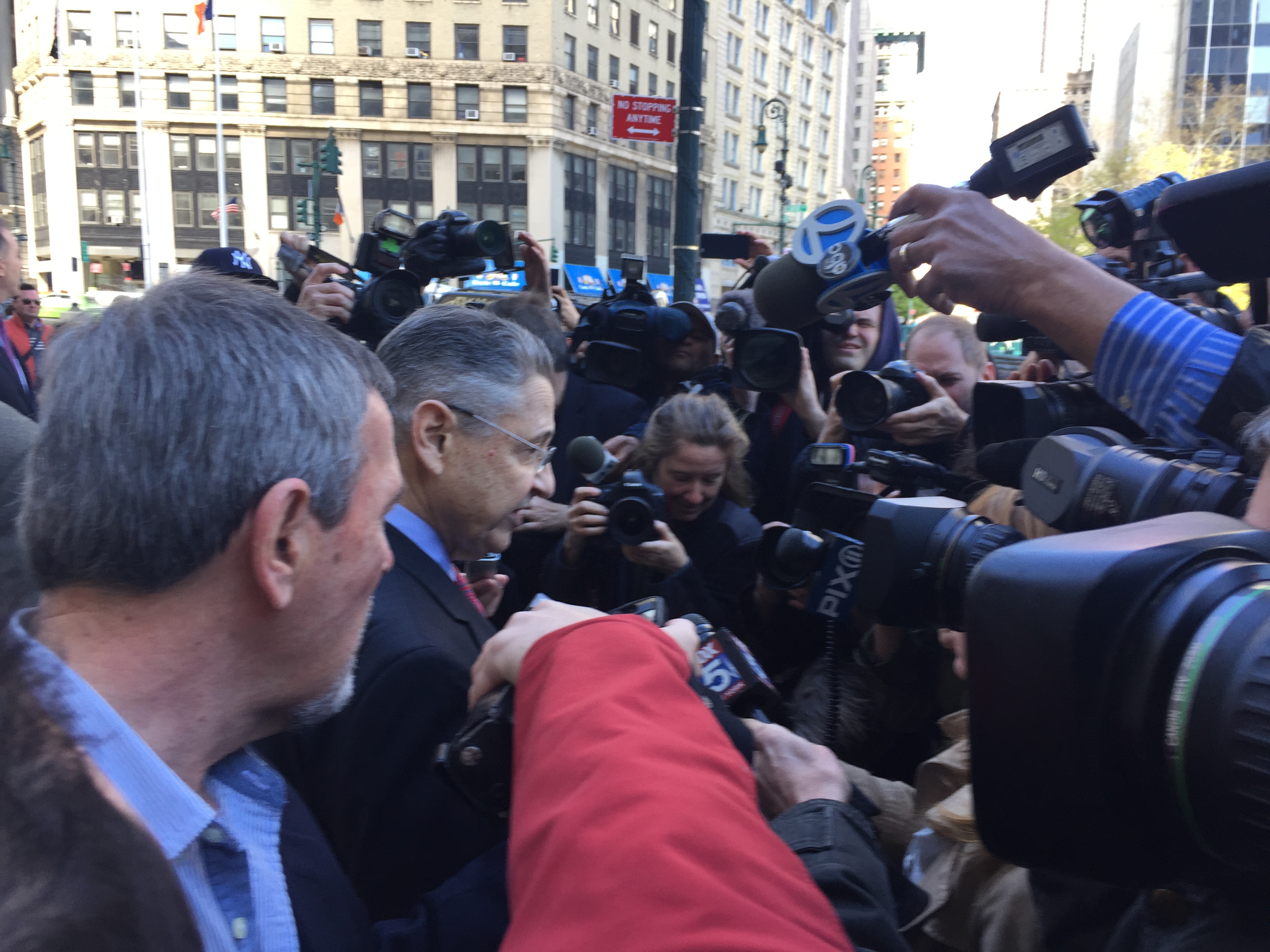 Former Assembly Speaker Sheldon Silver once again pleaded not guilty to an expanded federal indictment against him today, and a judge set his trial date for November 2.
"This is going to trial and I hope, I'm confident I will be vindicated after a full hearing," Mr. Silver told reporters outside the Foley Square federal courtroom this morning.
Asked again, outside the court, how he felt about a new superseding federal indictment—which adds a seventh charge that Mr. Silver hid allegedly ill-gotten gains through financial transactions—Mr. Silver said, "Same way."
Mr. Silver is accused of presenting as legitimate outside income from law firms what U.S. Attorney Preet Bharara alleges was actually millions of dollars of kickbacks and bribes gained through his official position in Albany, using his influence to steer real estate developers to a law firm that paid him for referrals and to trade research funds for asbestos patient referrals.
The former speaker, who stepped down from his leadership post amid pressure from colleagues but remains an assemblyman representing the Lower East Side, arrived at the courthouse this morning in a yellow taxicab. He waited in the court security line with lawyers and reporters, removing his hat, his belt, and his suit jacket to move through the airport-style screening.
In the fourth-floor courtroom, he sat patiently as well-known courtroom sketch artist Shirley Shepard stood close by to draw him, all the while spinning an apocryphal tale of why Gilbert Stuart's famous portrait of George Washington is unfinished. Mr. Silver listened politely, mostly trying not to make eye contact as she drew him.
When Judge Valerie Caproni entered the courtroom and proceedings began, Mr. Silver's legal team, Steven F. Molo and Joel Cohen, promptly offered his not guilty plea to the new superseding indictment. The arraignment over quickly, Judge Caproni moved on to other business in the case—including a change to Mr. Silver's bail conditions. He will now be allowed to travel anywhere in the contiguous 48 states.
The defense also questioned whether, after changing the indictment once already, the prosecution would offer up yet another change before the trial actually begins. Assistant U.S. Attorney Carrie H. Cohen was tight-lipped about that, saying the government would bring new charges if they arise.
"Can you give me a hint?" Judge Caproni asked. "Do you think this is it?"
"At this point, the superseding indictment is the indictment," Ms. Cohen said. But if new crimes were discovered, she would "not rule out" another superseding indictment.
The defense also questioned the discovery process—the government's handing over of evidence to the defense in advance of trial, with Mr. Cohen asking "whether the government has given us or intends to give us all the documents it received from the Moreland Commission."
The Moreland Commission was created—and then disbanded—by Gov. Andrew Cuomo to investigate corruption in Albany. After its unceremonious end, Mr. Bharara began investigating its findings—which helped lead to the charges against Mr. Silver. The prosecutor is also looking into Mr. Cuomo's role in ending the commission.
The longest discussion was reserved for when Mr. Silver's trial would begin. The government, Ms. Cohen said, would be ready to go to trial in July and expected the trial to last four weeks. Mr. Silver's lawyers, meanwhile, pushed for trial in late or mid-November. Mr. Molo said he had a case expected to last four weeks that would begin on September 28.
"That sort of argues in favor of July," Judge Caproni pointed out.
Mr. Molo said that would be "too soon"—and suggested they meet again in June to pick a trial date. But Judge Caproni did not want to delay. "We are going to set a date today," she said.
Mr. Molo suggested a date later in November, to give him some time to prepare after his previous case wraps up, but Judge Caproni said it would run them into Thanksgiving holiday.
"I don't want to do that to the parties, I don't want to do that to the jury, I don't want to do that to myself," she said.
She went on to argue that Mr. Silver had co-counsel, so Mr. Molo would have someone else to handle pre-trial motions before November 2, when jury selection will begin.
"Your client wants a trial. I want to give him a trial," Judge Caproni said. "I want to get this case resolved."
Whether the parties make it to trial will remain to be seen. Settlements become likelier the closer to trial dates—and Mr. Silver's defense team said today the will once again seek to have to case thrown out. Judge Caproni shot down a prior motion to dismiss, but did chastise Mr. Bharara for making too many public statements about the case.