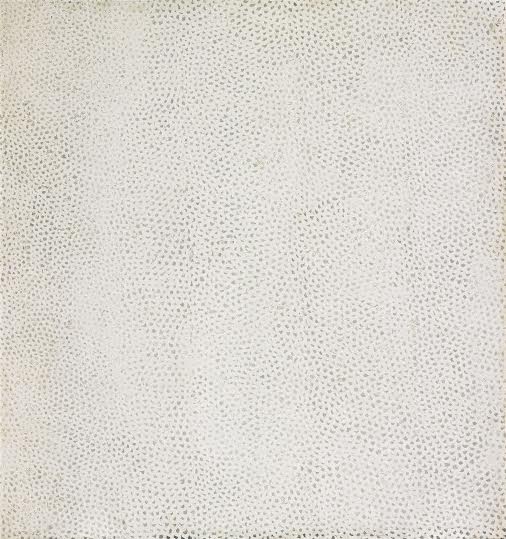 It is called Interminable Net #3, and the eight-year-long wait to get it to the auction block was interminable, at least for Sotheby's executives and art specialists. The rare work by female painter Yayoi Kusama, who has inspired something of a cult following around the world, finally arrives on the auction block late this spring after a decade of schmoozing the private seller. He picked the right time to finally part with it: Ms. Kusama was the most popular artist in the world last year, as ranked by attendance at her traveling retrospectives.
Interminable Net #3 (1959), a highly regarded work of art from Ms. Kusama's key period, is headed to auction for the first time on May 12 at the Sotheby's Contemporary Art Evening Auction in New York.  The 52½ in. x 49 in. oil on canvas—first unveiled to collectors in an East 10th Street loft a half-century ago—is expected to bring in anywhere from $5 million to $7 million and could set a record for a Kusama painting.
What's its peculiarly New York story?
Born in Matsumoto, Japan, Ms. Kusama started using her visual language of painting with polka dots and nets as motifs at the early age of 10 to deal with mental health problems. At age 29, with simple gestures of her wrist, she began to craft elaborate canvases covered in single, repeating patterns of arcs and swirls. She called her process "self obliteration," an attempt to rid her body of the hallucinations that had plagued her since childhood and that persist to haunt her to this day as she continues to live in a Tokyo psychiatric hospital.
Part of the esteemed white Infinity Net series, Interminable Net #3 was created during the artist's most intense and prolific period of production from 1958 to 1962. The period represented a turning point in Ms. Kusama's career when she first began to experiment with repeating dots and circular marks, a fascination that would later earn her the title of Polka Dot Princess. Due to this history, the piece is considered among the most significant of her oeuvre.
Ms. Kusama first unveiled five of her white monochrome Infinity Net paintings in 1959 in her first solo exhibition as an artist held at the Brata Gallery, an artist-run cooperative on East 10th St in New York. The mural-size Infinity Net canvases rocked the art world like a bomb and were unlike any of Ms. Kusama's previous works.
Bearing a close resemblance to lace or fine mesh netting, it was the deliberate, intense uniformity and detached repetition of these gestural brushstrokes that would mark her international breakthrough as a young artist. Ms. Kusama's strokes directly challenged and diverged from the more muscular, uncontrolled brushstrokes and overall emotionalism of Abstract-Expressionism practiced by artists like Willem de Kooning and Jackson Pollock.
"It is an absolutely fantastic painting. In my opinion it is one of her best paintings that will come through the market in a long time," said Ms. Miety Heiden, Senior Vice President at Sotheby's and Head of Contemporary Private Sales, North America.
While Sotheby's tends to sell a healthy number of Kusama paintings in any given season— typically 10 or so— these often represent works from Ms. Kusama's later periods, including her series from the 1980s up to her more recent paintings. According to Sotheby's, there are also very few (under 15) Infinity Nets from the late 1950s currently held in private hands, which makes any one of these paintings' arrival at market all the more attractive to art collectors.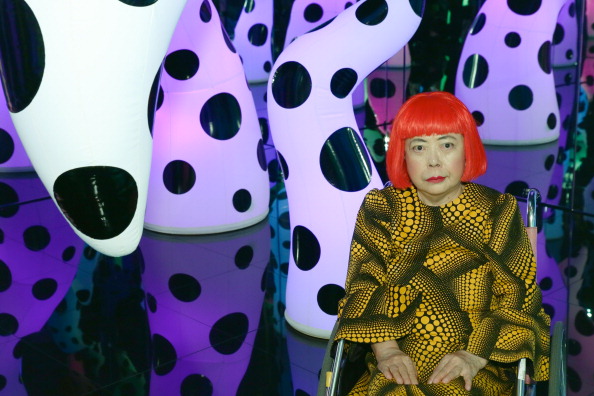 The present owner, who wishes to remain anonymous, was not interested in even discussing a sale of the prominent work when Sotheby's first approached him eight years ago, but now representatives from the auction house say that he has reached a point in his life when he is willing to part with the piece, albeit reluctantly.
It is for these reasons, combined with the fact that the work also happens to be in exceptionally good condition, at least according to the auctioneer, that the sale of Interminable Net #3 will be particularly noteworthy. This piece survived exceptionally well despite the fact that most of Kusama's early paintings are done with paint, which tends to see a lot of cracking.
Experts at Sotheby's place Kusama near the very top of the list of world's most valuable female artists. She is surpassed only perhaps by Joan Mitchell and Georgia O'Keeffe. It was her earlier retrospectives that had a profound impact on her value. "The Whitney and the Tate retrospective were very important for her market. That is the point when her market started to rise," said Ms. Heiden.
Other paintings from the Infinity Net series are held by leading institutions around the world, including by the Guggenheim, the MoMa, the Princeton University Art Museum, the Los Angeles County Museum of Art and the Museum of Contemporary Art in Tokyo, among others.