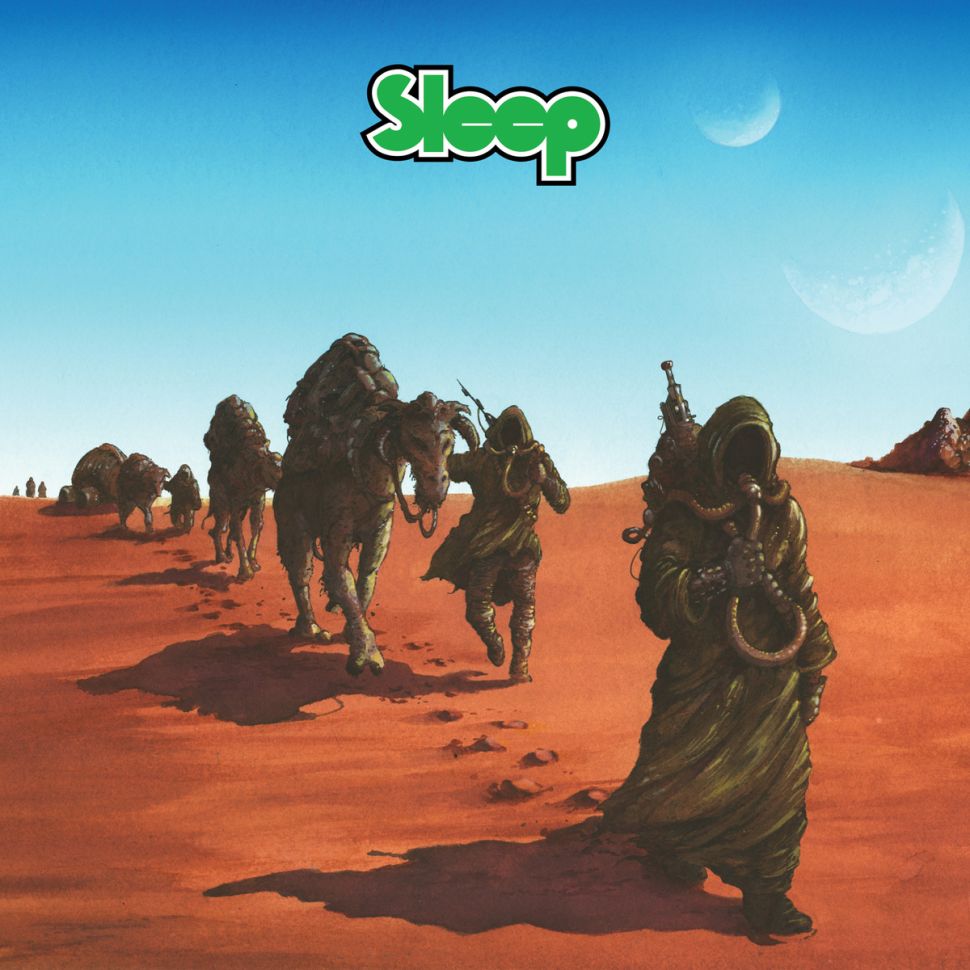 In the late 1990s, Sleep, a band from San Jose, Calif., recorded an album called Dopesmoker.
Why should you care?
Stoner and Doom Metal is no longer the dark secret of metal geeks and that guy in the dorm who looked like J Mascis and listened to a lot of Rush. As Stoner Metal moves into the common consciousness, you may want (or even need) to know that Dopesmoker is the Pet Sounds of the whole movement, a shining, definitive, artistic achievement and reference point.
Also, Dopesmoker, which is comprised of a single grunting, grinding, shuddering and thronking 63-minute-long song about a bong-toting Jesus entering the Holy Land, is a credible candidate for the best album of the last 25 years.
That's why you should care.
First, let's address the idea that Stoner Metal isn't just for, uh, stoners anymore.
Not only is the line between your standard Echo Park/Bushwick hipsters and the kind of people who listen to Weedeater and Orange Goblin narrowing, but the Stoner Metal types are winning, artistically and commercially; a club like Saint Vitus in Greenpoint, which specializes in this stuff, does so much business that it makes the Pabst-ridden beardy dives elsewhere in Brooklyn look positively irrelevant. The genre has also edged into the mainstream, as evidenced by the success of Queens of the Stone Age.
See, while you were thinking metal was still all that Rock of Ages shit, Stoner Metal (and it's more wild-eyed brother, Death Metal) became both the status quo and artistic forefront of the genre. Stoner is the fiercely beating heart of modern hard rock. Oh, the genre has also yielded the best pure-rock band of the last couple of decades in Fu Manchu, whose blend of Sabbath slur-chords, Foghat boogie, and Black Flag snarl make them the most completely joyous and consistent rock-centric band since the Ramones.
But back to Sleep and Dopesmoker. First, a few words about the album's odd history: Dopesmoker was recorded in 1996 for a major label, but (unsurprisingly) rejected. In 1999, Sleep released Jerusalem, which was essentially the same album, but with a few meaningless edits, an inferior but more user-friendly mix (more highs, less extremes in mastering), and the "single song" format was divided into four "separate" tracks. The superior original version was subsequently bootlegged extensively, and received an indie release in 2003, and an upgraded released in 2012.
[youtube https://www.youtube.com/watch?v=kJhRNnG65ps&w=560&h=315]
Dopesmoker and its amazing landscape of Branca-dynamics applied to Mountain/Nazareth/Budgie toe-curling riffs is freaking fantastic from start to finish. Imagine "Sister Ray" recorded by Blue Cheer with Tony Iommi guesting; then imagine it quadrupled in length. Despite a relatively un-varying landscape (it is, after all, one long song), it doesn't feel repetitive; the sheer grinding, unrelenting crunch of the guitars and almost Birthday-Partyish jerk and roll of the drums assures that the listener may be gobsmacked but never complacent.
Like Neu!, Scott Walker (post-Climate of the Hunter), and even the luxurious, expansive and tense Tim Buckley of Happy Sad, Dopesmoker says "You're coming on a long ride. You'll enjoy it, a lot, but there may be some broken glass on the bus seat."
The churning, gargling, rageful and raging immolating sound of Dopesmoker resembles a big fat angel baby tearing the devil's construction paper, and it's pissing the devil off, so the big fat angel baby does it again, and again, and again. Now, when you tear construction paper (gruuullllp) you can't tear it precisely the same shape twice; so the baby, who is sitting on floor of Hell's Playpen, is eventually belly-button-deep in construction paper scraps, all of which are more or less the same size and shape, but when examined closely, differ wildly, each ripped with a different intent and level of ire.
Got it? Because that's what the damned thing sounds like.
Now, that sounds a bit arty, but it isn't. Dopesmoker achieves the extraordinarily rare feat of being a devastatingly original record that is completely un-arty. Unlike, say, Sunn O))) or The Haxen Cloak, Sleep attempts to reconstruct rock, as opposed to add format to noise; nor does it ever dip into sonic or emotional hysteria, as Rudimentary Peni's brilliant and vaguely comparable Cacophony does. More than anything else, Dopesmoker is just an unstoppable metal album (albeit one that sounds like monks meditating while chewing on tin foil for an hour), so full of fury and confidence that the listener never questions the repetition or the novel structure.
Also, like Dave Roth-era Van Halen, there is an element of the utterly ridiculous here, and this is one of the many reasons Dopesmoker is preferable to the grim exercises of, say, Nortt or Earth. When the first vocal finally arrives (8:23 into the piece), vocalist/bassist Al Cisneros intones, with his gravelly quasi-Mongolian voice, "Drop out of life with bong in hand." A little later he states the general theme of the album: "Proceeds the Weedian Nazareth." Despite such a ludicrous (albeit fascinating) plot, at no point does Dopesmoker even momentarily indulge in irony. This is a deeply real rock'n'roll record.
Oh, now is probably a good time to note that one most certainly doesn't have to be stoned to enjoy Dopesmoker; in fact, I think it would be terrifying to listen to this sustained, Sabbathian car crash while stoned.
In 1996, Dopesmoker joined the short list of ground-breaking rock-era albums that set new standards for mixing aesthetic joy with artistic achievement; like the Beach Boys, PiL, or Ramones before them, Sleep announced "This can be done now." The aftershocks of that great weedquake are going to be with us for a very long time.
Sleep is doing some limited touring this spring; attend at your own risk. A few years back I saw them perform at an old theatre in Los Angeles; I left the show early because I genuinely feared that the extreme bass frequencies were going to bring the building down. A friend I attended the show with said "They made my eyeballs shake. That's never happened to me before."