In 1947, in the French seaside town of Golfe-Juan, Pablo Picasso was restless. Francoise Gilot, his lover during those years, recalled in a recent interview with the Observer, that, in the years following the Second World War, the artist was finding himself unable "to settle down to any sustained work." It was then that the owners of the local Madoura ceramics factory approached him. A year earlier, Picasso had visited the factory and made a few plates of red clay. They wanted more. Artisans at the factory were assigned to work with him, preparing the clay to whimsical shapes of his specification and helping him mix colors with which to paint designs. He went on to create designs for pottery off and on for the next quarter-century.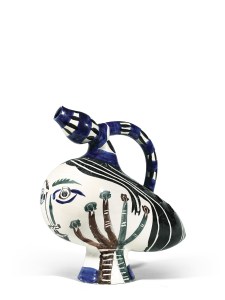 These ceramic plates, vases and pitchers were long dismissed as just souvenir merchandise for vacationers in southern France. But they are now hot commodities. A dedicated sale of 146 of these ceramics at a Sotheby's sale in London in March produced strong auction prices, raising $2.5 million, more than double expectations.
Among the record prices set at that sale were $138,356 for a set of 1948 black painted plates and $119,909 for a 1951 pitcher with a duck shape and a woman's face painted on it, Canard Pique-Fleurs. Most of the lots in the Sotheby's sale, however, did not sell for six figures. A number sold for under $2,000, and the majority fetched prices under $10,000.
Christie's in New York is following up with a two-week online sale (May 5-May 19) that will include 77 Picasso ceramics; Bonham's has one coming up also. Some of the Picasso pieces, experts said, seem poised in the sweet spot between still affordable and likely to rise.
"They had been dismissed as tourist objects for so long," said Brigitte Mulholland, director of New York's Jane Kahan Gallery, which has sold Picasso ceramics since the 1970s. "But, there has been an uptick in interest on the part of collectors and museums, based on a recognition of their artistry, on the one hand, and just the fact that these are Picassos. Try to find a Picasso painting or drawing or print for these prices."
Séverine Nackers, head of prints for Sotheby's Europe, who directed last month's sale in London, also noted, "Collectors are drawn to these works because ultimately each piece is so distinctly recognizable as 'a Picasso.' "
Of course, they always were Picassos, but their increased status has stemmed from two principal causes. First, over the past decade, more auction houses in the U.S. and Europe have begun selling Picasso ceramics, usually as part of their print sales, and Ms. Nackers noted that bidders in the most recent sale included people in "China, India, Brazil, Slovenia and New Zealand—and 62 percent of the buyers were first-time collectors of Picasso ceramics at Sotheby's."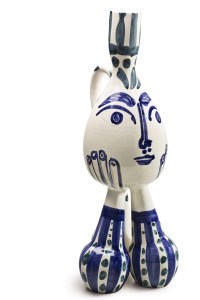 Second, Picasso ceramics have been included in more general exhibitions of the artist's work in museums around the United States and Europe, much of this taking place in just the past five years. Ceramics shows are one way to have a big-name blockbuster Picasso show without the insurance costs of the paintings.
In 2010, for instance, the Metropolitan Museum of Art created a from-the-collection Picasso exhibition of over 300 works by the artist in a variety of media, including ceramics. In 2013, the Art Institute of Chicago staged "Picasso and Chicago," which included ceramics from private collections in the city, as well as from the museum's collection. The Kennedy Center for the Performing Arts in Washington, D.C., displayed 140 ceramics in a show called "Picasso Ceramicist and the Mediterranean," and an exhibition, "Pablo Picasso: 25 Years of Edition Ceramics from the Rosenbaum Collection," has been touring the U.S. since 2013, so far making stops in California, North Carolina and Texas, with subsequent sites in Ohio and North Dakota. The art museum at Nova Southeastern University in Fort Lauderdale, Fla., is exhibiting a 72-object show, "Pablo Picasso: Painted Ceramics and Works on Paper, 1931-71," through November 1.
It's not an uncomplicated market, though, for collectors. Over the years, Picasso painted approximately 4,000 pieces of pottery that were then glazed (most of them) and fired by the artisans, and these pieces are referred to as the artist's unique pieces. Most of these became the property of the various members of his extended family.
But Picasso chose 633 of those 4,000 unique pieces to become editioned by the Madoura factory, and the size of the editions ranged from 25 to 500. The artisans themselves painted each ceramic using Picasso's image and in the style of the artist, all with his approval, and these works, which have been estimated to number 120,000, are referred to as "authentic replicas." (There is a third category for Picasso ceramics, "unique variants," which refers to the occasional piece that was stylistically the same as the others but having a slightly different color.)
The early critical reception to the art pottery of Picasso was not immediately positive. To some, the images themselves reflected a lack of artistic ambition on his part; others ridiculed the idea of mass-marketing Cubism or that the editioned pieces that bore the artist's name were not created by him at all.
"I liked very much the unique pieces," Ms. Gilot told us, "but I believe the copies made by Madoura debase the originals. They say these are Picasso editions, but they aren't, because the image is not by his own hand."
The pricing of Picasso ceramics is unlike almost anything else in the art trade. Editioned works, which currently range in price from $2,000 to over $1 million, have sold for more than unique pieces. "Some of the editioned pieces are more rare and more desirable," Ms. Mulholland said. "I know that sounds counterintuitive." The reason for this is, unique pieces tend not to be put up for sale very often, requiring collectors to compete for the editioned ceramics.
"Someone has one Picasso ceramic and he wants a mate for it, he'll pay whatever he has to," said Charles Mathes, an art advisor in Manhattan who specializes in this type of art. There may also be an aesthetic preference. Jonathan Nash, owner of the Antibes-based gallery specializing in Picasso ceramics, Ceramiques du Chateau, said the unique works "were made faster and a bit sloppier than the replicas. They're not as precise as those done by the artisans."
Warning: With higher prices and greater demand has come a slew of forgeries, as well as broken pieces that have been repaired in order to look undamaged, said Mr. Nash. "Tells" include "the weight and thickness of the clay, the way the clay sounds when you flick your finger against the side…"
Research and second opinions are required before any purchase.