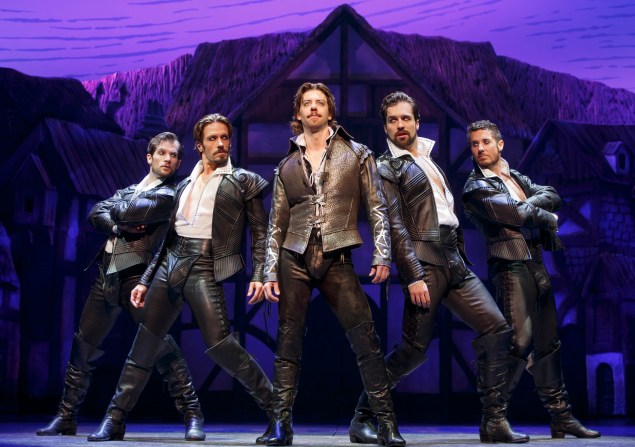 Sometimes it's O.K. to go to the theater just to have fun. You'll have plenty at Something Rotten!, the palmy, outrageous new lampoon of Hamlet that has hit Broadway like a ton of meringue in the face of cynicism. It's the most hilarious romp since The Book of Mormon, only better.
This is as it should be, for the director-choreographer is Casey Nicholaw, who won the 2011 Tony Award for co-directing that show with Trey Parker. The cast has collectively won more comedy awards than any other group of wackos on any other show in town. It's a satire of everything Shakespeare, in case you don't know, and there are songs about everything from the crusades to the bubonic plague including an opening number called "Welcome to the Renaissance" that will make you howl. It is simply pointless to dissect this insanity any further than to tell you it rhymes Tudor with "pewter" and revolves around William Shakespeare and two rival brothers named Nick and Nigel who hate The Bard and vow, in retaliation for his success, to ruin him by producing the world's first musical.
This involves a seemingly endless jumble of characters named Shylock, Portia and a soothsayer called Thomas Nostradamus (is there anyone funnier on Broadway than Brad Oscar from The Producers?), who predicts the future—overpriced drinks in the lobby and singing the dialogue onstage instead of speaking it, in shows about street gangs, feathered Follies showgirls, sailors wearing hats in the South Pacific, whores singing about big spenders, a chorus line kicking in unison wearing 8-by-10s … and worse still, there's more—tap dancing!
There is even a 16th-century censor (a ridiculously hilarious Brooks Ashmanskas), who hates the idea of decadent musicals despite a daughter named Portia (Kate Reinders), who looks exactly like Kristen Chenoweth and sounds like her, too. Nigel (John Cariani) loves Portia at the risk of ending up in the town stocks. Nick (Brian d'Arcy James) has a wife named Bea who also sees a musical revolution as a way to banish men from playing women's roles on the stage. And then there is Shakespeare himself, who turns out to be a rock star replete with leather codpiece. Danced and sung by the fantastic Tony winner Christian Borle, Shakespeare stops the show cold tapping out the titles of Shakespeare's plays in a rousing production number called "Hard to be the Bard" that includes the lyrics "I got the skill and the will/To thrill you with my quill." I don't know when I laughed so hard that I almost blew off a dentist's cap. You had to be there.
The book by Karey Kirkpatrick and John O'Farrell touches on a few real issues (was Shakespeare a liar and a thief, or did he really write his own plays?) but not seriously enough to worry. And not long enough to distract from the bedlam. Portia urges Nigel and Nick to write rhyming couplets, not catchy take-home tunes, but what the brothers come up with is a musical with a breakfast theme called "Omelette" that mixes up the plot from Hamlet with The Sound of Music. Hark! What light through yonder window breaks? Why eggs, of course, and ham, and Danish. Scramble up something rotten in Denmark and here comes Hamlet! Who can resist the hit song—"How Do You Solve a Problem Called Ophelia?"
Scott Pask's inventive sets bring Stratford-on-Avon to life, the play within the play elevates clichés above and beyond the call of hilarity, the songs are catchy and melodic for a change, and Something Rotten! will leave you screaming for more. This is a show brimming over with cleverness and nothing on its mind but entertainment, which it delivers not only in spades—but in hearts, clubs and diamonds, too. The quality of mercy is not strained. The corn is outweighed by the candy. And the taste is very sweet indeed. I have never had a better time on Broadway.