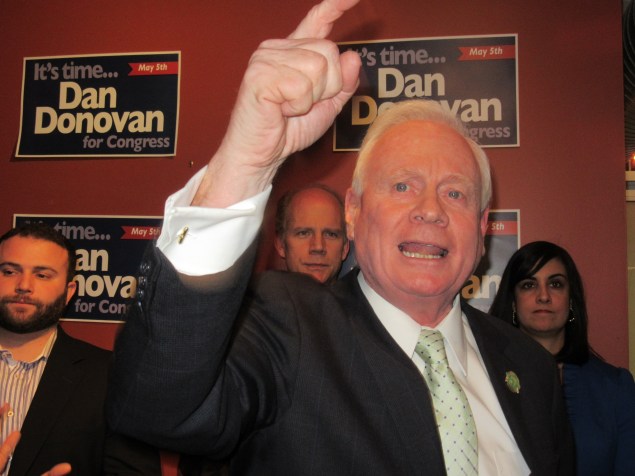 A prominent state senator recently claimed that religious groups may try to oust state lawmakers who won't support a controversial education tax credit.
State Senator Martin Golden, a Brooklyn Republican, said religious groups, particularly one tied to an unnamed rabbi, would use a "nuclear option" if the education investment tax credit–a bill that would give a tax credit to people and companies donating money to public schools and private school scholarship funds–does not become law by the end of the legislative session in June. This option, in essence, would be drumming up candidates to challenge lawmakers opposing the bill, he said.
"A rabbi today, I understand, I'm not gonna go into names but he mentioned some of the groups that went in and met with some of the assembly members and said, 'Listen, we're gonna run against you. We're gonna put people up against you and you and you' and they even named the people they're gonna put up," Mr. Golden said in an interview on the television show "The Jewish View" that was posted March 25.
Mr. Golden, a strong supporter of the tax credit, added that state legislators "finally understand that it's no longer a game, that the people are quite serious–when you say there's a nuclear option, there is a nuclear option."
"The option of the game is people are waking up across the state of New York, from Brooklyn to Buffalo, and they are gonna go out there and they are gonna put people into office who reflect their views," he said. "So we're gonna see more and more of that."
One of the hosts of the show, Marc Gronich, suggested that the religious organizations Agudath Israel, Orthodox Union and the New York State Catholic Conference were interested in employing the so-called nuclear option, a claim Mr. Golden did not refute. Spokespersons for the Catholic Conference and Agudath Israel said their groups were nonprofits that could not endorse any candidates for office. Orthodox Union did not return a request for comment.
But David Zwiebel, Agudath Israel's executive director, said members of his organization could involve themselves in future elections on an individual basis. Given the importance of the tax credit to Orthodox Jews, he expects they will.
"This is something our constituency cares about. In upcoming elections, they could support the opponents of those who are against the education tax credit–that wouldn't surprise me," he said.
The education tax credit has many powerful supporters, including Gov. Andrew Cuomo and Assembly Speaker Carl Heastie. Yet plenty of opposition remains in Mr. Heastie's Assembly, where Democrats aligned with the teachers' unions are unwilling to back a bill they see a backdoor vouchers program. Mr. Cuomo's effort to include the tax credit in the state budget was not successful.
A spokesman for Mr. Golden, James McClelland, did not disclose who the unnamed rabbi was or what organization he belonged to. He said the threats were not specific to any lawmaker.
"There were no specifics and no one was singled out. [The rabbi] didn't offer any names," Mr. McClelland said. "It was said in the heat of the moment."