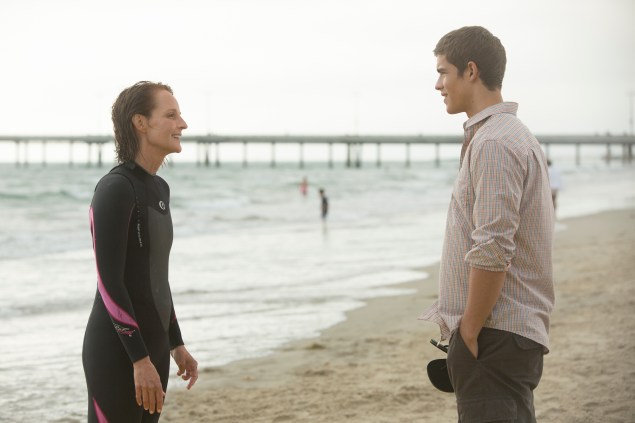 Uneven but leavened with underlying intelligence, Ride is the second film written and directed by esteemed Oscar-winning actress Helen Hunt about surfing. The first one, 2011's Soul Surfer, sank without a life jacket, and this one stands a good chance of repeating history. There are good things in it, but Ms. Hunt is smart, observant and bright enough to make films that resonate with more freshness than this. Maybe next time.
---

RIDE ★★
(2/4 stars)

Written and directed by: Helen Hunt
Starring: Brenton Thwaites, Helen Hunt and Robert Knepper
Running time: 93 min.

---
Ride is about an unconventional mother-son relationship between two exceptionally brilliant people who decide to restart their lives independently, with results that are sometimes funny but always emotionally draining—for each other and the audience, too. Ms. Hunt plays a fiercely controlling divorced New York mother who works as a tough editor for a demanding publisher and supervises every aspect of her college-age son Angelo's life as he struggles to overcome his mother's interference and prepare for a career as a writer. Jackie is a workaholic who is so busy multitasking that she even edits manuscripts while on the treadmill, and Angelo (Australian actor Brenton Thwaites) feels he will never find his own voice if he remains under the thumb of his demanding mother, who edits every paragraph he writes. Angelo works out his frustrations by surfing, but in New York the beaches are always closed because of contamination, so he drops out of school and moves to California to spend some time with his father, who is remarried with a family of his own. Jackie and Angelo are so codependent that when she finds out, she follows him to Los Angeles and becomes his stalker.
In time, Jackie befriends a limo driver named Ramon (David Zayas), takes up surfing on her own to find out what the lure is that has driven a wedge between her and Angelo, and explores her sexuality with a much younger surfing instructor (Luke Wilson). Tired of soulless girls and stifling academia, Angelo is having fun at last, until he learns that his mother is following him around like an annoying puppy. Keeping a firm distance, he corresponds only by texting with his smart phone, but that doesn't stop Jackie from offering unsolicited comments on everything he says, does and feels. When he remarks that he admires Gore Vidal, she texts: "Gore Vidal was an Olympic athlete, slept with men and fought in a world war. Talk to me when you you've done even one of those."
The premise starts out preposterous, then becomes exasperating, but there is a funny bit in which her arrogance convinces her she can surf without a lesson and she nearly drowns. For what it's worth, you learn a lot about both the punishing danger and liberating freedom of surfing, whether you ever plan to use what you learn or not. The character Ms. Hunt has created for herself has real gumption, determination and grit, which I suspect is at least partially autobiographical. As an actress, she embodies all three qualities, and more. Her laughing jag after smoking her first joint is something joyous to behold. Unfortunately, the angry confrontation scene between Jackie, Angelo, his new girlfriend, his father and stepfamily is strident and less convincing.
The story is about how mother and son jump-start their lives and get their priorities straight, but too many other characters intrude for no reason and then vanish without incident. The seesaw direction has a nice, relaxed sense of timing, contrasting the sunny brightness of the California lifestyle with the dark and brooding shadows of New York stress, but just when we get close to unraveling the secrets that drive the characters to a deeper understanding, Ms. Hunt the writer crudely juxtaposes sensitivity with comedy. No spoilers, so how they work out their lives is up to you to discover.
At a time when people of all ages and genders are re-awakening their dormant sexuality with all sorts of unlikely partners, I was willing to accept the offbeat obsessions of Ms. Hunt's character as logical and believable, but if I had a mother like that, I'd wring her neck. Ride seems confused about what kind of movie it wants to be or why we should regard the characters as special. Still, it's not a waste of time, and it offers further proof that although she's already been around, Helen Hunt is still going places.