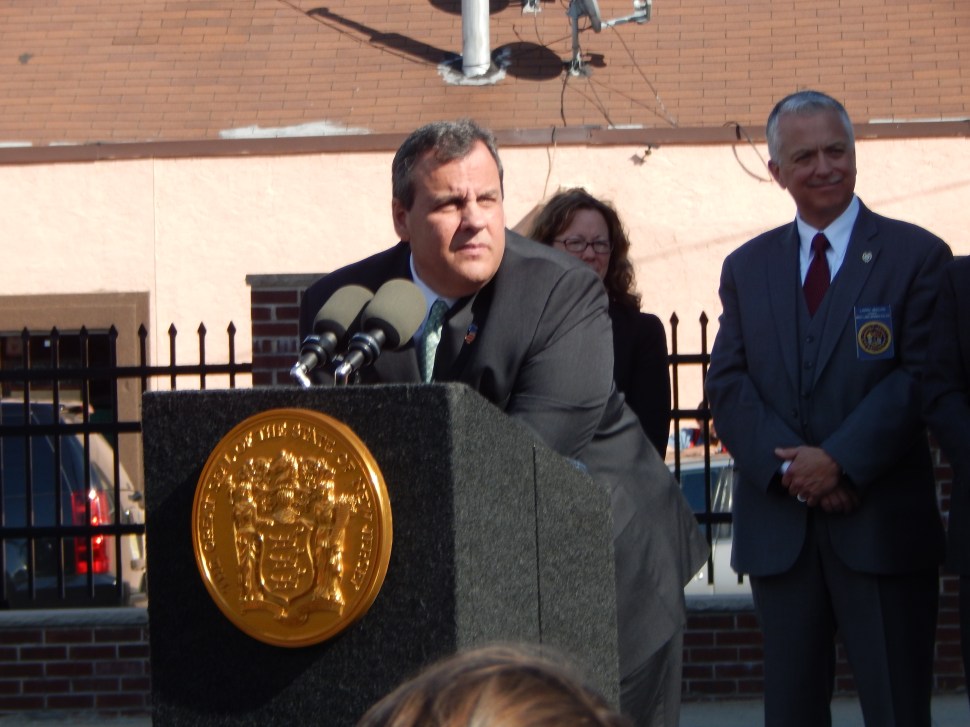 NEW BRUNSWICK — The bromance is over.
At a bill signing outside an addiction treatment center here today, Gov. Chris Christie slammed the state's top Democrat, Senate President Steve Sweeney (D-3), for his plans to push another millionaire's tax in this year's budget. And Sweeney, who announced the proposal at a press conference in Trenton yesterday, had equally strong words for Christie: among other things, he accused the Republican of neglecting the state's ailing economy to chase an unlikely presidential bid, and excoriated him for the stagnant growth New Jersey has seen under his tenure.
"He actually needs to be back here meeting with the legislative leadership," Sweeney said yesterday. "He needs to be back here with a plan on what we're going to do to fix this place. Because you can't fix it when you're not here. You don't fix anything when you can't look anybody in the eye."
Today, Christie returned the criticism.
"I've been very involved with the budget process and listen, here's the bottom line. Steve has his press conference yesterday to prescribe the only prescription that Democrats ever have for any problem in the state and that's to raise taxes. So I'm glad Steve is back on the record for raising taxes again, and that's really the message out of yesterday," he said.
The events would seem to ring the death knell of what has been up-til-now a productive relationship — a "bromance," even, as Christie himself has said — between the two legislative leaders. And it comes as lawmakers struggle to address some of the state's most pressing fiscal problems, from a broken pension and benefit system to a depleted Transportation Trust Fund.
Both leaders point to those issue to justify their divergent budgetary actions: Christie to put off another scheduled payment to the pension fund and move forward with further reforms in order to keep in solvent in the long-term, and Sweeney to levy a tax on the state's top income earners to raise the revenue necessary to keep the payments covered.
Sweeney also made clear yesterday, however, that he thinks a big part of the problem has been Christie's weak leadership on the economy, which he said has been in a "death spiral" since the Republican took office back in 2009. But Christie sees it differently.
"Yeah, I wish my economic policy could have been put in effect," Christie said this afternoon. "We would've cut taxes in New Jersey that Senator Sweeney opposed, we would have lowered property taxes that he opposed because he's in bed with the public sector unions. So the fact is, that we would've done a lot that would've helped the economy significantly, but you know, his party in the legislature walks in lock-step with public sector unions."
"And now unfortunately my policy has not been fully implemented," he added. "If he thinks that what he proposed yesterday which is increasing taxes is going to lead to economic growth, well, than he hasn't been watching New Jersey over the last number of years."
Still, Christie said he's confident the problems with get worked out by June, the end of the fiscal year.
"I'm involved," Christie said. "I've spoken with Steve a number of times over the last several days. I'm here, and I'm available if he wants to talk."