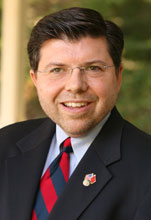 TRENTON — For Assemblyman Anthony Bucco (R-25), yesterday's press conference in Trenton was like watching a "bad horror movie."
Reacting to Senate President Steve Sweeney's announcement that he plans to push for another millionaire's tax in this year's budget, Bucco said today that the state doesn't "need a proposal that hurts our already struggling economy." Republicans in general have scoffed at the idea of instituting a tax levied on the state's top income earners, saying it would drive business from the state.
"Just when you think the zombie is dead and buried, it reappears to scare taxpayers out of the state along with the revenue and jobs that go with them," Bucco said in a statement. "As the most over-taxed state in the country, we don't need a proposal that further hurts our already struggling economy. Trenton Democrats must recognize that increasing taxes is not going to solve our problems."
During his at-times fiery presser yesterday, Sweeney bashed Gov. Chris Christie, who is widely believed to be moving towards a presidential run, for sacrificing the state's economic security in the interest of the Republican's future political ambitions. He also sought to contend Christie's widely-professed claim that a millionaires tax — which Democrats have relied upon as a solution to other fiscal issues in the state, like its broken pension and benefit system and Transportation Trust Fund — would driver the state's wealthiest residents out, arguing New Jersey's population of millionaires have actually increased since 2009.
And while Democrats have yet to finalize their own budget to meet the $33.8 spending plan Christie unveiled earlier this year, Sweeney said it will most definitely included another millionaire's tax, because that's "the only option."
It's unclear — but probably unlikely — that such a measure would become reality. Despite their somtimes charged rhetoric, both Christie and Sweeney have vowed to work together to formulate a balanced budget for the current fiscal year, one that address the pension and TTF messes. But if "past is prologue" — ask Christie told the host of 101.5's "Ask The Governor" radio show this week when asked whether he'd support such a tax — the Republican is likely to veto the measure again, as he did with Democrats' proposed $34 billion budget last year.
Bucco noted previous failed attempts by Sweeney to get a millionaire's tax enacted, saying his "plan was already rejected four times."
"Let's stop the political posturing and start discussions that result in fiscally responsible solutions," he added.