In New York City, our neighborhoods are filled with libraries of all shape and form—public, academic, school, miscellaneous. But too often we only think about the New York Public Library with its iconic 42nd street location and abounding network of 88 neighborhood branches. In fact, every year during the second week of April, the nation's bibliophiles get together and acknowledge their love for our nation's libraries. Now in its 57th year, National Library Week celebrates the enormous contributions of over 119,729 libraries across the country, while also encouraging more library use among the American public.
With this year's Library Week comes to a close over the weekend, here's some of the best boutique libraries in the city, from vibrant nonprofit research libraries to revolutionary pop-up reading rooms.
The New York Society Library
As the oldest library in the city, the New York Society Library—formerly known as "the City Library"—served as the city's main source of books for over 100 years prior to the founding of the public library system in 1895. Nowadays, it offers over 300,000 volumes of literature housed in a swanky, five-story Italianate town house on the Upper East Side. There's also an admirable children's library and an impressive art collection, chock full of works of art by Samuel Lovett Waldo, Adolphe William Bouguereau, Joseph Wright and James Audubon, and the library lays claim to an original charter granted by George III. Languishing in the library will also put you among a class of luminaries, including George Washington, Herman Melville, John James Audubon, Henry David Thoreau and Truman Capote. www.nysoclib.org
The General Society Library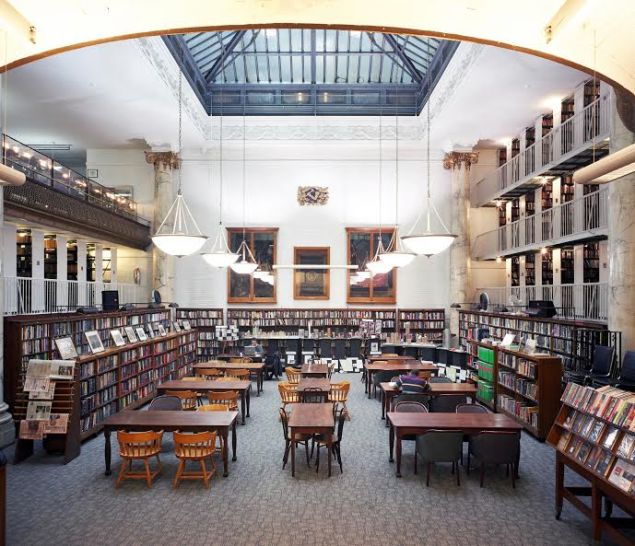 Housed in a landmarked building listed in the National Register of Historic Places, the towering skylight and quiet, three-story reading room of the General Society of the Mechanics and Tradesmen act as a scholarly refuge from the madness of Midtown. Besides hosting a variety of events, films and lectures, including its 176-year-old lecture series, the 195 year old library (and the second oldest in the city) also opens its archives to qualified researchers, including a number of high-profile writers. Polly Guérin, author of a new book about the society's history, is just one of the many scholars who makes frequent use of the library's historical reference book collection and rare periodicals. www.generalsociety.org
The Explorers Club Library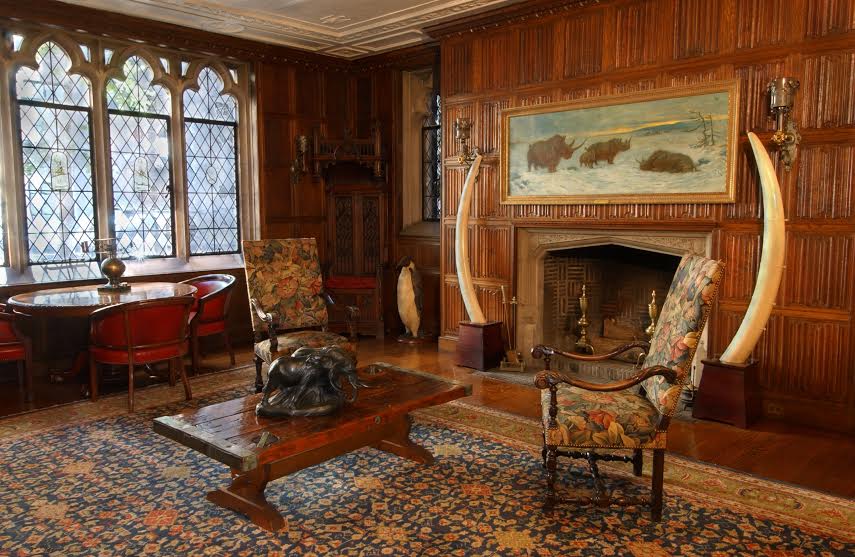 A library dedicated to exploration and travel, the Explorers Club is an absolute gem, holding approximately 14,000 volumes and 1,400 rare books, including a copy of the monumental Napoleonic Description de l'Egypte and an early edition of Hakluyt's important travel writing text, Principal Navigations. James Bishop Ford, a rubber magnate and philanthropist, provided much of the early support for the library, which was incorporated in 1905, plus there's an accompanying map library also preserves 5,000 items dating from the late 19th century. Anyone can view the collection by scheduling an appointment with the curator. www.explorers.org
The Center for Fiction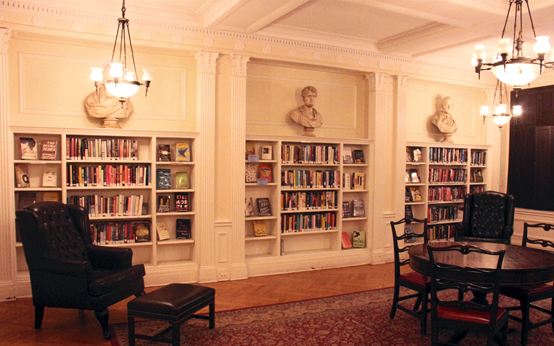 Calling all fiction lovers—this exclusive second floor reading room open just to members in the Center for Fiction was created just for you, housing over 85,000 works of fiction, including a collection of out of print mystery and detective fiction, not to mention a wide assemblage of classic and contemporary texts. Formerly know as the Mercantile Library when it was founded in 1820, The Center for Fiction represents the only organization devoted entirely to fiction in the U.S. As the home of the Proust Society of America, the library also lays claim to a circulating collection of books written by Marcel Proust, as well as the personal library of Proust scholar Roger Shattuck. www.centerforfiction.org
The Uni Project
This program run by the nonprofit Street Lab has installed 200 pop-up, staffed reading rooms around the city since 2012, turning the portable open-air reading room into an art and providing increased access to high-quality books and learning for all New Yorkers. Founded and run by husband-wife team Leslie and Sam Davol, the program has been an overnight success, bringing books to public spaces through custom-designed structures in parks to plazas. Through partnerships with the New York Public Library and museums like the New York Hall of Science and MoMA, the Uni Project is expanding its collection while continuing to prioritize underserved neighborhoods. The Uni Project expects to install 125 pop-ups in 26 locations in 2015. www.theuniproject.org
The ABC No Rio Zine Library
Volunteer-run, the ABC No Rio Zine library is a venue of oppositional culture offering a free community resource of more than 13,000 publications, including independent, underground publications on subjects such as music, culture and politics. Most of the zines in the collection address political and social issues, as well as the history of New York and the Lower East Side. Founded back in 1980, the library now consists of a silkscreen print shop, a darkroom, a computer center and the Zine library. www.abcnorio.org 
The Reanimation Library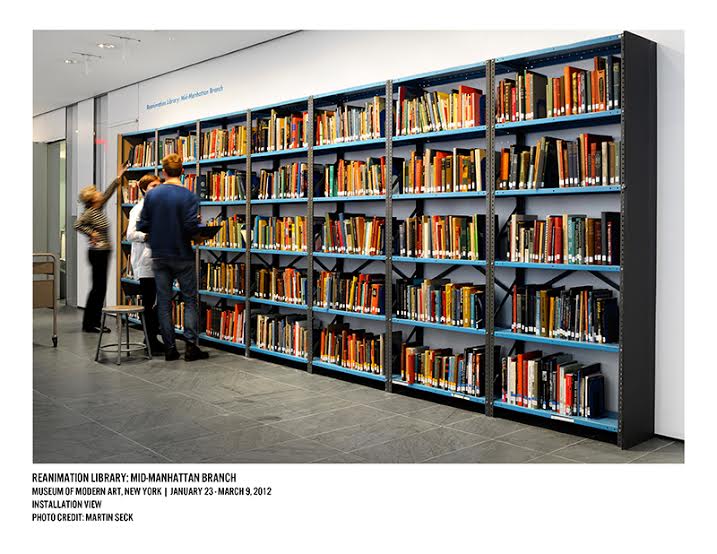 A spot for real book worms and creative types, the Reanimation Library is an independent, non-circulating library in Brooklyn that collects books that have fallen out of circulation, including books hand-picked from thrift stores, rummage sales, dumps and used-bookstores. Given that most libraries typically determine which books are worth preserving based on their textual content, the Reanimation Library has placed greater emphasis on the visual information in their collection. It also operates temporary, interactive branch libraries or "hybrids" in dispersed locations throughout the world to engage individuals who can't visit the headquarters in Brooklyn, providing a collection of books assembled from local sources, and to exhibit library-generated artworks. Currently, the Reanimation Library operates a branch library installed at Kunsthalle Osnabrück in Germany and in Portland, ME at SPACE. www.reanimationlibrary.org
***
For other special libraries that couldn't squeeze onto the list, check out the Barbara A. Margolis Library, Little Free Libraries, American Kennel Club Library, Hispanic Society of America Library, Jorge Luis Borges Library, Interference Archive, Mellow Pages Library, Brooklyn Art Library, Grolier Club, Conjuring Arts Research Library, and others.