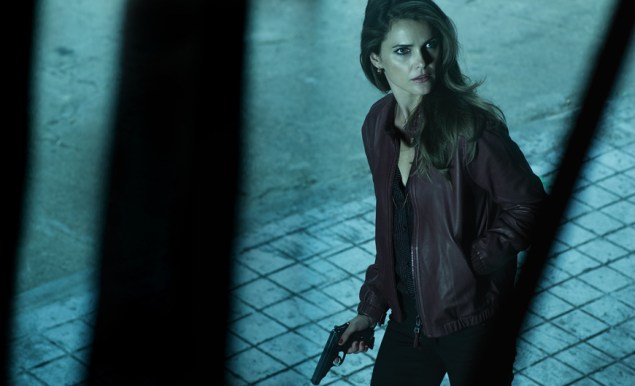 The Americans, FX's critically acclaimed drama about K.G.B operatives stationed in the states posing as 'an average American couple' during the cold war, features one of the strongest female characters currently on television. Elizabeth Jennings (Keri Russell) is a wife, mother, and embedded spy who is often called upon to use her cunning intellect along with her feminine ways to secure otherwise unobtainable information. She's been punched, kicked and shot. But, she gives as good as she gets. Just recently, she singlehandedly took down not one, but two, male FBI agents who got too close.
While she may be faking her affection for America, Elizabeth's love of and devotion to her family is very real. She's fiercely protective of husband Philip (Matthew Rhys) and children, Paige (Holly Taylor) and Henry (Keidrich Sellati).
Much of this third season of the series has centered on Philip and Elizabeth's struggle to understand exactly how much to involve Paige in their life's work. Amid constant pressure from their handlers and with Paige's growing suspicious about facets of their family, the parental units finally broke their silence and told Paige exactly who they are and what their mission entails.
Adding to the estrogen on the series is Philip's other wife, Martha (Alison Wright). Yes, Philip is a technically a polygamist, but in an interesting twist, Elizabeth knows all about it. Philip, or rather his alter ego, Clark, married Martha in season one to gain access to intel that Martha could provide as a secretary working within the FBI.
Now, as the series reaches the end of it's three season (and has already thankfully been renewed for a fourth!), acclaimed playwright and Americans writer Tracey Scott Wilson reveals a bit about what it's like to craft this trio of complex females.
"I came into the show during the second season from being a real fan of the series and the female characters," explains Wilson. "From the very beginning of the show, I just thought it was so refreshing to see someone like Elizabeth being strong, both physically and emotionally, and so passionate and committed to a cause. One of the first things I said when I was interviewing for this job was that it's so refreshing to see people who believe in something so much bigger than themselves."
Wilson's desire to see steady evolution with the characters has come true as she points out, "To me that's one of the greatest things about this series is that these aren't stagnant characters, we're seeing them change constantly and personally it's been immensely fulfilling for me be a part of the team that's furthering the development of these women. I mean, we've certainly established that Elizabeth is super strong, but just this past season we've been able to introduce a little bit of a softer side to her. She's no less passionate but she's feeling things that she maybe wouldn't let herself feel before. Part of that is due to what she's going through with Paige, who in her own right is certainly turning into a very layered character. And then there's Martha who was just this pawn for so long and because of her involvement with Philip she's really turning into one of the most complex characters on TV. It's just so exciting to write on a show like this – where these women's voices are valued."
Guiding the female characters isn't a skill solely achieved by the women writers on staff, something that Wilson wants to be clear about. "This is a collaborative effort for sure. It's not just the women on the writing team doing this work. There's always lot of discussion about how to handle things in ways that are true to these characters. In fact, while I was working on one of the episodes that I wrote this season there was a lot of discussion about how we wanted to show something that related to Elizabeth's sexuality. Just because I'm a woman doesn't mean that I could work that out on my own. That's why you have a staff and you talk about things like this – to create the best, most believable outcome that you can."
Wilson admits that sometimes in the midst of these discussions she's surprised by her own reaction to certain character developments. "Initially, I was resistant to Martha's reaction to Clark's revelation, to her realizing that he's been lying to her for so long. But my partner, Karen, who is a Defense Attorney, really loves Martha and she enlightened me to the fact that many of her clients are like Martha. That they're in jail because they fall in love with these men and do things for these men. That really opened my eyes to figure out a different way to interpret this story and to see what she was doing was true to her character and actually true to many women who just want to be loved. So that was a quite eye opening for me."
While Martha chose to go along with Philip's requests, she did so for love, not for any other altruistic intention and much like Paige, she didn't actively chose this path, factors that Wilson says play heavily into the narrative of the series. "That's been a very big part of this season, especially with Paige," she explains. "Philip has said numerous times this year, 'We made a choice to do this. It's not fair for Paige, she didn't make that choice.' But if you look at social movement of any kind, it's that somebody decides they're going to take a stand, whether it's against slavery or a woman's right to vote or anything, civil rights, gay rights, whatever it is, when a person make that decision, their family pays a price. That's just part of the consequences of making that kind of decision. It's the same here. You can call it collateral damage or whatever, but when you take a definitive stance on something, the people you love are going to be heavily affected and you can't stop that from happening. The only thing you can do is try to protect them as much as you can. That's what Philip and Elizabeth are doing with regards to Paige."
The two parents, like many real life situations, had vastly differing opinions about the best way to handle this new situation with their daughter. "Philip didn't want to tell Paige anything but Elizabeth knew that doing nothing was not an option once Paige began questioning things," says Wilson. "That same sort of dynamic was happening for Philip in his relationship with Martha. He knew that he'd come to a crossroads with her and that there was really no going back. When he tells her, I think you can see that Philip has honestly developed some very real feelings for Martha. That's another extremely complicated relationship that's affected by one party taking a stand for something. But, when you believe in a cause and you believe that the cause is for the greater good and even for the greater good of the person that you are lying to, what do you do? That's a question that we're constantly asking of all our characters."
To keep viewers emotionally invested, Wilson says it's important to keep the characters constantly on the edge. "We have to really devise ways to externalize the internal," explains Wilson. "Especially with Elizabeth, because she's a character who's not intentionally outwardly emotional. She doesn't open up to many people so just finding ways to show how she feels without her overtly saying how she feels is a challenge we always have."
Continually evaluating the characters has had a surprising effect on Wilson, she admits as she says, "When we were exploring Paige and her connection to Christianity that was really personal for me. When I was younger, I was very much into Christianity and when I got older I put it aside, so seeing this character engage with Christianity in this way has made me look back on that with less strain and more compassion and that's been quite nice." Then she laughs a little when she says, "And as far as Elizabeth goes, when I see her kicking butt, well, that just makes me want to be in better shape."
When questioned about the finale, Wilson said that she could absolutely give no hints — without getting fired. But she did offer this – "The last episode is going to open up a lot of questions that will be really exciting to answer later on down the road. The last couple scenes are really powerful and exciting and I will tell you that when I read them, I gasped."
Wilson concluded with a personal plea to viewers, especially those not already watching the show, saying, "I'm really proud of the show and to be on the show. We get a lot of love from critics and all, but I really just hope more people will watch it. I know that there are a lot of shows out there to watch and even I don't have time to watch everything that I want to, but I really think this is worth watching. Some of the issues that we're discussing on The Americans are just so relevant now.  Just look at the whole Afghanistan situation right now and you can see seeds of all that as it began to unfold back then. This is not just a show but the 80s; it's about how we've gotten to where we are now."
Just like Elizabeth, Paige and Martha – all women who couldn't have possibly have imagined themselves in the roles they find themselves in now. Where they go from here, only time will tell.
The Americans airs on FX Wednesdays at 10/9c.
Wilson's play, Buzzer, is currently on stage at The Public's Martinson Theater in New York through Sunday, April 26th.