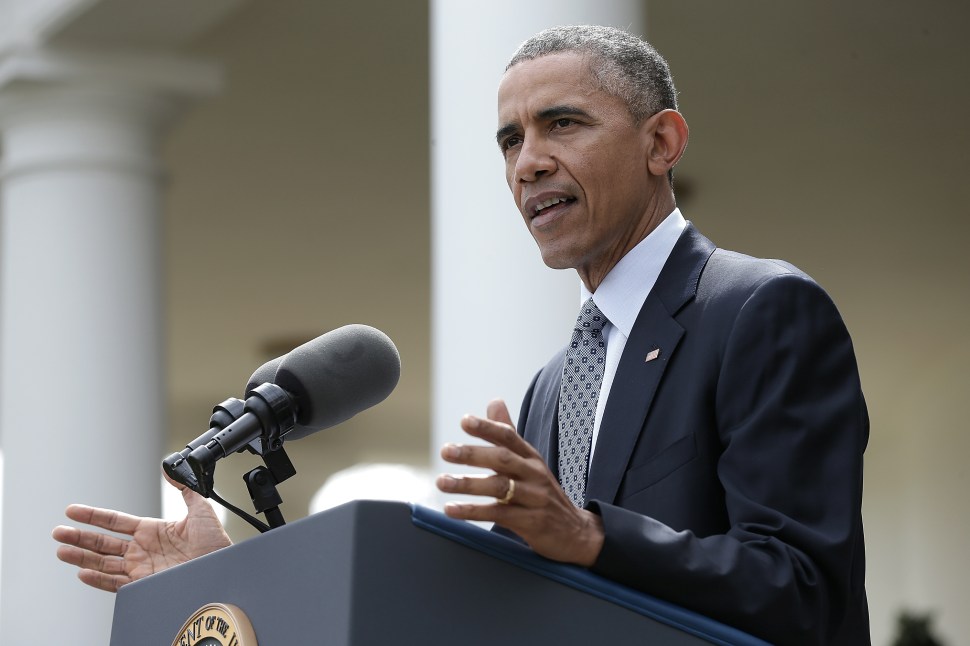 Well. There's now a framework for a deal on Iran's nuclear program. It outlines a deal that would be, truly, atrocious, but the statements made by Federica Mogherini of the European Union, President Obama and Secretary of State Kerry indicated such a thorough capitulation that one hardly knows where to start damning it.
But you have to start somewhere.
In his statement shortly after Iranian Foreign Minister Javad Zarif completed his remarks, the president issued a challenge to "the inevitable critics" of his handiwork:
"Do you really think that this verifiable deal—if fully implemented, backed by the world's major powers—is a worse option than the risk of another war in the Middle East? Is it worse than doing what we've done for almost two decades; with Iran moving forward with its nuclear program and without robust inspections? I think the answer will be clear."
---

This deal, even if fully implemented, is worse than the risk of another war.

---
First of all, those questions are loaded, disingenuous and provide nothing more than a false choice. The president assumes that the only options are his flawed approach or military conflict. As he has consistently done, he plays this game for domestic political consumption and seems entirely unaware that, if you publicly blurt out that we don't have a feasible military option (which is, to begin with, false), the other guys can hear you. One wonders if anyone in this White House thinks about anything beyond American politics.
But, if we were to take seriously that which is not posed seriously, then yes. This deal, even if fully implemented (we'll get back to that), is actually worse than the risk of another war.
But, no, it is not worse than doing what we've done for two decades; an option which, of course, a grand total of zero people are suggesting. Along those same lines, this deal is also not worse than treating the Iranian Revolutionary Guard Corps commanders to an evening of fine dining and theatre.
Why is the fully implemented deal worse than the risk of war? Because it virtually guarantees a nuclear arms race in the Middle East. Because it obviates any remaining meaning to the Nuclear Non-Proliferation Treaty. Because it defangs the United Nations Security Council—the only body at the U.N. that has any fangs to begin with or any modicum of credibility. Because the details, which rely—even for IAEA inspections—on a regime that managed to build its plant at Fordo almost to completion before it was caught, of the fully implemented agreement are, in and of themselves, altogether appalling.
---

Relying on the Iranians to fully implement this deal is just this side of criminally negligent.

---
Which brings us back to the coup de grace: even without all of those problems, it would still be worse than the risk of war because relying on the Iranians to fully implement this deal is just this side of criminally negligent.
Supporters of the president—and it's worth noting that there are very few supporters of this policy, only supporters of the man crafting it—will respond, as the president indicated in his statement, that, if the Iranians are caught violating the deal, the sanctions can be brought back to bear. Today's statements suggest exactly the opposite. The P5+1 has already sent the clear signal—and the president's statement confirmed as much—that there is no stomach for a long-term continuation of sanctions on the part of our allies or partners. Far more likely is that the P5+1 will get comfortable with both the idea of an Iranian nuke and the quiet of the period between now and whenever we catch them cheating (and we will catch them cheating). When that day comes, what will we do? Go to the U.N. Security Council that Iran ignored for a decade and that doesn't even believe in its own resolutions enough to enforce them? We'll spend another year negotiating over reimposition of sanctions?
All of that is worse than the risk of war; perhaps not worse than the certainty of war, but doubtless worse than its risk.
Jonathan Greenberg is a Middle East analyst, public policy expert and former staffer at the American Israel Public Affairs Committee. He is a senior fellow with the Salomon Center.