New York's Chinatown is legendary for its century-old dim sum spots, open-air fish markets, steamed pork buns, and tight-knit community. But is it becoming the city's next destination for art?
A recent swath of Contemporary art galleries opening up shop south of the blurry divide between Manhattan's Lower East Side and predominately Chinese sections of East Broadway, Canal Street and Eldridge Street suggests yes. But what does this mean for both the art scene, and for one of New York's largest and most beloved ethnic enclaves?
Gentrification is already well underway in this legendary neighborhood. A Café Grumpy opened up in 2011 at 13 Essex Street, across from Seward Park; Eastwood, a bar, showed up at 200 Clinton in 2013; and Mission Chinese at 171 East Broadway. Despite the unassuming name, it's a West Coast transplant and a known millennial hot spot helmed by star chef Danny Bowien.
Among Mr. Bowien's neighbors is Sargent's Daughters, a Contemporary gallery that opened up shop in 2013. Co-owners and directors Allegra LaViola and Meredith Rosen spoke to the Observer about their choice to move to the area. "People are starting to really catch on to this part of town as being a destination for art," Ms. Rosen said. "Chinatown has a great energy, because there is a hustle and bustle to it," she said. "Our space is larger than a lot of the Lower East Side spaces." Said Ms. LaViola, who had run her own gallery in the area even earlier, "In Chelsea, we would be in a broom closet if we were on the ground floor."
They were pioneers, but were not alone for long. Dealers will follow each other if they smell success. We counted more than a dozen galleries hovering on or near Canal Street, many of which have opened in just the past two years—some big names, and some emerging star talent with blue-chip roots. Powerhouse downtown dealer Gavin Brown moved into a second floor space at 291 Grand last July. "The space was right, the price was right … yes, everything about it seemed to be just right. Not too hot, not too cold," Mr. Brown told the Observer on the opening night. Since then, dealer Nathalie Karg has joined him in the building, and a former Gavin Brown Enterprise gallerist, Bridget Donahue, has also moved to the area.
---

'Some Chinatown residents feel like the galleries are invading the neighborhood without giving back,' said museum curator Herb Tam.

---
Rent is the draw (although, since this is the bacchanalian art world, the good area restaurants don't hurt.) According to real estate broker Susan B. Anthony, a ground-floor space in the popular gallery neighborhood of Chelsea can run $100 to $140-per-square-foot; the Bowery costs the same or even more if the gallery is right near the New Museum. In Chinatown, it's not massively cheaper on the ground floor, but finding a space at $50 to $60 per-square-foot is still possible on an a upper floor, and it would likely offer high ceilings.
Of course, precious few industries relocate every few years but New York's art world never stays in one place for very long. Over the past 40 years it has called five different neighborhoods home: The Upper East Side and 57th Street were the place to be from the '30s through '60s. In the '70s and '80s, Soho was born, and with it came powerhouses like Paula Cooper, Leo Castelli and Ileana Sonnabend. Chelsea became a refuge for galleries fleeing soaring real estate prices in Soho in the late '90s, and white box spaces run by Larry Gagosian, Pace Gallery and Paul Kasmin are holding fast there, and even expanding, today.
Then, in 2007 the New Museum erected a dedicated space on the Bowery, and opened the floodgates for dealers tired of sky-high Chelsea rents to relocate to a cheaper, lively, more diverse Lower East Side. Hurricane Sandy's flooding of Chelsea accelerated the migration.
Many of the gallery spaces on the Lower East Side were and are comparatively tiny: Old and narrow tenement buildings that had been chopped up into commercial spaces. Nonetheless, they were initially attractive to gallerists because they were so strikingly different from the boring white-box model. But, for some gallerists, that got old fast.
"The main thing with the Lower East Side spaces is that a lot of them are quite small. The galleries I'm working with are looking for larger spaces with higher ceilings and second locations," said Ms. Anthony. Hence, the move even further downtown.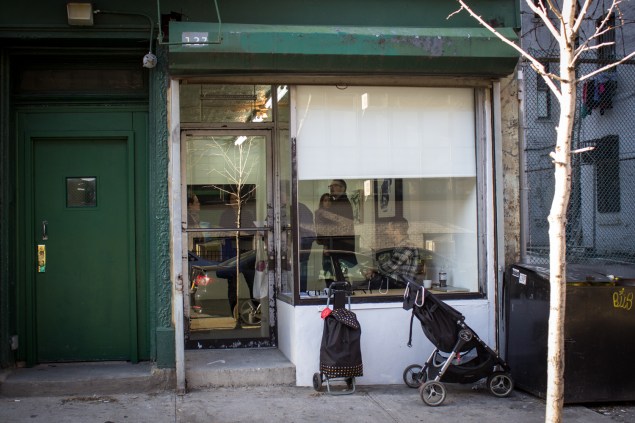 Where, exactly, is Chinatown? The borders have changed many times due to immigration shifts and rising rents. (Plus, we found some gallerists in the neighborhood claiming to be Lower East Siders, further blurring the borders.) A first wave of Chinese immigrants settled the area south of Canal Street between the Bowery and Centre Street during the 19th century. Then the Immigration and Nationality Act of 1965 opened the doors for a new, larger population of Chinese immigrants who spurred steady growth in the area through the 1990s. Parts of Little Italy north of Canal Street and East Broadway, which had predominately been Orthodox Jewish, became home to Chinese businesses and families.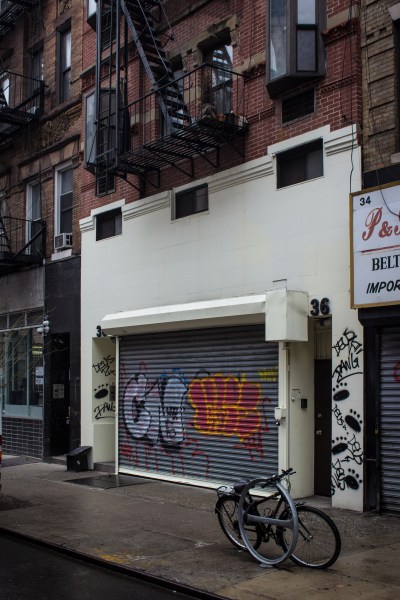 But now, for the first time in over a century, Chinatown's core population may be shifting away from recent immigrants, according to a report from the Asian American Legal Defense and Education Fund published in 2013. Residential rents have more than doubled, and the report tracked rising concentrations of "high-end business" on Allen Street, Orchard Street, Houston and Delancey—areas now dotted with gallery spaces. While Asian-Americans are still the resident majority, foreign-born residents have decreased while the white population has grown.
"Some Chinatown residents feel like the galleries are invading the neighborhood without giving back," said Herb Tam, curator and director of exhibitions at the Museum of Chinese in America at 215 Centre Street. "They aren't showing Asian and Chinese artists, and they're not contributing to the existing fabric of the neighborhood."
Curator and gallerist Amy Li, who runs Amy Li Projects on Mott Street out of the front of her father's button shop, is a neighborhood native. Her family has owned and operated the He Zhen Snap Button Co. for more than 30 years. For that reason, she was drawn to the area to open her gallery, and the shared workspace arrangement she has made with her father has suited her well, she said.
"There have been local reactions to more art galleries—there's been confusion. But I grew up here and as a kid, when my parents first opened the business in Little Italy, more Chinese immigrants were coming in. What these galleries are doing now is just the same thing."
Rawson Projects, for example, relocated to 221 Madison Street in September 2014 from its previous location in Greenpoint. Gallery partner Chris Rawson was attracted to the area for its proximity to galleries on the Lower East Side and access to artists who lived nearby. He also mentioned that collectors were well aware of the area.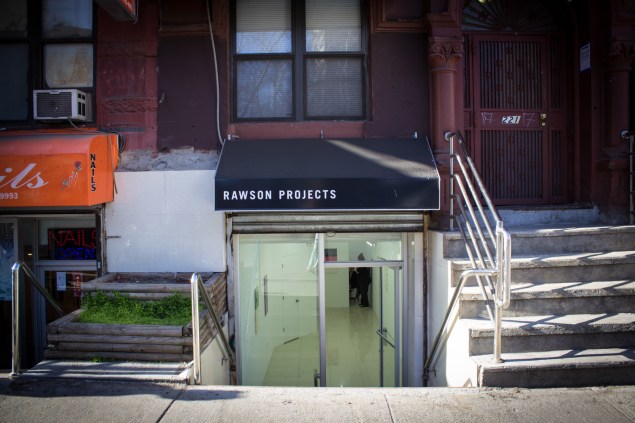 Artist Collective the Still House Group, which maintains a studio in Red Hook, recently opened a gallery at 3 Howard Street (on the border of Chinatown) on a year-long lease. Artist and collective member Isaac Brest—he also lives in Chinatown—said that searching for spaces in the area had taken a while, and was based on close relationships formed with neighborhood residents.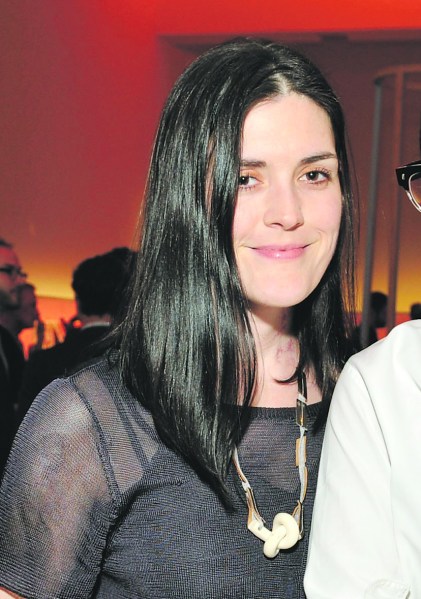 "It's a space I've had my eye on for a long time. It used to be a pop-up night club, and was once an old Chinese food restaurant," he told the Observer. "The area has a lot of exciting and habitable spaces. But a lot of Chinatown is a flourishing commercial area for the Chinese community, with spaces they aren't totally willing to let go of."
Ms. Anthony said that there's not a lot of properties listed in the area right now, and Chinese landlords don't own the majority of spaces she's seeing available.  But she predicts more once area landlords realize what their properties are worth to the art community.
Katherine Chan, director of Miguel Abreu Galley, one of the neighborhood's first galleries, said, "We're aware of how the gallery has played a function in the role of gentrification in the neighborhood, there's a lot of real estate activity happening, it's sort of a bittersweet problem. On the one hand we don't want it to change, but know it's inevitable."