Before every hokey morning show ended with some meme roundup, before YouTube sent GIFs in response to press inquiries, and before the Washington Post obsessively covered every Internet meme it could touch, there was the Daily Dot.
The "hometown newspaper for the Internet" that only four years ago was a Google Doc and a series of Facebook posts has rapidly joined the race as one of the fastest growing news organizations in terms of reach. Now, the New York Observer has learned that the Daily Dot has raised over $10 million in additional private funding as they plan to expand their reach and bone up on their New York office.
They did it by reporting on Internet communities when the word "communities" was put in quotes to make fun of their premise. They had reporters dedicated to covering Reddit long before megalithic new media companies like Mashable began looking for their own Tumblr reporters. They bet on professional video gaming as an entire vertical before the League of Legends World Championship pulled in as many viewers as the NBA Finals.
And they did it with no one watching.
The Internet's own newspaper
The initial pitch for the Daily Dot was simple: take the practice of local, community-based reporting, and apply it to Internet communities like Reddit and Tumblr. And if there's anyone who watched the sad flight of local community reporting from actual local communities, it's Daily Dot CEO Nicholas White.
Mr. White comes from a Midwestern news dynasty going back 180 years. The Sandusky Register, an Ohio newspaper, has been in his family since 1869, and after Mr. White's father took over the business, he bought up a dozen regional papers and radio stations to build the Sandusky Newspapers empire.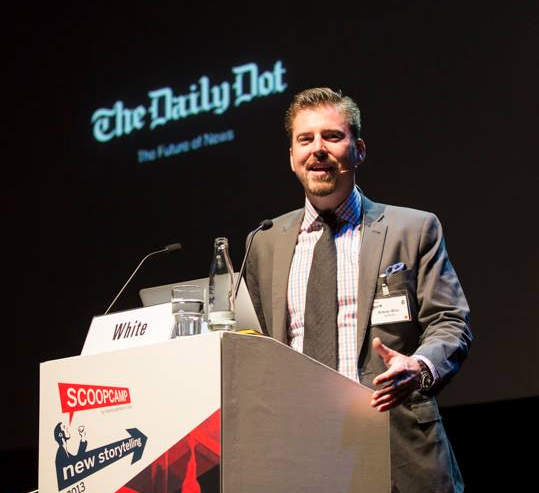 After spending years as a local news reporter at Sandusky-owned outlets, covering topics like education and politics back in 2005 for papers you've never heard of like the Norwalk Reflector, Nicholas White was charged with helping the paper's slow and painful transitions into digital publications. As Mr. White saw news moving online, he saw the communities, forums and networks move as well.
"There's something lost from community journalism," Mr. White said, "That was the approach we wanted to take when reporting on Facebook and Twitter and the communities organizing there. But there's a playbook on how to report on local communities—on a slow news day, you walk down Main Street, knock on doors and hassle people. You can't do that with the Internet."
In the Summer of 2011, Mr. White hired a handful of full-time reporters, invited them into a Google Doc and began reporting out stories right onto Facebook and Twitter. That August, on a budget of $600,000 Mr. White and his fledgeling team launched a website for the Daily Dot, with a home office in Austin, Texas.
Because the Daily Dot was embedding itself in newsworthy online communities, they began breaking news. While other publications tried to sort out for their readers who the hell Anonymous was and why they wore those funny white masks, reporters like Dell Cameron and Patrick Howell O'Neill were breaking stories on Anonymous ops and obtaining exclusive documents on landmark Deep Web cases.
Meanwhile the Daily Dot started building a New York presence, starting with a handful of reporters working out of The Saint Catherine cafe in Brooklyn.
"That was the only place with multiple outlets and decent Wi-Fi that put up with us all day, and the sandwiches were solid," former NYC Bureau Chief Cooper Fleishman told the Observer.
Today, the NYC team is about a dozen employees in a WeWork in the Financial District. But as they expanded, they collected a motley crew of reporters from across the globe. Taylor Hatmaker, a former clinical neuroscience researcher, led the tech section from Portland, managing tech reporters in NYC, London and San Francisco. They have an art director in Kentucky and a managing editor in Oregon.
"If we're going to be the hometown newspaper for the web, it makes sense for us to make virtual [collaboration] happen," Managing Editor Austin Powell told the Observer. "It's the way we started: with Google Docs, the newsletter, Google Hangouts, Skype—the real challenge there is how do you foster camaraderie when you're doing everything remote?"
The Daily Dot started adding verticals for viral news, politics, and entire sections for each web platform the website reported on—Vine, Tumblr, Facebook, etc.. Meanwhile, there were more competitive news organizations than ever, but they were all chasing each other's news, re-blogging and covering the fewest number of topics possible.
"We sometimes joke about a 'news singularity'— that there's one story that could happen, where the media could just keep pursuing it, re-blogging it and making listicles around it, and never have to report anything else ever again," Mr. White said. "We know that story would involve Kim Kardashian, but that's all we know so far."
The only other publication that was edging its way onto the front page of Digg for covering Internet culture was the Kernel, a site run by the notoriously caustic Milo Yiannopoulos that he says offered "sarcastic, bitchy critique and irreverent gossip about the tech scene."
So, Mr. White bought it away and turned it into the Daily Dot's Sunday news magazine, a weekly showcase of long-form where the Dot's best writers and freelancers flex their trend-writing muscles.
"The Kernel's a very different product now to the one I handed over," Mr. Yiannopoulos told the Observer. "We were a feisty, investigative tabloid magazine generating front page stories, with huge pickup from broadcast media all over the world and an eccentric but disciplined, hard-working editorial team. We punched well above our weight."
Mr. Yiannopoulos describes the new Kernel as left-leaning and more of a "leisurely Sunday read," but that's to be expected of a Breitbart editor. Besides, he's excited to see where Kernel's new editor, Jesse Hicks, takes the magazine.
The whole premise of a Sunday news magazine for the Internet—something you can sit down and read over morning coffee in the sunroom before brunch—is almost obnoxiously nostalgic.
"Whenever I said this to people, there was always a confused look," Mr. White said. "They'd say, 'You can't do that on the Internet!'"
But to Mr. White, it's the same kind of laughable claim as saying you can treat Tumblr like the new Main Street, or that you can report on shady Reddit moderators like corrupt sheriffs—the kind of bet that, so far, is paying off. In January of 2015, the Daily Dot had 22.5 million unique visitors, which is approximately four times their traffic one year earlier.
The Internet Is For Porn
The Daily Dot typically covers beats which sound ridiculous today, but rapidly prove out in terms of pure traffic.
Take esports, the world professional video gamers. Where other news organizations treat esports as a novelty or aberration—look at these zany kids and their video game scholarships, how odd!!—the Daily Dot is one of the few sites that covers the world of professional video gaming like any professional sport, with game reports, team profiles and contract news.
Kevin Morris, the second writer hired by Daily Dot in the pre-website days, was covering Reddit when he discovered the untapped enormity of the esports scene.
"Back in 2013, I thought that esports were bigger than people realized," Mr. Morris told the Observer. "Esports are of, for and by the internet. They exist entirely online, they're watched online, the discussions about the games happen online."
In other words, it was a natural next-step for the Daily Dot. Mr. Morris became the esports editor, and scoured the small blogs looking for budding writers with the true grit of news reporters.  It's how Mr. Morris found William Turton, the 17-year-old boy wonder reporter who would go on to break major news about online gaming, hacking groups like Lizard Squad, and even scoops on rising tech titans like Uber. The precocious Mr. Turton has since moved on to reporting politics—eager to expand his coverage area as he finishes up his junior year of high school, naturally—but he's been replaced by new teens on the esports beat.
Now, the Daily Dot's singularly thorough esports coverage brings in millions of monthly unique visitors.
This is the approach the Dot takes when developing a new vertical: Find something that thousands of people are passionate about on the Internet that nobody else wants to report on, and master it—the word "under-reported" comes up in almost every conversation we had with Daily Dot staffers. They even have a fandoms reporter who just covers Tumblr communities around franchises like Harry Potter and Attack on Titan.
But if your coverage area is the Internet, there's only so long before you eventually have to encounter the Internet's 500-pound elephant: porn. Enter EJ Dickson, the Daily Dot's first lifestyle editor.
Since coming into the Daily Dot during the coffee-shop days of the NYC team, Ms. Dickson has led the Daily Dot's coverage of all things NSFW: sex tech, the porn business, sex workers and the collision of the Internet and relationships. By her account—and she's not alone—sex and the porn business are terribly mangled by most mainstream outlets that take on the topic.
"I've seen a lot of cutesy sex writing that uses ridiculous slang, and I see a lot of bro-y sex writing that basically pummels the shit out of sex workers and is really vulgar and disrespectful," Ms. Dickson told the Observer. "It's a hard balance to strike, but I think we strike it well."
Since the Daily Dot's inception four years ago, tech coverage at most mainstream news organizations—where it hasn't pivoted into small business reporting—has moved away from gadget reporting and toward Internet culture and meme reporting. More often, the kind of coverage that Nicholas White heralded as the future of community reporting just four years ago is exactly what legacy news organizations look for in what they consider their "tech" reporting.
But you'd never think it began at the Daily Dot. In fact, if all you read was media news, you might not have even heard of the Daily Dot.
The Cool Kids' Table
The Daily Dot has grown faster in its first four years than the Huffington Post and Buzzfeed did in their early stages. No one seems to have noticed.
When Wired published a lengthy report on the state of the click-thirsty, web-native media companies of the future, they dragged out all of the usual suspects: Buzzfeed, Vice, Business Insider, Vox, Bleacher Report, IJReview and the Huffington Post. The Daily Dot was left off the list, even though they could have easily cut a notable trail through the infographics on traffic and audience size. The Dot also dodged Gawker's vicious ranking of new media companies and their chances of eventual failure—a list that even included the uniquely abominable ViralNova.
And if the Daily Dot is New York media's best kept secret, they owe it to Silicon Valley.
The hype around tech companies and the Internet's catalyzing effect on the content business has media moguls weaving Valley-style rhetoric into their messaging—easily evidenced by the startup culture and scalability narrative taken on by media companies desperate to rebrand as tech companies. Likewise, manic tech reporting tendencies have bled into traditional media coverage, where the dubious marriage of venture and media has become disaster tourism, the same way one might tune into a broadcast of a NASA launch or extreme sports with eager anticipation of a potentially explosive disaster.
"Being venture-based makes you immediately newsworthy and puts you high on the watch list," Mr. White said. "We're not in that game, because it doesn't support building a long-term media brand. If that means that we're a cult news site, or a 'best-kept secret,' that's fine."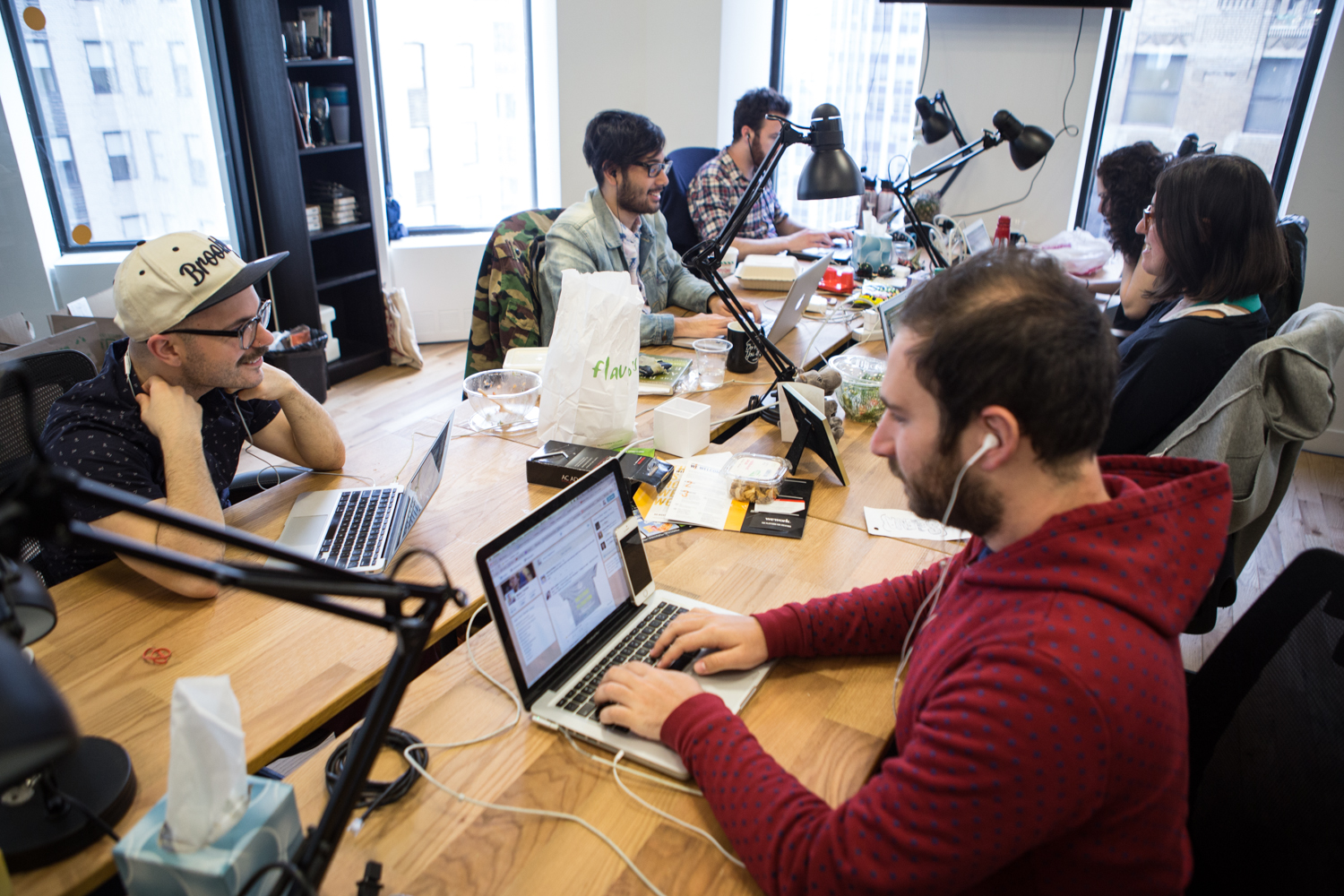 To make matters worse, the Daily Dot isn't, after all, a New York media company. Many of the venture-backed companies listed above are based in New York, but the Daily Dot remains an Austin company and former employees told the Observer that the divide between the leadership in Austin and the diffuse editorial team causes a divide that's more than just a separation of church and state—it's a divide in values, between Midwestern business-first sensibilities, and staffers who are sick of being tortoises in the race.
"The Daily Dot has toiled in the shadow of Buzzfeed, Vice, and the like for years," a frustrated, anonymous employee told the Observer. "This [latest] investment is a milestone and validation of the value added by our Internet journalism."
And even if the Daily Dot's flown under the radar until now, it doesn't mean other new media companies haven't treated the place like a talent incubator. Reporters from the Dot have been poached by Gawker, the Verge, Business Insider and Gizmodo.
So what about that new funding? Mr. White admitted that the company recently upped their financing, though he wouldn't speak to any specifics. But the Observer's sources have confirmed that the amount is approximately $10 million, and that the investor was "another media company." No one could identify just which media company it would be—that Mr. White is the heir apparent of a certain Midwestern media conglomerate is the only obvious lead.
The business plan is—by tech reporting standards—both typical and boring. Grow the company slowly, work in some more video and premium programmatic ad buying, launch new verticals, yada yada. What's worth watching is where, in terms of the uncovered corners of Internet culture, they'll go next. Because if their brief history is any indication, it's where many of us, as reporters, are going to be following them eventually.
"The fact that we've concentrated on Internet news has been a detriment in the past [in terms of attracting attention], but I don't think it is anymore," Ms. Dickson said. "Because now, everybody knows that the Internet is where the news is happening."