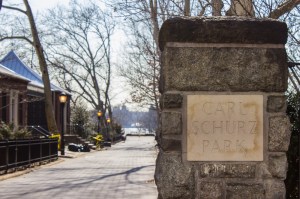 It's the closest thing to the suburbs in the city.
Manhattan's East End Avenue is one of the city's purest residential enclaves, lined with prewar buildings, postwar high-rises, walk-ups and brownstones. Here, the hubbub of First Avenue is far enough away to feel like another universe.
"It's Scarsdale in the city," said Tim Minton, founder of Zazoom Media Group and a former reporter for ABC and NBC News, as he pulled into the circular driveway at 60 East End Avenue where he and his wife, Linda, bought a three-bedroom co-op 18 years ago.
"If we stop talking, you don't hear anything," said Ms. Minton, a digital media consultant. "It's as close to bucolic as New York City gets. It's not convenient to anything, which we like."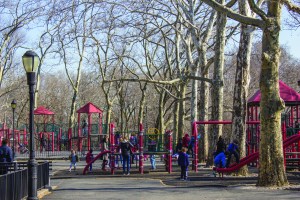 Chief among the charms of the neighborhood—which stretches for 11 blocks along the East River, from 79th to 90th Streets—is Carl Schurz Park, the 15-acre oasis of gardens, dog runs and children's play areas designed by Central Park's landscape architect, Frederick Law Olmsted. Above the FDR Drive from 81st Street to Gracie Mansion at 88th Street, a paved promenade offers majestic views of the East River. On nice days, the promenade and park are filled with elderly strollers, dog walkers, families, nannies with their charges—and an air of tranquility that is rare for Manhattan.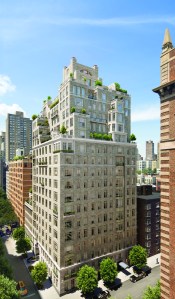 "I love that it's such a family neighborhood," said longtime resident Kevin Abernathy as she walked her springer spaniel, Willie, and poodle mix, Sunny.
For more than 30 years, she and her husband have lived in a three-bedroom co-op at 130 East End Avenue, where they raised "three daughters and three dogs," Ms. Abernathy said.
Though the area has highly ranked elementary, middle and high schools, many residents send their kids to private schools. The Abernathys' three daughters went to Chapin, the well-regarded private girls' school on East End between 84th and 85th Streets.
"Generations of people choose to live here," Ms. Minton said. "I can't tell you how many seniors in my building have children in this area. It's a place where people want to be." Because those who occupy prime East End Avenue real estate rarely move, the residents here know each other.
---

"It's close to bucolic as New York City gets. It isn't convenient to anything, which we like."—East End Avenue resident Linda Minton


---
In addition to its stable population, the neighborhood itself has remained largely the same year after year, in part because development sites rarely become available here. The last big project in the area, architect Peter Marino's posh 170 East End Avenue—home to Latin pop star Ricky Martin and former site of Doctors Hospital and then Beth Israel North—was completed in 2007. The condo building was a departure for the neighborhood, which mainly consists of co-ops.
Longtime residents say stability is one of the reasons they chose East End Avenue. They don't want change, whether it's the city trash-transfer station planned for East 91st Street or the 43-unit, 18-story super-luxury building that will soon be rising on City University of New York's former headquarters, between 80th and 81st Streets.
When finished in summer of 2016, that building, 20 East End Avenue, will sport some rare, old-world touches, including a motor court so residents can unload their cars far from the street and a porte-cochere inspired by its stately neighbor, 10 Gracie Square. The developer, Corigin Real Estate Group, and architect, Robert A.M. Stern, have taken great pains to ensure the building melds with its surroundings, including handset limestone details and setback terraces.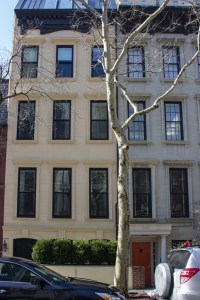 The building will cost "hundreds of millions," said Edward Baquero, president of Corigin, who plans to move from another Corigin building, 555 West 59th Street, to 20 East End with his wife and two sons, ages 11 and 14.
"There's so much heart and soul in this building," Mr. Baquero said. "I love it."
The units will range from 2,000 to 6,000 square feet and from $5.5 million to $30 million. Similar prices are commanded by a handful of the neighborhood's grander buildings, such as 120 East End—which has 20-room apartments, and was developed by Vincent Astor and home to his wife, Brooke—and 10 Gracie Square, known for its 16-room triplexes. The project includes three townhouses with large, private gardens. The building has received a strong reception, with 30 units sold since sales launched in late January.
Another new addition to the neighborhood, albeit on a much smaller scale, is the four-unit 554 East 82nd Street, which launched sales in December 2014. Prices start at $2.5 million, and a four-bedroom maisonette has sold for $4.8 million.
Meanwhile, there is speculation in the neighborhood about what Brearley—another elite private girls' school, on 83rd Street near East End—plans to do with three brownstones it bought down the block in 2010.
"We're not looking to change the nature of the neighborhood," said Ms. Minton, who raised two children, a boy, now 19, and a girl, 22, on East End Avenue. "The people who have paid money to live here have chosen it for its lack of noise and services."
A big if oft-delayed service coming to the neighborhood that is sure to increase pedestrian traffic: the Second Avenue subway. The first phase is set for completion in December 2016. Many residents—especially newcomers and those who can't afford to go everywhere by cab and car service—are looking forward to its opening and the expected positive effect it will have on their property values.
"With the Second Avenue subway coming, I think it's a very good investment," said Julien Vanegue, a software architect and a father of two young boys whose 1,000-square-foot two-bedroom co-op on 87th Street between York and East End cost $476,000 two and a half years ago. "A comparable apartment on 85th Street and Amsterdam, was going for $550,000 and it was smaller."
Indeed, value is one reason newcomers like Mr. Vanegue cite for having ended up on East End Avenue. "On the Upper East Side, the highest property values tend to be found on Fifth Avenue, and they decline slowly as you move east," said Jonathan Miller, president of Miller Samuel, a real estate appraisal firm. "They bump up again when you hit East End Avenue, though not to the level seen on Park Avenue."
For example, the median sales price of a three-bedroom East End Avenue apartment in the first quarter of 2015 was $2.8 million, compared to $3.5 million in the Fifth Avenue-to-Park Avenue corridor, according to Miller Samuel.
The subway will go a long way toward closing that gap. "Anytime you expand or ease the commuting experience to the central business district, you enhance property values," Mr. Miller said. "Everything gets energized by easier transportation. It increases pedestrian traffic and expands the quality of residential retail services."
For longtime East Enders, that's a mixed blessing. "It's a good thing and a bad thing," said Micaela Darling, 35, a CUNY adjunct who grew up at 30 East End Avenue, where her mother has lived for 40 years. "What's so nice is it's quiet and simple, and I think more people will move here."
Many of the area's well-to-do residents take cabs when they go out and car services or private cars to work, via the conveniently located 79th Street on-ramp for the FDR Drive. "We take cabs a lot," said Ms. Abernathy, director of admissions for the International Preschools of NYC, which recently opened a third location on 86th Street between First and Second Avenues. "We have to travel great distances to go to restaurants."
The Far East Side is known as a no-man's land for fine dining, and residents still bemoan the closing of the popular Italian eatery Sirabella's more than a decade ago. Still, some cite favorite standbys, including the no-frills Italian restaurant Arturo's (85th Street and York Avenue) and the Gracie Mews Diner, an institution for 35 years on 81st Street and 1st Avenue. The East End Kitchen, a four-year-old bistro on 81st Street between York and East End, is "a good go-to restaurant for a burger and a beer," Ms. Darling said.
There aren't a huge number of options when it comes to food shopping, either. Residents can choose between a Gristedes (83rd Street and East End Avenue) and a D'Agostino (80th Street and York Avenue). For specialty fare, they hit Agata & Valentina (79th Street and 1st Avenue) and Eli's Vinegar Factory (91st Street between York and 1st Avenues). But many say they wouldn't trade the quietness and safety of their streets for the convenience of having more businesses nearby.
"When it would snow at 3 a.m., we'd go out and make snow angels in the street," Ms. Minton said. "Where else in the city can you do that?" ν