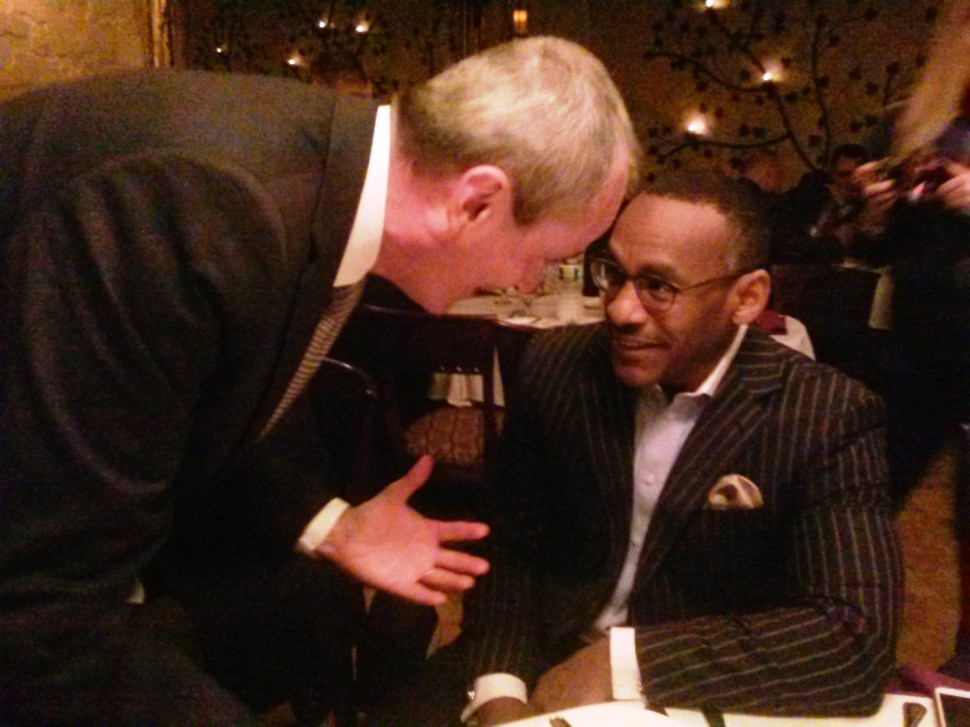 NEWARK – The pony-tailed host led guests through a sunken Ridley Scott set piece to a pillared antechamber where East Ward Democratic Chairman Angelo DiFederico held a microphone and beckoned the best-known luminaries of Essex County Democratic politics to cast their shadows in very close proximity.
It looked like the same working cast of characters who have populated all the events of times present and past: East Ward Democratic leader Joe Parlavecchio and special North Ward guests Steve and Fran Adubato, state Senator M. Teresa Ruiz (D-29) and Assemblyman Tom Giblin (D-34), Assemblyman Ralph Caputo (D-28) and Freeholder Pat Sebold.
The East Ward's own Assemblywoman Eliana Pintor Marin (D-29) was present.
A table at the front of the room seemed situated with particular symbolic import, and that's where Essex County Democratic Chairman Leroy Jones sat with his wife and attendant well-heeled figures.
The others you've seen before too, and frequently: Amiri "Middy" Baraka, chief of staff to brother Mayor Ras Baraka, Councilmen Luis Quintana, Augie Amador and Carlos Gonzalez, Council President Mildred Crump, and Freeholder Rolando Bobadilla.
There was a political story circulating (but what else was new) about a power push and pull behind the scenes on the city council. The word was Councilwoman Gayle Cheneyfield Jenkins was making a move on Crump for the council presidency, a calculation perhaps checkmated by Carmelo Garcia (an ally of the mayor) and vice president of the Newark Community Economic Development Corporation.
Sources hummed this evening with the dangling of a threat by Garcia to get rid of Kevin Jenkins (husband of Cheneyfield-Jenkins) if Cheneyfield tried to oust Crump, who's allied with Mayor Baraka.
"It's fluid," a source said with rolled eyes as men in chefs' hats and hot mitts maneuvered in steaming trays of food.
Although unresolved, most sources said Baraka appeared to have the situation in hand.
Another source said Jenkins was actually already let go last week.
In other words, it was Essex politics as usual.
Then an unfamiliar but increasingly effervescent figure raced into the room.
It was former U.S. Ambassador to Germany Phil Murphy, who quickly found Jones in the throb of close knit humanity and leaned in to very nearly rest the bridge of his nose on that of Jones (above). "He's unrelenting," a source told PolitickerNJ, in reference to the fledgling 2017 gubernatorial candidate. "He's come on recently and now we see him all the time."
See him and feel him.
At the Ray Durkin Plaque unveiling ceremony yesterday, the former ambassador bear-hugged from behind Essex County Executive Joe DiVIncenzo, who threw his arms up in an instinctive defensive posture before whirling and finding the grinning close quarters face of Murphy.
If the political classes know Senate President Steve Sweeney (D-3) and Jersey City Mayor Steven Fulop, Murphy appears intent on making up for lost time with a fully energized retail political work rate.
"I'm a Kennedy Democrat," he told the crowd when he had the microphone. "I feel truly at home in this county. I'm bouncing around. I'm bouncing around the state with a heavy emphasis on Essex."
He owns a woman's professional soccer team, he said, using that as the regional connecting point with the local population by way of a head toss in the direction of Red Bulls Arena on the other side of the river.
"We're not 45th or 48th," he added, broadening his consideration to the statewide dimensions of politics. "We're one or two or three."
He apologized for not being able to stay longer.
The list of honorees included Quintana, Essex County Clerk Chris Durkin, North Ward Center Executive Adrianne Davis  and North Caldwell Democrat Eileen Fishman.
Contact made or attempted, Murphy vanished, and in his wake, Fulop – not skipping a beat in the two-year long war for affection – mounted the steps in the backroom with Chief of Staff Mark Albiez at his side. The pair poured cross-the-river love into the small room.