NEWARK – In typical Jersey composite fashion, they pushed the tables together in a Taste of Portugal and paid homage to a son of Ireland, the late Ray Durkin, a Democratic State Party Chairman who died last year and left a legacy of both dry-witted hilarious humor and hard-nosed winning political strategy.
Find out where the parade is and jump in front of it, Durkin told his acolytes.
He had a lot of them.Those glimpsed at this first annual "Ray Durkin Roundtable" included Essex County Democratic Chairman Leroy Jones, Essex County Executive Joe DiVincenzo, Bergen County Democratic Chairman Lou Stellato, Assemblyman Ralph Caputo (D-28), Assemblyman Tom Giblin (D-34), East Ward Democratic Leader Joe Parlavecchio, former Assemblyman (and former Mayor of Caldwell and Brendan Byrne law partner) Peter Stewart, veteran Democratic Party operative Tom Barrett, Essex County Clerk Chris Durkin (the son of Ray Durkin), former Essex County Executive Thomas D'Alessio, DiVincenzo Chief of Staff Phil Alagia, and others.
While paying homage to their fallen comrade, along the way the group of insiders with relish tore apart New Jersey politics.
Low-key theater punctuated the event, as though the players contented themselves in Friday afternoon tranquility to draw only the most quick-sketch suggestions of party grandeur. Jones, DiVincenzo and Stellato entered the restaurant solemnly and immediately assumed Yalta Conference poses at the head of the room, lapping up Big Three glances cast their way by the others in attendance.
The politics of the group itself is interesting – and that's before they start talking about politics
The old party gunslinger, Barrett doesn't have the finery of office or former office to prop up, so routinely plays the part of a Eugene O'Neill character wearily devoted to party – however obviously painfully collectively flawed. Joe Parlavecchio has a similar frankness, tinged with the good humor of politics, the hard Irish fatalism in Barrett reconfigured into kindly resignation over the fallen nature of humankind.
His peers generally regard the phlegmatic Giblin as the steel trap collector of all things NJ politics. Over a lifetime spent immersed in the business, he holds only to relevant details and dismisses in silence that which interferes with the plot. In the middle of a conversation once with a person whom he thought was still a constituent, Giblin appeared animated and interested. When the person mentioned he had moved out of Giblin's district, it is said that Giblin walked away in mid-sentence. Yet even more than the politics of the present, the veteran assemblyman appears to value those lessons of politics, as if all that gathering equals the beginning of the basis for understanding, and no greater offense exists than that of one who might interrupt a political story or miss a connection from the past.
For his part, Caputo quietly has everyone's respect as a political survivor. Devoid of bravado, the native Newarker spent a lifetime staying on his feet politically, bouncing from an assembly seat in Newark in the 1960s to the other side of those troubles in Belleville; from the Republican Party to the Democratic Party; from Belleville to Nutley post 2011 redistricting; to the side of the sitting mayor when much of the Democratic Party establishment stood on the other side of a 2014 battle.
Then there's the younger Durkin, the next generation at this table of insiders, whose penchant for humor just like his father also belies a hard knowledge of government and politics.
They kicked around topics as platters of food cluttered the tablecloth, adorned with little cartoon pictures of the late Mr. Durkin dancing with a pair of donkeys. No one appeared energized when the name Hillary Clinton came up, and there was at least one guttural groan at the mention of the name. Someone was reaching for an adjective when someone else supplied one: "Old." They lingered on Chris Christie, who spent last week running around New Hampshire looking like a presidential candidate. No one gave him much more than a puncher's chance at the White House, with the bulk of conversation tinged with discomfort at the notion of him dragged back to New Jersey on a stretcher, awakening to time on his hands and plenty of Democrats standing around insufficiently punctured by his wrath.
Someone mentioned Marco Rubio. "Watch out," said a reveler. Nah, nah, another insisted. "No really, watch him." The argument went that Barack Obama corned the youth market making the GOP, whatever their successes subsequent to his 2008 election, look old, cranky, white, crazy or some combination of these. "Rubio's the guy," said one of the insiders, sawing at the soft underbelly of grilled fowl on his plate. "All the time Republicans put into trying to develop the Hispanic vote. Now there's the chance. The market's slick enough for Rubio. Ready-made for him."
No one lingered long on prez politics, however.
The interest in gubernatorial politics dominated as this group of North Jersey politicos digested the three most active candidates in the 2017 hunt. Steve Fulop packs a room with no problem. Phil Murphy packs a room. No problem. Steve Sweeney packs a room. But it takes arm-twisting. Wry comments like, "Why couldn't you get Christie instead?" accompany the ask and make the process of trying to get people up for the South Jersey senate president uncomfortable.  Public sector union members don't like Sweeney at Dem events, someone said. No one took up his cause as silverware clanked.
Someone slapped at Fulop. He shouldn't have dumped Charles Mainor, the 31st District catapulted into oblivion earlier this year and supplanted by one Angela McKnight. The move just gives a chance for cowboys like Senator Ronald L. Rice (D-28) to go ballistic and make an enemy out of Fulop and perhaps more easily justify to himself the process of getting cozy with an alternative like Murphy. Fulop should have waited to the 2017 to go after Mainor, someone insisted. Then the talk turned to Murphy. That was a name scorned a few months ago. Now mention of the former U.S. Ambassador to Germany stimulates conversation. Someone immediately tried to write him off by noting an absolute public disinterest in receiving another Jon Corzine. Murphy, after all, is yet another Goldman Sachs alumnus, whose boardroom fluorescence could come tinctured with that same lurid lack of charisma that amplified all of Corzine's worst qualities, at least according to these insiders. Someone bitterly shared a story about Corzine rushing from a roomful of similar North Jersey politicos and puking in the bathroom out of a sense of immense social discomfort. No one asked if the story was actually true or not, but there were laughs all around.
They went back to Murphy. Simply by virtue of the lanky Monmouth County resident leap-frogging around like a human hand-shaking machine programmed to transmit a Northeast Irish Catholic vibe as opposed to – and this from someone in the room, expressed semi-apologetically but with the confidence of lived experience in these parts – a mid-west Protestant vibe – Murphy has muscled his way into contention.
"He's not Corzine," someone announced, as if it were an inside nugget borne of this very meeting that soon the entire state will absorb. Several times the group ran the conversation back to Murphy and how he is simply hipper and cooler and easier to talk to or at least smile at as he he jockeys past them than the terminally politically artless Corzine.
People at the table watched for the body language of the two chairmen at the front of the room book-ending DiVincenzo. Would either reveal, or telegraph a feeling for one of the candidates for governor? Both Jones and Stellato politely declined.
At the heart of all the forward-looking politics in the room persisted loving memory for Mr. Durkin. They remembered, one after another, something about the life of the man whose family came here from County Mayo, an understated leader expert at cutting one liners.
Jones spoke most avidly when remembering his party leader predecessor. "Someday," Ray Durkin told him, "you're going to be where I am." Jones said at that time he simply nodded in silent disbelief of Mr. Durkin's words, only to years later occupy his present seat as chairman of the state's most Democratic County.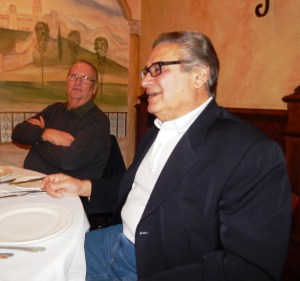 Parlavecchio followed up on the thought.
"He told me once when there was a vacancy on the freeholder board about this guy named Leroy Jones," said the East Wad leader. "Ray said, 'Leroy Jones is going to be the candidate for freeholder.'" Parlavecchio said he thought Durkin was referring to Leroi Jones, otherwise known as Amiri Baraka, the late poet and Newark political organizer. '"Don't you think he's a little controversial?'" Parlavecchio recalled telling Mr. Durkin, before the latter told him it as Leroy Jones from East Orange, not Leroi Jones from Newark's South Ward, he had in mind.
"Now Amiri Baraka's son is the mayor of Newark," Parlavecchio said with contentment in his voice. There's a relationship there, a good one, he noted, just as the headlines from 2015 have consistently early spelled out a bond between City Hall and the county, the likes of DiVincenzo and Jones embracing the mayor and receiving his embrace.
That could crack apart, of course, in the lead up to 2017, if Essex can't translate that fledgling alliance into a same-page outlook on governor. If Jones goes in one direction and Baraka goes in another, and former Governor Dick Codey (the sitting senator from the 27th District) goes in another, for example – the candidacies of Sweeney, Fulop and Murphy all separately straining loyalties – all the lovey dovey attitudes of the present will collapse in a mishmash of political sitcom.
"I would tell Cory Booker not to run," said a person at the table, shrugging when asked if the U.S. Senator from Essex could unite the conceivably fractured clans. "He's got the life he wants right now. Perfect for him. He's got to sit there – and all he's got to do is sit there – and sooner or later someone will tap him for vice president or he'll run for president. Why would he need to come back here? I'd tell him no way."
But can Essex get unified without him?
"Sure, it can" someone said, motioning toward Giblin, who laughed off the suggestion of a gubernatorial run.
"Durkin!" someone else cried.
Indeed, to those paying attention to the implications of the past on the coming years in this county, Chris Durkin looks and sounds and feels like a future governor. DiVincenzo has prided himself on building a team of talent around himself, but most believe that if if he is to move up, the younger Durkin would have to climb to where Joe D. stands now in order to vault into a statewide bloodstream.
Like Giblin, so too did Caputo dismiss gubernatorial talk. "I thought you liked me," the deadpanning assemblyman told the person who prodded him.
The men at the table roared with laughter, and if what Ray Durkin said was true, one thing those three campaigning Democratic candidates can count on as they keep up their pace of trying to secure the affections of the likes of those at Taste of Portugal: people who tell them they will be with them, will be with them – until circumstances change.