TRENTON — Leaning back in a leathery chair in his statehouse office, Senate President Steve Sweeney (D-3) says it was his father who first taught him how to embrace personal and political differences between people. "He always taught me to be happy for someone when they do well, don't begrudge somebody because they got something that you wanted," the 55-year-old Democrat says. Now in his sixth year as leader of the legislature's upper chamber — and 13th since arriving in Trenton a little-known iron worker from South Jersey — Sweeney has carried that philosophy with him, working to apply it in his dealings with ideologically dissimilar parties on issues crucial to the state. His job, as he plainly puts it, is "not to be an obstructionist." It is, rather, to "bring people together."
Of course, that's often more easily said than done in this business — and though he's hesitant to characterize them as political "battles" (he prefers the term disagreements), Sweeney has had his fair share. There have been times when the massively-built, six-foot-three labor leader refused abide those ideological differences, or at least the policy resulting from them, such as when, in 2011, he lashed out at Gov. Chris Christie for the Republican's line-item vetoing of a $30.6 billion budget that slashed programs for the poor, disabled, and abused children, calling him in a Sunday Star Ledger article a "rotten bastard," a "punk" and "Mr. Potter from 'It's a Wonderful Life.'" He's collided with fellow lawmakers on other pressing issues, sometimes political in nature, like when, in this interview, Sweeney slammed Assemblyman Chris Brown (R-2) for standing against him on legislation meant to bring some fiscal relief to a beleaguered Atlantic City, saying the Republican "has made a mess" of things down there.
Indeed, Sweeney's brand of bi-partisan leadership might prove more and more difficult to maintain now-a-days, as the state's economic problems increase and Christie, in an apparent bid for the White House, both recedes from the picture and yet still manages to serve as a source of endless frustration for a Democratic-controlled legislature. In the search of a long-term funding solution to the state's Transportation Trust Fund, talk has stalled, for example, as Republicans have opposed the idea of instituting a gas tax during an Assembly election year. On further reforming a broken public pension and benefit fund, Democrats have dug their feet in, refusing to let Christie renege on the promises of 2011, when both he and Sweeney signed a bi-partisan law to overhaul the system (Sweeney, in fact, uses that agreement as an example of his proclivity for bi-partisanship, saying he supported the move despite getting "demonized" for it). But for Sweeney, this is all part of the job — temporary or chronic disagreements don't "mean I've got to dislike you … It's just, that's an issue we don't agree on, so move on to the next one," he says.
Clad in suspenders and purple tie, and seated comfortably behind a sprawling oak desk, Sweeney talked about all of this and more during an hour-long interview with PolitickerNJ in Trenton on Thursday. Find out what he had to say on the other topics of importance in New Jersey politics today — including Christie's presidential chances, November's battleground Assembly races, and 2017 gubernatorial politics — by reading on.
 ****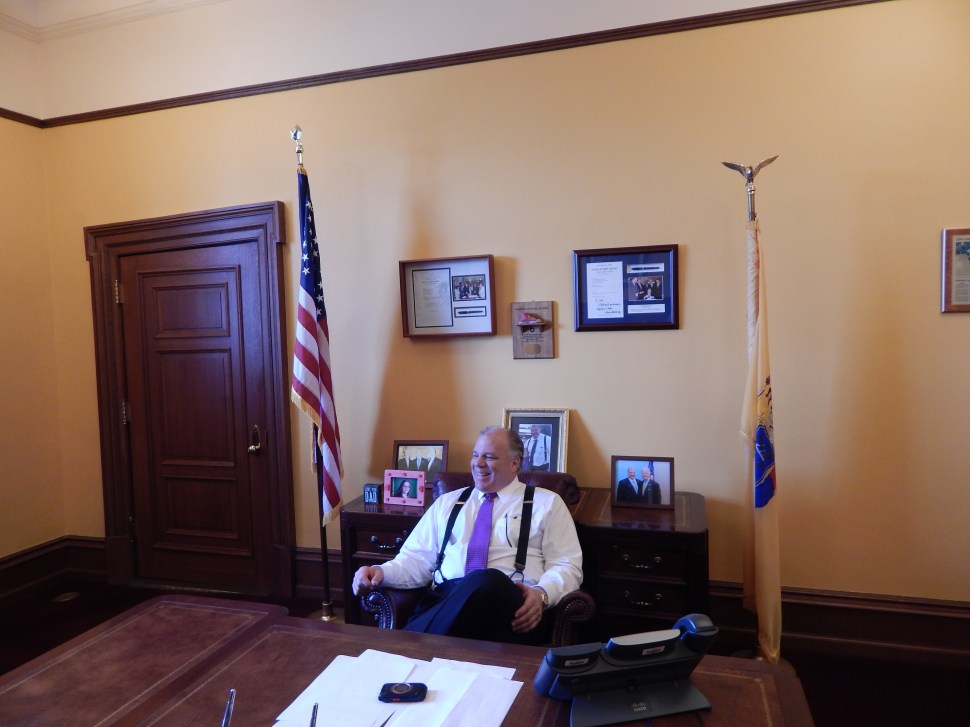 PNJ: You've been traveling the state , bringing attention to economic issues. You were at the Port of Newark last week, and in New Brunswick with DEVCO the week before. And the state is grappling with major economic problems, from the Transportation Trust Fund to the pension system. Is there one place where there's especially bad conditions, and where are they? Where do you see the most dire consequences of doing nothing? 
Sweeney: It's the bridges. It's the tunnels. It's the roads, the ports. Because you can lose economic growth in all those places. If we shut down one tunnel it will be devastating to the economy. We're raising the Bayonne Bridge, and it's a billion and a half dollar investment, but we're not doing anything to fix the rail. It cost ten dollars to move a container by rail. It costs 92 dollars to move a container by truck. You realize those tunnels are 105 years old. So we've been living off of someone's vision all that time. The people who planned and designed and built those tunnels — we've been living off their investment. It's time to make our investment. It's our turn to do the right thing here. And freight rails are critical to the state of New Jersey. All those distribution centers up near the Turnpike, they need reliable rail. A truck port, which is pretty much what the Port of Newark is right now, it's not the most efficient, and we compete with other ports, and those ships can be easily steered to other locations. I mean, we have the desired location, but when it comes to dollars and cents they're going to move where they think it's best.
So we need to come up with a plan, a smart plan of investment. The governor has a plan for social security, he has a plan for national security. We need a plan for New Jersey. You have to squeeze the New Jersey plan in.
So essentially this comes down to the economy. Do you see that as the overriding issue today?
It is the issue. The pension problems we have, all the problems we have in this state are due to the fact that we're not growing. Christie's own economist slapped him over it. Look at New York. They've recovered all of their jobs and then some. And New York is not a cheap state. You have to have growth. We're 49th in the country. If we just did the average, I'm not saying being one of the top five states in the country, but just the average, in terms of growth, we'd have $3.3 billion dollars in our budget. That means less economic problems here. It means more people working, less government services, your costs are reduced all the way around. You can't blame Jon Corzine anymore — Christie's been the governor now for six years. And we haven't seen any plans come out, and we've worked with him where we can. We need a plan.
He doesn't like ours, you notice that. He vetoes ours.
You said earlier that many of these problems won't get fixed until the next election. Why that time-frame? 
It's the Assembly race. Listen, there will be too many politics to be played with it. Here's a perfect example. The governor was all along basically telling the Speaker that there would be a bi-partisan solution to the TTF. I sat on a panel and listened to Jen Beck say how she was offended by a gas tax. I heard Jon Bramnick say take a billion dollars out of the school funding. That wasn't the kumbaya the administration had been telling us was going to happen. So, you know, if someone wants to take this issue and use it as an advantage in an Assembly race, it's unfortunate. But if anything, you can look right at some of the Republican leaders, where we were being assured that they were on board with fixing it, and then they come out with some really devastating solutions like taking it out of the education fund.
It looks like there are three battleground races shaping up, in LD1, LD2, and LD38. How do you see those races impacting the future of your chamber?
Well listen, it's much easier to move someone from the Assembly to the Senate than from the Senate to the Assembly. And obviously having Assemblypeople that are of the same view or are rowing in the same direction as the senators is important.
And I will be engaged. Chris Brown has made a mess of Atlantic City. It's funny, he was against my legislation, now he's for my legislation. But he likes his legislation better, but his legislation doesn't do anything. It's one page. This is where I'm down there praising the Republican mayor on a regular basis, trying to fix things, and you have people just throwing hand grenades for political reasons. Look, it's not the most popular thing to talk about casinos in Northern New Jersey, but the discussion needs to be had. Mazzeo doesn't like it, he's against it, and I understand that, but I have to look at the health of the state's economy. You say how do you fix things? You create more opportunities, more revenue, and you create a new Atlantic City.
So we're looking at, if things work out, two casinos in the northern part of the state, you could generate up to $700 million in new taxes, $200 million to Atlantic City that comes annually, and not through the government, but to Atlantic City so you can create destinations like they did in the Inner Harbor that bring people. Because we don't have the money today.
---

"My job as Senate President is not to be an obstructionist. My job is to bring people together."

---
Is it just the Assembly races, or has there been little progress on these issues because of other factors? Could it be that there's a lack of leadership on the Republican side now that Christie has begun to move out of the picture? 
Well, listen, the governor is obviously running for president. It's not formally announced but it's clear that he's running. I don't think he's anxious to do anything now that that has gotten closer. But the Republicans are in the minority so it's real simple for them, all they do is criticize. They don't come up with any solutions, they just criticize. When Senator Beck said she's personally offended by a gas tax? Who isn't? But that doesn't mean you're not going to do whatever is necessary to fix your roads and bridges. Because it's more offensive if your bridge start falling down and your roads close.
Where do you feel you've taken on the biggest, most substantive fights with Chris Christie? You've proved yourself to be someone who can work with all different diverse types, if there's a room of a hundred people that want to talk to you, you have a very skillful way of giving all those people a little bit of your attention. That's a skill that a lot of people in politics don't have. 
Listen, it's not a skill. I like people. I got into this because my daughter, but I actually like people. My father always taught me to be happy for someone when they do well, don't begrudge somebody because they got something that you wanted. So for me, I truly like people. I'll even fight with people, and I'll say I'm not going to let you not like me. You don't have to agree with me, but I'm not going to let that stop me because of politics. I'm not going to let you not like me because I'm a Democrat.
But I like people. And people who talk about my accomplishments with Christie — how about the Supreme Court fight, marriage equality, how about minimum wage, how about the Dream Act — you know, I don't think I've lost any fights with him. Last time I checked, in fact, I don't think I lost any at all. But I'd rather not fight. My job as Senate President is not to be an obstructionist. My job is to bring people together. How about Ban the Box, Sandra Cunningham's bill? That was big. And so, we've found ways to deal with issue that are important to the people of this state, and when we think he goes in a direction that we don't agree with we let him know.
But it doesn't mean I've got to dislike you because of that. It's just, that's an issue we don't agree on, so move on to the next one.
What's running through your head when you see him on Jimmy Kimmel (or Jimmy Fallon), or traveling around New Hampshire? Is he making a fool out of himself? Are you embarrassed for your home state?
No, listen, whether he's successful or not he's someone being talked about as the next president of the United States. So he's going to do anything and everything that he thinks will give him an advantage in getting there. I don't stay up late enough to watch Jimmy Kimmel. That's his thing. I guess he thinks it's going to help him. I don't see it.
What did you make of (state Senator Joe) Kyrillos backing Jeb Bush?
I like Kyrillos. I just think that's hangover from the U.S. Senate race.
What about presidential politics on the Democratic side? Hillary Clinton seems like she's moving ahead unopposed, some have criticized her for her age and a lack of enthusiasm surrounding her campaign. Are you excited about this?
I'm excited to have a woman president. I'm excited about breaking that glass ceiling and showing that this country is so diverse that nothing holds somebody back. We broke through the race ceiling with Barack Obama. And there's more women in this country than men. Women lead nations all over the world. And I think it's well beyond time that someone like Hillary Clinton is running. What age was Ronald Reagan when he ran?
People are trying to make her lack of competition a problem, but I think right now it's actually a benefit to the Democratic party, because the wealthy donors are on our side, and the more money that she can raise that will be there for her while you see all the guys on the other side knocking each other all over the place. I look at it as the party is pretty much unified behind her. When someone is getting 70 percent support, it's a good thing for Democrats. Listen, no one is forcing us to like her. People are rallying around her because they think she's the best choice for the party right now.
Clinton's also taken flak from progressives on other issues, like the economy. (Former President Bill) Clinton pushed through NAFTA, and many people think that killed us. How do you reconcile that?
Listen, you're never going to agree 100 percent on everything. We were very much against NAFTA, including myself. But you have to look at Clinton's presidency in its totality, not just one piece of it. If he could've ran again, he would've gotten elected again.
You said before that you haven't lost a battle to Chris Christie. But pension and benefits — there was the 2011 reform, and now Christie wants to reform again. The NJEA just pulled out of talks with the administration. Is that a battle that has been won or lost yet, or is it still too early to tell?
The courts will decide. But I think we're going to win, and I think we're going to win because in 2009 the courts said in a teacher lawsuit basically said if you want to do this, you need to do this. And we did it with Chapter 78. Look, the pension and benefits issue, I got demonized over that. It did not help my political future by any means. But when you're a leader, you can't worry about politics, you have to worry about the policy. If they both blend, that's wonderful. But this one was squarely not a good move for me politically, and I did it anyway. But hopefully we win the suit, because there are 800,000 people depending on it. And a lot them beat me up, but I want to stay true to my beliefs, and I want the pension issue resolved.
And it's not about winning and losing, understand that. It's about right and wrong. It's about stopping someone from doing something like packing the courts, and their identity, and their will, rather than the free will of the people.
---

"Sometimes people talk like I'm from Mississippi or something. I'm from New Jersey — I've lived in New Jersey my entire life."

---
And where would the money come from, were the courts to mandate the state must make the payments?
We're looking at areas. But one of the things that I've said before is the teachers union was willing to negotiate further changes. They were all willing, they just wanted an honest effort on funding. And you make that honest effort and fund and you can talk to people. They're not going to be unreasonable. I proposed NJEA running their own pensions, and breaking up police and fire. And I know the leaders of those unions are looking nationally, because there are unions in other parts of the country that do that.
It's still two years out, but in terms of gubernatorial politics. You're a South Jersey legislator, and at worst people say there is South Jersey fatigue. We have a legislature that is controlled in part by South Jersey. It has the biggest, most disciplined bloc. How are we also going to have a governor from South Jersey, which is the least populated part of the state?
That's all made up by you guys. Is Hudson County in South Jersey? Because last time I check Speaker Prieto is from Hudson, and before that it was Sheila Oliver. I think there's a balance. You know, I've had the honor of being elected three times as Senate President. And when I go to different places, my colleagues show up with me. I consider them my friends. I've worked with them for 13 years now. And, you know, the Senate Presidency didn't come easy. Neither did Majority Leader. But I think there's obviously some detractors that would say bad things, but I think most of my colleagues would respect me like I respect them. I have a great deal of respect for my colleagues, even when we don't agree. Even my leadership team, I've had major battles, but you don't take it personally.
Listen, a leader has to be able to listen. And I think that we've done pretty well here. But sometimes people talked like I'm from Mississippi or something — I'm from New Jersey, I've lived in New Jersey my entire life. I represented iron workers in North Jersey, I represent iron workers in Central Jersey and South Jersey. We're one state.
And yes, there is a Central Jersey.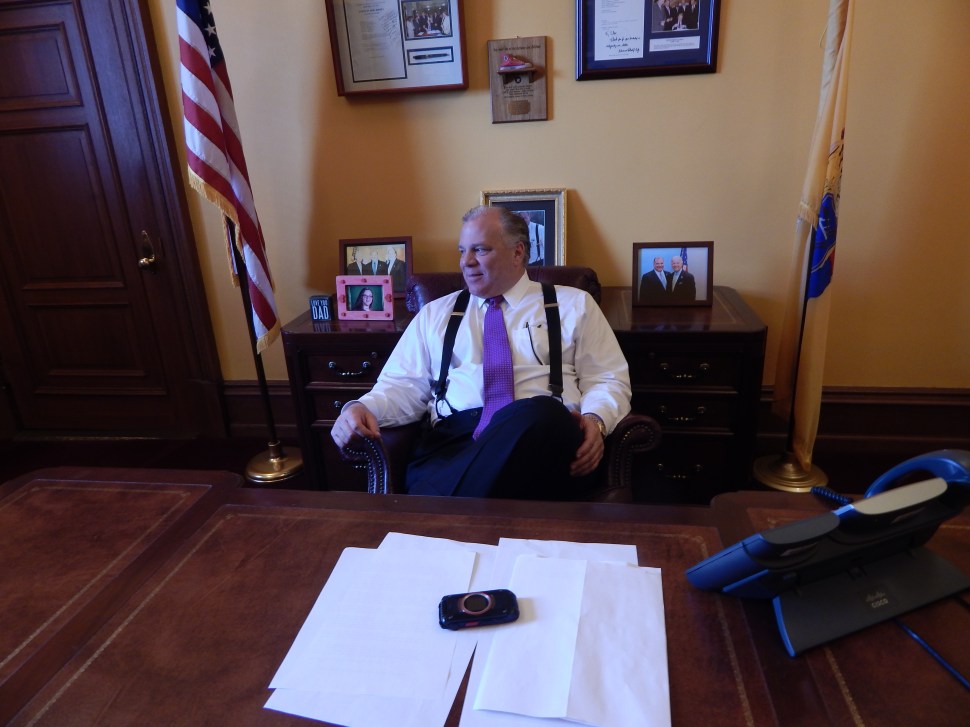 What about Phil Murphy? The guy just got here it seems, and suddenly he's everywhere. What do you see when you see him?
I see someone who is running for governor. He's doing all the things you do when you run for governor. I fact, he stood up at that Democratic fundraiser, with Fulop and Lesniak and Wisniewski, right? Look, they're running for governor. I think they're people running for governor.
Right, but is he too similar to someone like Jon Corzine? For you, people are going to say you're too close to Chris Christie, and that might be the job, it's too bad, but we need someone who is an obstructionist. We need someone who is against Chris Christie. And Murphy is coming without a record — do you feel like that's an over-correction New Jersey can't afford?
Look, I'm not going to criticize everyone who is running for governor. I realize he is who he is, I am who I am, and it's that simple. Whoever winds up running for governor, the Democrats will decide, and the people will decide. And your counties play heavily in that. Twenty one counties, and all the chairs matter.
Someone said the other day, straight-faced at an event in Paterson, don't underestimate Lesniak's campaign for governor. He said he thinks Ray is putting himself out there because people know that they can do business with him. And so if, for whatever reason, Steve and Phil don't materialize, Ray can be the guy. What do you think about Ray Lesniak putting himself out there?
I've got so much respect for Ray Lesniak, he's one of the smartest people in the legislature, and he was a big help in me becoming Senate President. So you're not going to hear anything but very positive things from me when it comes to Ray Lesniak.
Do you ever look at the guys killing themselves now at some of these events and say, they're going to peak too early?
No, I don't even think about that. Dick Codey said something when he became the governor that really — you know, certain things stick with you. And I think he said, when you plan for something, and everything you do is based on that plan, then a lot of times it doesn't work out. Things happen for reasons, they work out for reasons. So for me, personally, what will be will be. You know how lucky I am to be Senate President? There's only one of them in the state of New Jersey. And it's an iron worker. That didn't go to college.
And listen, college isn't for everybody. What it look at is every job has value. And every person is important. And just a little bit of respect for people and the jobs they do — everyone has value. Having Lauren taught me not to take anything for granted, and when you live in that world, we miss to much, and we take to much for granted. This is a great life, it's a wonderful gift, and there's a lot of things that we've all been gifted with, and it makes you really appreciated things.
Who do you look at among your colleagues and say, I've done this job for six years — do I see anyone with the right temperament to take my place?
I think my colleagues will decide. I'll keep my personal opinion to myself, but I think my colleagues will decide like they did with me. We're fortunate, we've got a good group. I'm very fortunate to be in the same room with some of the very bright people that I serve with.