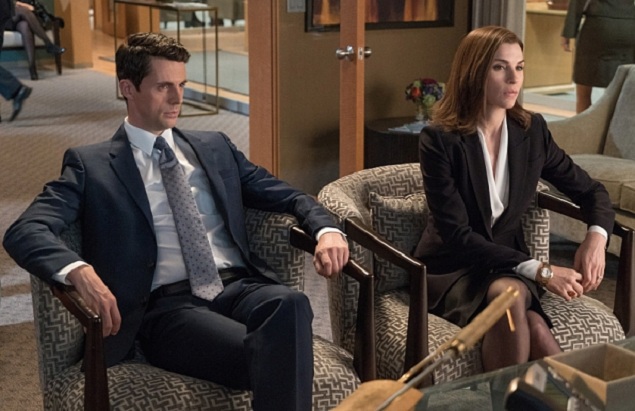 This week, Alicia & Co. learned a lesson that we all learn at some point in the age of email: watch what you put in writing. More on that in a moment.
Fresh off her victory, Alicia shows up at work to thunderous applause and an office full of congratulatory gifts. But her joy is short-lived; Marissa tells her she can't use or take anything under $75, which restricts her to just the muffins. Meanwhile, she receives a whole host of visitors who ostensibly are there to congratulate but mostly there to extract concessions. Sweeney Castro, in particular, wants Alicia's assurance that she'll follow precedent and refrain from investigating her predecessor. Alicia's all, "I do what I want, Benjamin Barker, because I'm a honeybadger." Not sure if this is Castro thing is going to go anywhere serious, or if the show is just trying to add to Alicia's enemies list. After Alicia and Castro had their file-cabinet throwdown at the end of episode 6×03, I thought he would be a much more formidable adversary this season. But we had to make room for David Hyde Pierce, I suppose.
Speaking of honeybadgers who do what they want, in walks Guy Redmayne (and Crystal, his personal window-dressing), all grabby and kissy and comparing Alicia's feet to those of a hooker he knew in Arizona. But he, too, wants something; he wants Alicia to appoint his homie as her deputy. But since Alicia isn't sure that Redmayne's homie is as dreamy as Finn, she demurs. I can't blame her. The show needs something to do with Finn, and the only logical thing is to bring him back into the State's Attorney's office. But I just want everyone working on The Good Wife to know that I'm not fooled; I refuse to raise the Falicia 'shipper flag again until I have much more good reason to do so.
Redmayne's visit is interrupted by Lemond Bishop, who also wants things. Here is, of course, where the show takes its comical guest stars and pitches them right over the egde of insanity. Do I believe that a man as old and crazy as Guy Redmayne would use a word like "colored" in the presence of Lemond Bishop? Yes. Do I find his use of "colored" overkill for a character who's already been depicted as a lecherous homophobe? Yes.
Anyway, back to Bishop. He wants out of the game, y'all. Something about Dylan and wanting to be a better parent. Yeah, Dylan needs help, and I don't just mean being saved from Magic Mike or Psycho Mike or American Mike or whoever that bully was at his school several episodes ago. (Remember when Dylan Bishop getting bullied at school was a major plot point on The Good Wife?) So Lemond wants Alicia to squash ASA Pine's investigation of him. Alicia agrees to do that as long as Lemond will rat out his lieutenants. Apparently, playing hardball like this was "not a smart move" on Alicia's part, but I was into it. It's about time Bishop overplayed his hand with a huge ask, and it's about time someone said no to him. Of course, saying no to Bishop usually involves you getting killed, but somehow I think Alicia will escape death. Besides, Bishop should have known better than to try to strong-arm Alicia when she's wearing a cream-colored outfit.
The case of the week involves a peer-to-peer sharing service called WharfMaster, on which a filmmaker's movie was illegally downloaded millions of times, resulting in what he claims was depressed box office. Florrick Agos & Lockhart is representing said filmmaker, but it turns out that nowadays, the "everything should be free" crowd isn't so jazzed about their WharfMaster being sued. So  one of their own hacks into the firm's emails and releases the most damaging ones, essentially turning them all into Amy Pascal. This happens at just about the worst time, since Alicia is preparing to take over as State's Attorney and can't afford the bad press. Alicia finds out about these email leaks through Grace, who is the most improbable source of all, but okay.
In some episodes, the case of the week feels like shoe leather that's just there to kill time and to remind us that these people are still lawyers. This week, though, Leonard Dick's script found a deft way to make the story personal through this hack. Some of the email revelations were unsurprising; of course Will and Alicia exchanged sexytime emails, and OF COURSE people in the office thought David Lee was gay. (For the record, everyone, David Lee really wants you to know that he's not gay, because that perception is just about the worst thing you could think about a man like David Lee. Mr. Lee, however, apparently has no problem using the phrase "you people" in a staff meeting.) Some of the revelations were fun (that email from Alicia to Jon Elfman about their one-night stand was pretty juicy, and Diane can be a bit, um, uptight). Some of the revelations, though, felt forced; no matter what Diane thought of Cary's legal skills, there's no way someone as smart as she is can't see how damaging Cary's conviction would be for the whole firm. The other good news for this story, though, is that it's not a one-off for comic relief; the people behind the cyber-attacks have let Florrick Agos & Lockhart know that they're just getting started. It was also quite fun to watch someone spit on Diane's office door.
Kalinda watch: only five more episodes this season. When's the hammer coming down?
Eli watch: is he going to do anything else this season besides yelling at Alicia?